24 Funny Cat Memes For National Pet Day That Are Just Hilariously True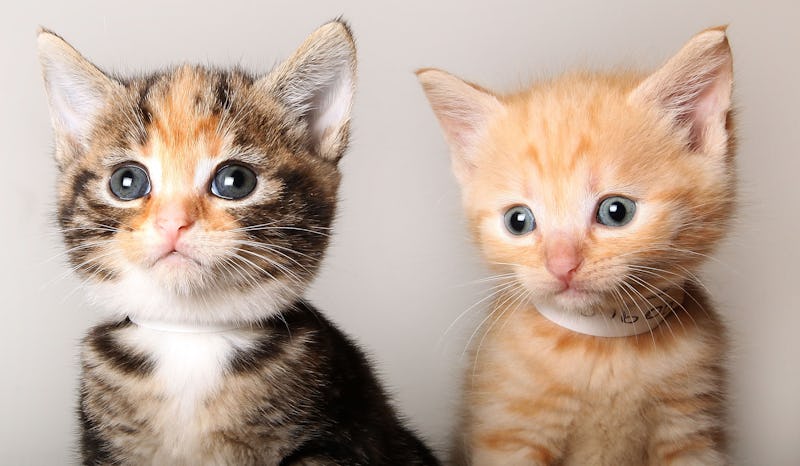 Dan Kitwood/Getty Images News/Getty Images
It's safe to say that cats, as a pet, are a lot more polarizing than dogs. Almost everyone loves dogs — they are generally really easy to get along with, they're always adorable, and they have a reputation for being fun and loving, for making people feel less lonely. Even if you aren't a self-proclaimed dog person, you can't help but smile at a very cute puppy who wants your attention. Cats, on the other hand, are a different story. If you're not a cat person, you probably think of cats as snobby, mean, aloof, and bratty. This could not be further from the truth! So, if you're a cat lover, for this National Pet Day on Apr. 11, you should use these funny cat memes as a way to show the naysayers just how wrong they are about cats.
Listen, I'm not saying that a collection of hilarious cat memes will change someone from a dog person to a cat person, but I do think they might help change the public perception of cats. Sure, cats can be a little hard to handle sometimes, but it's worth it. Cats can be incredibly lovable and sweet — my cat greets me at the door every time I get home, and she always wants to cuddle in my arms. And yeah, they can be a little aloof, but they're so funny! The below memes show that cats are more entertaining and adorable than you might think.
And that pretty much gets to the point of National Pet Day: it's a day that was created to recognize just how special and wonderful every single animal, and pet, out there is. Maybe you once met a mean cat who hissed at you, but that isn't the way every cat is, okay?! This is a subject I feel very passionate about, to be honest! Cats are wonderful and perfect, and I want everyone to love them as much as I do.
If you feel the same way, then share some of these funny cat memes on social media on Apr. 11, National Pet Day. They'll make people laugh while also spreading the word that everyone should be a cat person.