These 26 Tweets Lay Out All The Issues Women Have With Al Franken … And Then Some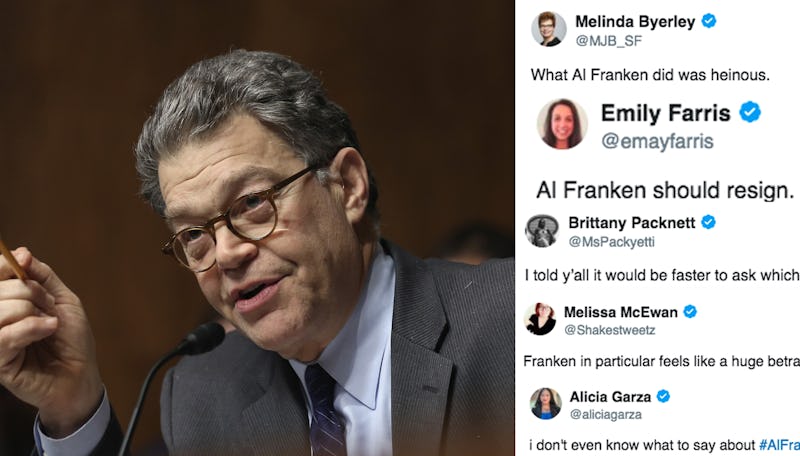 Alex Wong/Getty Images/Getty Images News
As the national conversation about the pervasiveness of sexual harassment continues, more and more women are standing up to say, "Enough." On Thursday, radio newscaster and former model Leeann Tweeden went public with allegations that Democratic Sen. Al Franken kissed and groped her without her consent more than 10 years ago and roughly two years before Franken was elected to the Senate. In the wake of the allegations against the congressman, many women have expressed outrage, disgust, and sometimes a desire to see the Democratic senator out of office.
In a blog post published Thursday, Tweeden alleged Franken had forcibly kissed her and pretended to grope her while she slept for a photo while the two participated in a USO tour in the Middle East in 2006. Sen. Franken issued two apologies to Tweeden almost immediately amid mounting condemnation and calls for an ethics investigation from members of his own party. In his second, lengthier apology, Franken said there was "no excuse" for his behavior and added he would "gladly cooperate" with an ethics investigation if one was launched.
Tweeden has since said she has accepted Franken's apology and is not calling for him to resign. "I'm not calling on him to step down," Tweeden told reporters at a press conference Thursday. "That's not my place."
But some women have called for Franken to resign, noting that when it comes to standing against sexual harassment and assault, someone's political affiliation doesn't matter.
Here's how women in Congress, in Hollywood, and across the country have reacted to the allegations of sexual misconduct levied against Sen. Franken:
Emily Farris
Twitter user Emily Farris called for Franken to resign and for voters to elect more women to public offices.
Brittany Packnett
"It would be faster to ask which men haven't assaulted or harassed anyone," Brittany Packnett, known for her involvement in the Ferguson protests and as a co-founder of Campaign Zero, wrote in a tweet.
Sen. Maria Cantwell
In a statement released via Twitter, Sen. Maria Cantwell characterized Sen. Franken's alleged actions as "disturbing" and voiced her support for an ethics committee investigation into them.
Sen. Claire McCaskill
Sen. Claire McCaskill also voiced her support for an ethics investigation, adding that the alleged behavior was "completely unacceptable" and "comedy is no excuse."
Alyssa Milano
In the wake of Tweeden's allegations, actress Alyssa Milano has said Franken should "not be in a position to represent the female constituents" in his district.
Kelly Ellis
Kelly Ellis, who spoke out about reoccurring sexual harassment at Google in 2015, condemned Sen. Franken and urged conservatives to stand behind all women sharing stories of sexual assault or misconduct.
Sen. Elizabeth Warren
Sen. Elizabeth Warren released a statement condemning Franken's alleged behavior as "unacceptable and deeply disappointing." Warren also noted that women who come forward with sexual assault, harassment, or misconduct claims "are brave and deserve to be respected."
Heather Whaley
Actress and writer Heather Whaley called for an ethics investigation that includes not only the allegations recently brought against Sen. Franken but also those against President Donald Trump.
Gabrielle Union
Actress Gabrielle Union questioned Franken's initial excuse for his behavior by wondering who exactly would find sexually assaulting a sleeping woman funny.
Sen. Maggie Hassan
In a statement released Thursday, Sen. Maggie Hassan said the allegations against Franken must be "taken extremely seriously."
Melinda Byerley
Twitter user and self-described sexual assault survivor Melinda Byerley, said she felt Franken's apology sounded sincere. "Justice without mercy is not justice," she tweeted.
Sen. Catherine Cortez Masto
Sen. Catherine Cortez Masto said the allegations against her fellow Democratic senator were "deeply disappointing," adding that the behavior described was "unacceptable."
April
April predicted Tweeden's allegations may have put Sen. Franken on the fast track out of the Senate.
Sen. Kamala Harris
In a statement shared with reporter Paul Kane, Sen. Kamala Harris refrained from saying whether or not she supported launching an ethics investigation into Franken but noted "sexual harassment, misconduct, should not be allowed by anyone and it should not occur anywhere against anyone."
Holly O'Reilly
Holly O'Reilly said Sen. Franken should resign and Trump, who has been accused of sexual assault and harassment from at least 16 women, should be impeached.
Sen. Patty Murray
While Sen. Patty Murray said she was glad to see Sen. Franken had apologized to Tweeden, his apology "doesn't reverse what he's done or end the matter."
Sen. Amy Klobuchar
"This should not have happened to Leeann Tweeden," Franken's fellow Minnesota senator, Amy Klobuchar, said in a statement strongly condemning the alleged behavior. "This is another example of why we need to change work environments and reporting practices across the nation, including in Congress."
Kathy Griffin
Comedian Kathy Griffin, who is no stranger to controversy herself, stressed that sexual misconduct should not be a partisan issue.
Bess Kalb
Bess Kalb jokingly detailed the stages of grief that had come along with the allegations against Franken.
Emma Vigeland
Twitter user Emma Vigeland urged others to stop attempting to put a political spin on the issue.
Ella Dawson
Twitter user Ella Dawson noted that the allegations against Sen. Franken were "a great reminder that the real proof of your character is how you behave when your allies are revealed to be just as disgusting as your enemies."
Melissa McEwan
Melissa McEwan noted that Sen. Franken "in particular feels like a huge betrayal," adding that "the more men do this, the more women will feel like we have nowhere to turn and no one to trust."
Alicia Garza
Twitter user Alicia Garza voiced her support for Tweeden and others speaking out about sexual assault and misconduct.
Britt McHenry
"What we've seen from some politicians the past few weeks is disgusting, regardless of partisanship," Britt McHenry wrote in a tweet. She added that women and the American people deserved better.
Kambree Kawahine Koa
Twitter user Kambree Kawahine Koa voiced a belief that senators were getting to "do whatever the heck they want."
Kate Harding
And Kate Harding had three requests for Sen. Franken. At the top of the list? Don't run for re-election in 2020.