3 Doors Down Fans Aren't Too Happy Right Now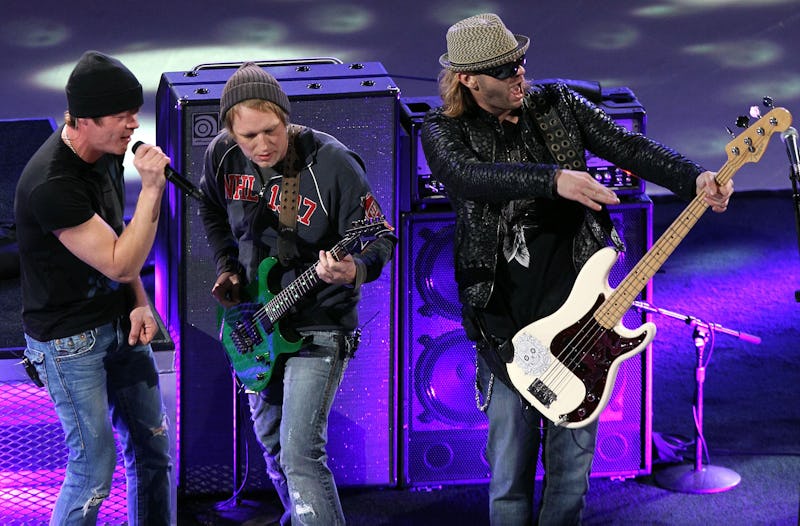 Bruce Bennett/Getty Images Sport/Getty Images
Just a week out from the fateful event, it's time for Donald Trump's team to buckle down and tell the world which luminous musical acts he's booked to commemorate his transition from president-elect to president. But now that word is out, I'm not surprised that they held off, because it's been announced that 3 Doors Down will play Trump's inauguration, and many fans are upset and confused.
Some writers would take this moment to inform you that the band 3 Doors Down arguably peaked in the year 2000, which was almost two decades ago, so any remaining fans of theirs have long been inured to disappointment, but not me. Instead, I'll take the high road and say that 3 Doors Down certainly has remaining fans, numbering at least in the high dozens, who eagerly follow them to such exotic tour stop locales as the upcoming Florida Strawberry Festival and the Thunder Bay Community Auditorium in Ontario, Canada. (Get your tickets now, before they continue not selling.)
Or at least, they did have fans, right up until Friday's announcement that the "Kryptonite" singers would be helping to usher in the new age of Trump with a performance at his inauguration on Jan. 20. For many, this was the straw that broke the camel's back, and they flooded to Twitter to air their grievances, expressing a range of emotions from genuine irritation and dismay, to betrayal, to good old-fashioned snark.
Can't wait to see Alec Baldwin address this in his next commercial.
A real #tbt, just not the good kind.
I *think* he uses Twitter, so he might actually see this.
Thanks for the heads up!
Truly #blessed.
Oh no, this is too real.
(I won't.)
Damn, that is savage.
Welcome to 2017, buckle up.
The jury's still out on this one.
The bad news is, this is really disappointing for anyone who doesn't like Trump, but had good feelings and happy memories about 3 Doors Down. The good news is, it gives the rest of us a great opportunity to bust out some of that 3 Doors Down content, now that they're finally (and briefly) relevant enough again to rib.