3 Iranian & Iraqi Americans Share Their Reactions To The Crisis In Iran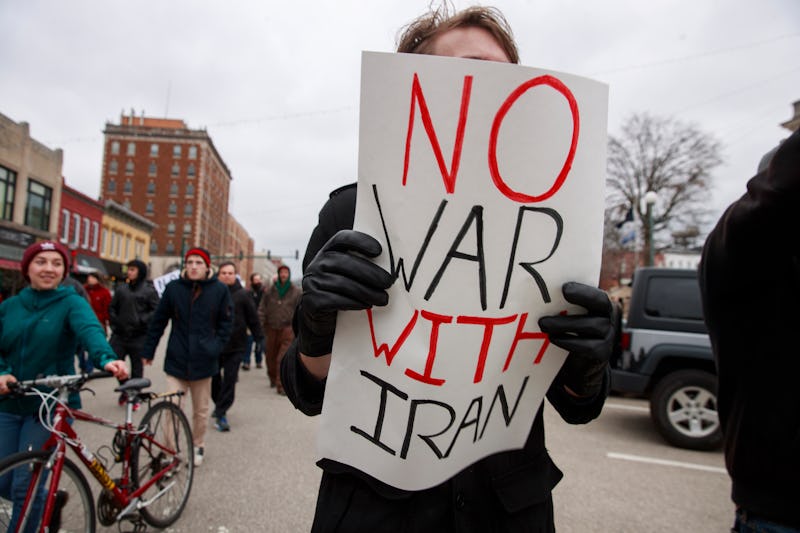 Barcroft Media/Barcroft Media/Getty Images
News and social media have been swirling with speculation about war with Iran after a U.S. drone strike on Jan. 3 in Iraq killed Iranian military leader Qassem Soleimani and a retaliatory strike from Iran hit a base hosting American troops in Iraq four days later. The increase in tension between the U.S., Iran, and Iraq had social media alight with fear of an increase in Islamophobia and xenophobia, similar to the climate after 9/11. However, for many Americans with Iraqi or Iranian heritage, dealing with insensitive or hateful discourse and worrying about family overseas has been par for the course for decades.
Iranian Americans have dealt with suspicion and prejudice for as long as Iran and the United States have had a tense relationship, actor Tala Ashe, who is Iranian American, tells Bustle. Since a CIA-backed coup overthrew Iran's prime minister in 1953, tensions between the two counties have been periodically inflamed; the United States' treatment of Iran's Shah, who was exiled following the 1979 revolution, the hostage crisis of 1979-1980, and the 1988 U.S. downing of an Iranian passenger plane are just a few moments where this friction has come to a head.
While tension between the United States and Iran has built over decades, Iraq has often been caught in the middle. Iraq's own fraught relationship with the U.S. has left a mark domestically. After 9/11, hate crimes against Muslims (and people mistaken for Muslims, like Sikhs) in the United States spiked. In his 2002 State of the Union speech, George W. Bush referred to Iraq and Iran as being part of the "Axis of Evil." The United States invaded Iraq the following year, and started what many call an "endless war" in the region.
Iraq's near-constant state of conflict means that many Iraqi Americans have to worry about the safety of loved ones abroad, in addition to rising Islamophobia in the United States and even the threat of deportation. Those fears have grown since 2017, when Trump initiated a travel ban that targeted travel between the U.S. and certain Muslim-majority countries. The ban went through multiple iterations, and currently restricts travel for people from Iran, Libya, Somalia, Syria, and Yemen, even if they have visas or family in the United States.
Iranian and Iraqi Americans tell Bustle that, despite the latest news cycle and speculation about another war, the emotions they're experiencing following the latest wave of tension aren't new to them. Speaking about their personal experiences growing up or living in the United States during ongoing conflict with the Middle East, these women also share how they've been able to maintain a positive outlook, support their communities, and raise awareness about prejudice and hate.