3 Musketeers Just Released A Cake Flavor That's Basically Funfetti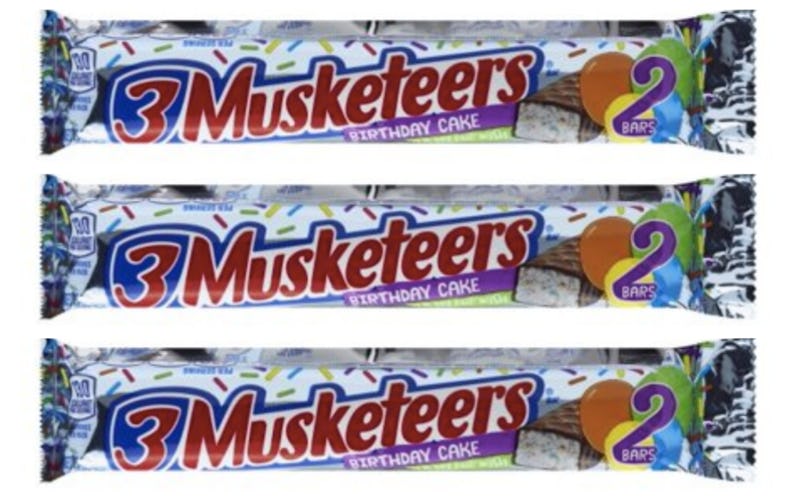 Walmart/Remixed by Bustle
It's been a hot minute since anyone checked in on the 3 Musketeers to see how they're doing. To be fair, we've been distracted by their fellow chocolate bars in arms; Snickers just underwent a full nut butter makeover, and Reese's and Hershey's literally combined themselves into one candy bar. But while they were out making chocolate waves, Three Musketeers quietly plotted its own candy shenanigans, which turned out to be more than well worth the wait. Birthday Cake 3 Musketeers just hit Walmart stores, and they are basically a funfetti '90s kid daydream in chocolate bar form.
The new variation of the bar — made with "vanilla-flavored nougat and colorful sprinkles covered in rich milk chocolate," per the packaging — first came to much of the internet's attention through an Instagram post by popular food 'grammer @markiedevos, who claims that the bars will be hitting some shelves on Oct. 31 and will see a wider rollout in 2019. Delish reported that the bars are available for purchase in Walmart, where they are currently listed on the mega-store's website — granted, for in-store purchases only. (Anyone wanna drive me to a Walmart to take some of these to the face?)
As if these minis aren't adorable enough, they come inscribed with little inspirational messages on the back of them, like "U R My One Wish" and "It's a Party!" Essentially, your 3:30 p.m. office pick-me-up snack just put a whole bunch more pep in your step.
If you're looking for more funfetti goodness that looks like it was ripped right out of your dizziest '90s daydreams, then Walmart might be your one-stop shop. The chain has been spotted selling Dunk 'N Crunch packs, complete with shortbread cookies and dippable vanilla frosting with rainbow sprinkles, which has been heralded as a grown-up version of our beloved, discontinued Dunkaroos. They first came to the internet's attention from the popular Instagram account @junkbanter, who gave the shake-up their approval.
And since we are clearly living in a funfetti renaissance, I feel it is my duty to inform you that now not only can you eat funfetti chocolate and cookie form, but in breakfast form as well. Walmart also appears to be selling a Hungry Jack pancake that collab'd with funfetti to create the majestic rainbow pancake of your dreams.
If anything, this all just goes to show that the more things change, the more they stay the same; we wanted an unholy amount of rainbows in our food in the '90s, and we still want them in 2018, thank you very much. And thanks to all the recent innovations in rainbow-sprinkled products, we will be riding that rainbow wave all the way to its technicolor end. If you want to celebrate it with Birthday Cake 3 Musketeers, though, you'll have to be patient until the full rollout — or check Walmart's website to see if they have a location that carries it near you. Just remember to eat your rainbows responsibly.