March For Science Sign Ideas That'll Make You Laugh While You Protest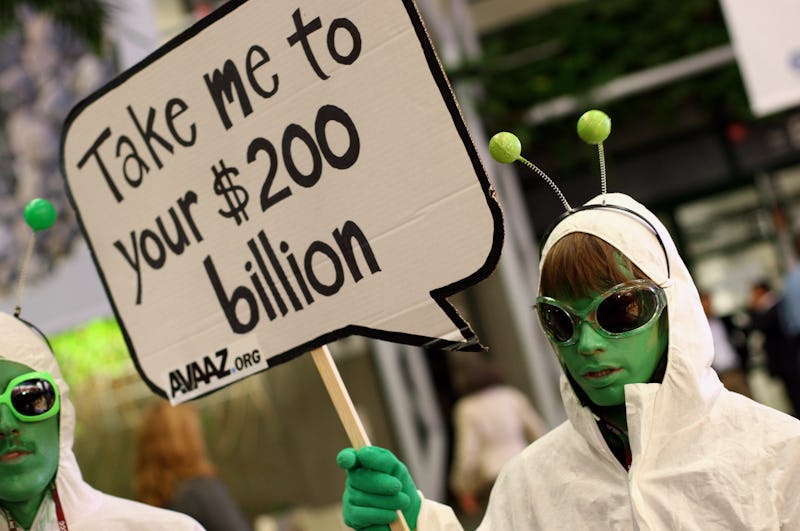 Miguel Villagran/Getty Images News/Getty Images
It's troubling to me that a march for science is necessary, because, you know, science is fact-based and definitely real. But, with the Trump administration's policies on everything from climate change to funding for research, science needs defending right now — and our lives literally depend on doing so. These funny March for Science sign ideas prove that scientists are fighting back against "alternative facts" (because alternative facts are just lies) — and reminding us that we can have a little fun while making a point, too.
If you're planning to attend a March for Science event on April 22, which is also Earth Day, here's the quick and dirty on the protest. Science, scientists, and evidence-based policymaking are under attack, according to the March for Science website. If you've been following the news, then you know that the Trump administration's budget cuts, "censorship of researchers, disappearing datasets, and threats to dismantle government agencies harm us all, putting our health, food, air, water, climate, and jobs at risk," as the March's website puts it.
More than 170 organizations have partnered for the March for Science April 22 at the National Mall in Washington, D.C. Additionally, more than 400 affiliate science marches are planned worldwide, because apparently denying science has spread like a global disease, and unfortunately no vaccine has been developed yet. If you're on the fence about joining in, the March for Science blog offers tips for scientists, and others, who fear retribution for participating in the march. (I can't even believe I am typing these words, and that we live in a world where people are afraid to defend science.)
If you're planning to attend the March for Science, these sign ideas can provide you with some much needed levity, as well as some earthy inspiration ahead of your day spent defending the truth.