How To Stay Angry While Also Practicing Self-Care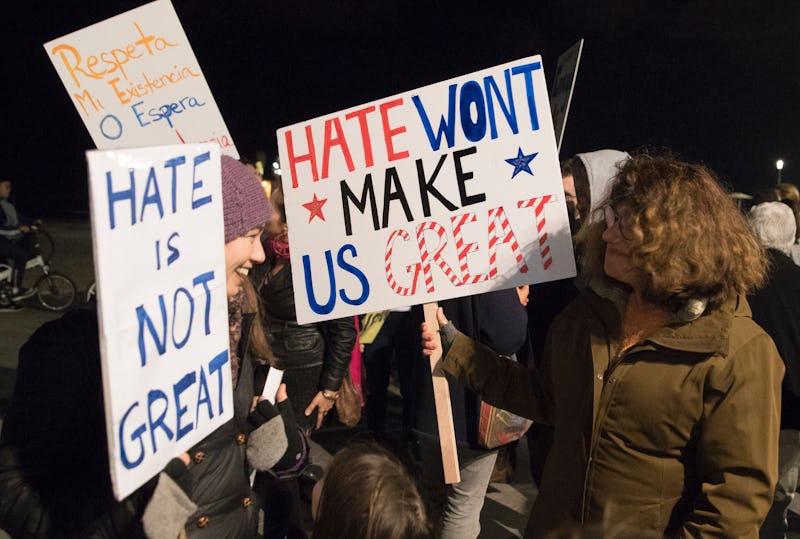 JACK GUEZ/AFP/Getty Images
So you cast your vote in November and marched in the streets in January, and in the aftermath, maybe you're starting to notice that all that totally justified anger is bad for your heart. Unfortunately, I can tell you from experience that recognizing this fact doesn't stop your blood pressure from spiking at the the very sight of Donald Trump's face. That leaves us with a pressing question: How do you stay angry while practicing self-care at the same time? It's easy to forget the basic stuff when the news is as depressing as it has been lately, which makes it all the more important to remind yourself both to fight, and to take care of yourself.
There's a fine line between doing your part to speak out against an administration that is already proving to be deeply disturbing, and obsessing over the current political climate. The problem is that this line is different for everyone; some people thrive on conflict and staying busy, while others get sweaty palms at the very thought of picking up the phone. You know where your own limits are, and if not, you should probably find out before you burn out. Anger can be useful; it can help keep your momentum going and help you keep fighting. But It's only useful when it's channeled constructively — otherwise, it can turn destructive instead.
We can all benefit from self-care tips, and putting them into practice doesn't mean you have to give up the anger that fueled protests like the Women's March. Here are nine ways to stay angry and (mostly) sane.