31 Amazing Plus Size Swimsuits You Can Buy Right Now — Including A Bunch Under $50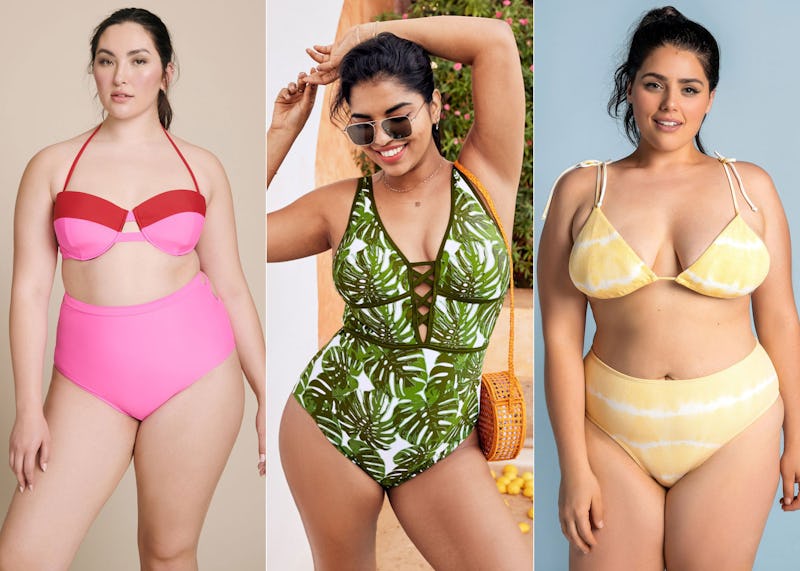 In my experience, there are really only highs and lows when it comes to swimsuit shopping. And when it comes to plus size swimsuit shopping? Well, it's easy to think there are a lot more lows than highs. There's the societal pressure to somehow magically transform yourself into the mystical "beach body" between the months of April and June. There's the lack of options in plus sizes that don't have ruffles or aren't tankinis. And then, if you're like me, there's also that little voice in your head — the same one that was there when you were a teenager — that says you will never look good enough in a bathing suit or a bikini, no matter how cute the suit. That you should just cover up, sit down, and totally give up on finding a cute bikini altogether. But here's the thing: Feeling confident in a swimsuit requires first being confident enough to try on swimsuits. And you deserve to feel confident in a swimsuit. Maybe you'll take the time to try some on and finally find just one this summer that you love — that's OK. Maybe you'll find a dozen.
In any case, though, societal pressure or that annoying voice in your head shouldn't stop you from living your best life at the pool, on vacation, or at the beach. And while finding bathing suit can seem overwhelming, online shopping can make the experience just a little bit more manageable. Order a handful of suits, try them on in the comfort of your own home while you blast your favorite music, and remind yourself of this: Life is too short to miss out on opportunities and memories just because you don't have a swimsuit that you feel great on. Need a place to start? Here are 35 of the best, new plus size swimsuits you can shop right now.