31 Gifts For Someone Who Doesn't Want Anything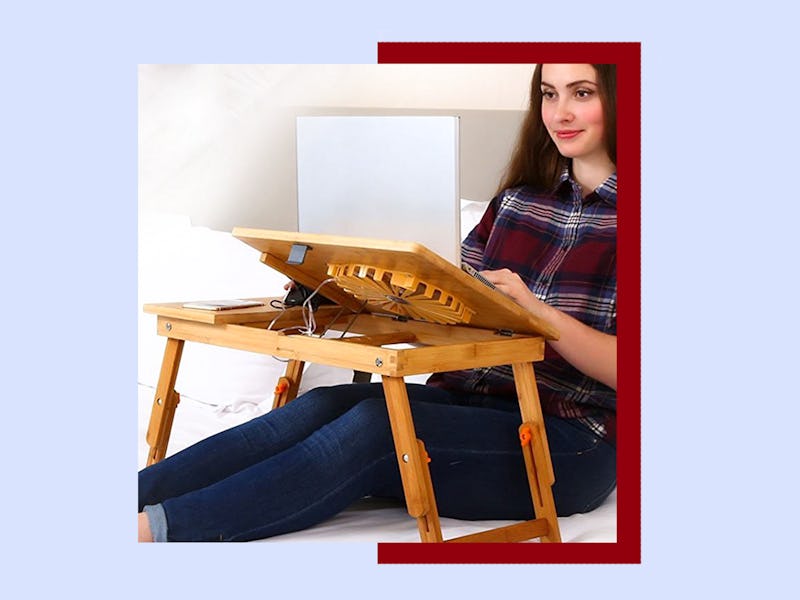 We all know and love them: the people who have everything, and need and want nothing. Finding gifts for someone who doesn't want anything is the greatest challenge of all, and despite their insistence that they'd be just as happy with just a card, well, we know we can do much better that that. These tantalizing gifts on Amazon will please every person you want to spoil this season — even people who have everything and never ask you to spend a dime on them.
Finding the perfect gift for difficult-to-shop-for relatives and friends requires a bit of thinking-outside-the-box creativity. They may frown at an expensive watch or a pair of earrings, but introduce them to the sunlight lamp or sous vide cooker they never knew they needed but won't be able to live without, and you've added something super cool to their lives.
These presents don't have to cost a million dollars, either. They can be weird, but genius gifts for people who are hard to please or cheap gifts ideas under $50 that solve a common dilemma (I'm looking right at you, electric callus remover). So don't lose sleep trying to come up with the perfect gift or loved ones who want absolutely nothing — here are 32 ideas they'll love.
1. A 3D Pen That Lets You Make Real-Life Models
Tipeye 3D Pen, $29, Amazon
Take your artistic vision to the next level with this 3D pen that lets you create actual 3D models of whatever you want. It has an adjustable temperature, an LCD display that shows when it's ready to work and at what speed — and gives you easy instructions to use it. For a high-tech pen, this gadget is incredibly simple to use and can even be gifted to a child, according to reviewers, but adults love it just as much.
2. A Towel Warmer And Drying Rack That Keeps You Warm And Cozy
Towel Warmer and Drying Rack, $78, Amazon
Mount this towel warmer and drying rack to a wall or let it stand — either way, it provides a convenient place to store towels, keep them warm, and prevent mold from forming. It has an in-line on/off switch and warms up in seconds. Turn it on before your shower and towels will be toasty enough to keep out the chill.
3. The Snail Slime And Gold Eye Patches That Give You A Good Excuse To Stay Up All Night
Gold & Snail Hydrogel Eye Patch, $10 (60 Patches), Amazon
These eye patches only need to be worn for 20 to 30 minutes, and they'll leave you with hydrated skin and less tired eyes. Each pad is infused with gold and snail slime extract for a smoother, healthier looking complexion. Reviewers love how they brighten skin and have a cooling effect when applied.
4. An Adjustable Laptop Desk Table Made From Sustainable Bamboo
Nnewvante Laptop Desk, $40, Amazon
This multitasking laptop desk, made with sustainable and eco-friendly bamboo, can be adjusted to five different heights and has a fan-shaped ventilation hole (perfect to keep your computer from overheating), a cup /phone holder, and a side drawer for storage. This table has foldable legs that make it a snap to store and it can be used as standing desk, tablet holder — or even as a TV dinner tray.
5. A 7-In-1 Waterproof Face And Body Cleansing Brush
Fancii 7-In-1 Electric Facial & Body Cleansing Brush Kit, $26, Amazon
With two speed settings and six brush heads, this electric facial and body cleansing brush kit provides a deep, thorough cleansing that eliminates excess oils from the pores and exfoliates dead cells to reveal more radiant skin. It can also be used to rid skin of blackheads, get every stitch of makeup off, and (depending on the brush head), can be used for daily cleaning or deeper exfoliation. Both the brush heads and handle are waterproof and can be used in and out of the shower.
6. A Light And Ion Therapy Lamp To Combat Seasonal Affective Disorder
NatureBright SunTouch Plus Light and Ion Therapy Lamp, $57, Amazon
For lots of people, shorter days and colder nights lead to things like Seasonal Affective Disorder (something you should speak to a doctor about), sluggishness, and trouble sleeping. Light therapy is often recommended and this light and ion therapy lamp is perfect because it can be used at home, at any time. Recommended by both Columbia Department of Psychiatry and the New York Psychiatry Institute, this light device can balance your body clock and alleviate stress caused by seasonal changes. This particular option also has a timer and emits 17,000-Kelvin UV-free light, which is equivalent to the blue sky light seen in North Pole.
7. A Pore-Perfecting Dead Sea Mud Face Mask With Hyaluronic Acid
Yeouth Dead Sea Mud Face Mask, $19, Amazon
This face mask is infused with Dead Sea minerals to draw out impurities and excess sebum from the face, removing blackheads and keeping pores clear on the face, shoulders, and even back. These minerals are also great for rejuvenating skin and giving it a plump, fresh look. The ingredient list is chockfull of skincare stars like avocado oil, soothing colloidal oatmeal, hyaluronic acid, and aloe to hydrate and heal.
8. A Luxurious, Heated Fur Throw Blanket For Chilly Nights
Beautyrest Heated Brushed Long Fur Throw, $66, Amazon
What's better than cozying up on the couch under a soft blanket? Flipping a switch on this heated brushed long fur throw blanket, choosing among three heat settings, and settling in for a truly relaxing experience. Don't worry about safety — this blanket contains no electro magnetic field emissions and features a two-hour automatic shut-off function.
9. A Wireless Sound Machine With 10 Soothing Sounds To Lull You To Sleep
LectroFan Micro Wireless Sleep Sound Machine, $32, Amazon
This wireless Bluetooth sound machine has four white noise variations, five fan sounds, and one super relaxing ocean sound to provide a better night's sleep for up to 16 hours without having to charge it. It'll give you six hours of audio streaming, and it has Bluetooth capability so you can connect it to your phone and make calls or listen to music. It's also extremely small, so it's perfect for traveling.
10. A Heated Pillow That Provides Muscle-Relaxing Vibrations
HoMedics Shiatsu and Vibration Massage Pillow With Heat, $36, Amazon
Plug in this amazing shiatsu and vibration massage pillow and wait a few seconds for it to heat up. Now comes the best part: the 3D technology that delivers circular kneading motions to soothe muscles in your back, shoulders, and neck. One reviewer writes: "If you have a bad back, sore muscles, tight neck, sore feet, this is for you. The most universal massage product I have found since it is small and has lots of power for deep tissue massaging."
11. A Colorful, Magnetic Putty That Provides Hours Of Fun And Relaxation
Crazy Aaron's Thinking Putty, $23, Amazon
A magnetic putty that you can bend, bounce, stretch, and create 3D models with, it's absolutely fascinating for adults and older children. It's also an excellent tool to de-stress with, and you can tear and stretch it endlessly. It comes in 24 vivid shades, but this option comes with a cubed ferrite magnet for some extra play.
12. The Headphones So Comfy And Thin You Can Sleep In Them
CozyPhones Sleep Headphones, $19, Amazon
Teeny, tiny, removable headphones can be found in this washable headband that's so comfortable you can wear it to sleep, or you can use it on a cold day when running outside. It boasts a mesh lining that's breathable and stays cool as you sleep — and it's compatible with myriad devices like iPhones, Android, Nokia, Blackberry, and many more. The cord is also extra-sturdy and won't tangle when you toss and turn.
13. A Curling Iron Set That Comes With Interchangeable Barrels For Various Curls And Waves
xTava Curling Iron Set, $47, Amazon
Give yourself as many options as possible when it comes to your hair with this curling iron set, which comes with five interchangeable ceramic tourmaline barrels in various sizes to create different curls and waves — all while protecting hair from heat and keeping it smooth and frizz-free. With a selection of tapered clipless barrels, barrels with clips, and even a heat-resistant glove, this set gives you everything you need to get glam hair with tons of volume and shine.
14. A Breakfast Station That Brews Coffee And Makes Eggs, Pancakes, And Toast
Nostalgia Retro 3-In-1 Breakfast Station, $54, Amazon
In honor of the most important meal of the day, this 3-in-1 breakfast station does it all: it brews four cups of coffee, toasts bread, and features a non-stick griddle where you can whip up bacon and eggs in no time. The 30-minute timer with auto shut-off provides peace of mind so you can enjoy your delicious breakfast with no worries. It's also great for whipping up some excellent grilled cheeses or sandwiches, so you'll be using this station all day.
15. An Electric Callus Remover That Gives You The Silky Smooth Feet Of A Baby
Care Me Electric Foot Callus Remover, $22, Amazon
Glide this electric callus remover over rough patches on your feet and it instantly removes dead skin and leaves you with smooth, silky feet. It has a rechargeable battery that can be charged up to 1,000 times, so expect this gadget to stand the test of time. This model also comes with two interchangeable rollers to get rid of even the toughest calluses.
16. A Shower Curtain With Pockets To Store Shampoo And Shavers
Maytex Mesh Pockets PEVA Shower Curtain, $18, Amazon
This genius transparent PEVA shower curtain looks cute and keeps water from getting on your bathroom floor, but it's so much more than an ordinary curtain — it boasts nine mesh pockets that can store everything from soap and shampoo to shaving materials and loofahs, and they all have sufficient drainage to keep things mold-free.
17. An Activated Charcoal Stick That Filters Your Water
Sort Of Coal Kishu Binchotan, $28, Amazon
This activated charcoal stick can be placed into any pitcher of water and have it filter to tastier water that has no chlorine in it. It also adds minerals like potassium and magnesium, and it lasts for up to three month of filtration. However, it won't go to waste when it's through — it can be an excellent fertilizer, so you can actually cursh it up into your plants to keep them thriving.
18. A Gel Memory Foam Pillow That Keeps Your Head Cool Throughout The Night
Classic Brands Cool Sleep Ventilated Gel Memory Foam Pillow, $32, Amazon
This gel memory foam pillow has serious ventilation and a cooling gel to keep your head comfortable all night long. It's also got a performance knit cover that wicks away sweat and moisture. The 6-inch loft is a medium height that works best for side and back sleepers. Plus, allergy sufferers will find relief with this pillow: it's hypoallergenic and resistant to dust mites, mold, and bacteria.
19. A Salad Cutter Bowl That Lets You Chop Lettuce And Veggies In Seconds
O'Salata Salad Cutter Bowl, $13, Amazon
Say hello to a gadget that is going to help you chop salad in 60 seconds — and that's easy to clean and dishwasher safe. Simply insert lettuce and veggies in this salad cutter bowl, place the lid on top, and use a knife to cut all of the ingredients through the card slots. That's all it takes to get a perfectly chopped salad that won't result in lettuce and tomatoes flying off your cutting board — and you can even eat it right out of the bowl.
20. An Aromatherapy Lava Bead Necklace That Emits Calming Essential Oils
Lava Rock Essential Oil Diffuser And Aromatherapy Necklace, $15, Amazon
At first glance, this is a minimalist five-stone lava bead necklace that feels and looks earthy and fashionable. But this pretty piece of jewelry, set on an 18-inch chain, doubles as an essential oil diffuser and aromatherapy necklace. Apply a few drops of your favorite oil to the beads and allow them to softly and subtly emit the fragrance into the air throughout the day. You can also use this with your favorite perfumes, too.
21. A Sous Vide Cooker That Cooks Meat, Fish, And Vegetables Evenly
Anova Culinary Sous Vide Precision Cooker, $111, Amazon
The sous vide cooking technique ensures everything you make (with a specific focus on meat, fish, and vegetables) is cooked evenly and to perfection by going low and slow — which produces a buttery, velvet texture that's unlike anything else. However, using this sous vide cooking gadget makes it 100 times easier than you'd think. Set the time and temperature manually or, drop your bag of marinated food into any pot of boiling water, and that's it. Plus, thanks to this cooker's Bluetooth capabilities, you can use the Anova Culinary app to find your ideal cook setting.
22. These Nourishing Sheet Masks With Natural Ingredients For Every Day Of The Week
Ariul 7 Days Mask Set, $16, Amazon
Get gorgeous, glowing skin every day of the week with this 7-day mask set. These non-toxic sheet masks (which are free of parabens, mineral oil, and artificial scents) take every skin issue you can possible have into account, from acne (which a tea tree oil will clear right up) to dry, patchy skin that will benefit from the nourishing effects of a sheet mask made from natural eucalyptus. It also comes with a pack of makeup remover wipes packed with soothing herbal extracts.
23. A Himalayan Salt Cooking Plate And Server That Adds A Zesty Kick To Food
Zenware Natural Himalayan Block Cooking Salt Plate & Holder Set, $30, Amazon
Add the naturally delicious taste of Himalayan salt to foods as you grill them, or present food or cheese on this Himalayan Block Cooking Salt Plate and Holder Set. The holder is designed for a stovetop or grill (not the oven), can withstand temperatures of 500 degrees Fahrenheit, and provides a unique zest to food. It's also naturally antibacterial, so it's easy to clean with a damp cloth.
24. A Bleach-Free Charcoal Teeth Whitening Powder For Naturally White Teeth
CocoSmile Charcoal Teeth Whitening Powder, $15, Amazon
Whiten your teeth naturally with vegan, cruelty-free charcoal teeth whitening powder, which removes stains and discoloration from teeth. Each fluoride-free jar contains a six month supply of powder that's free of bleach and peroxide and is ideal for sensitive gums. Your kit also comes with a biodegradable bamboo charcoal toothbrush that can be used to apply the powder.
25. An Epic Bazooka That Makes DIY Sushi A Breeze
Cook&Life Sushi Bazooka Set, $14, Amazon
The Cook&Life sushi set comes with a sushi bazooka, a bamboo mat, and adorable silicone helper chopsticks. Simply load the sushi bazooka with rice and fish, close it, and squeeze it out to form a perfect log that can be easily sliced and served. It's made from food-grade parts that can all go in the dishwasher, and the pictures of reviewers' sushi creations are surprisingly impressive — no Pinterest fails with this genius gadget.
26. A Phone Sanitizer And Charger That Works With Every Phone
PhoneSoap 3.0, $60, Amazon
Our phones accumulate a frightening number of germs throughout the day and we probably don't clean them as often as we should. Take care of that problem by inserting your phone into the PhoneSoap 3.0, a phone sanitizer that uses UV-C light to kill 99.99 percent of germs from your device. This Shark Tank competitor also charges — charge your device while it works or leave it overnight — and it can fit nearly every phone on the market.
27. A High Tech Makeup Brush Cleaner With A Charging Station
Luxe Makeup Brush Cleaner With USB Charging Station, $23, Amazon
Makeup brushes can easily spread bacteria, dirt, and oil if you don't clean them enough. Instead of setting aside an entire night to wash your brushes, which always seems like a chore, rely on this incredibly efficient makeup brush cleaner with a USB charging station. All you have to do is dip and dunk your brush, spin it to rinse, and spin it to dry — it even features three settings that are compatible with various brush types. It's quick, and it won't damage natural or synthetic brushes.
28. A Travel-Friendly Humidifier Stick That Alleviates Allergies And Dry Air Anywhere You Roam
Deneve Cool Mist Travel Humidifier Stick, $20, Amazon
Traveling (even if you're just traveling to your office) is no reason for you to suffer from allergies or cold symptoms that are exacerbated by dry, stale air. Fill a glass with water, insert this portable humidifier stick, and plug it into an USB power source. In seconds you'll be able to breathe in humidified air and find relief from allergies. It's only noticeable to people within a 20 foot range, so it's perfect for cubicles.
29. A Wine Saver Vacuum Pump That Keeps Opened Bottles Fresh
The Original Vacu Vin Wine Saver, $11, Amazon
What to do when you open a bottle of wine and can't finish it? Forget about wasting even a drop of vino or storing it in your fridge without a cap, which will ruin the taste. This wine saver vacuum pump creates an airtight seal and the accompanying vacuum bottle stoppers (you'll get two) ensure your bottle of red or white stays fresh for days.
30. A Bold, Bright 12-Piece Makeup Brush Set That's An Incredible Value
Overmal 12-Piece Makeup Brushes, $13, Amazon
Talk about incredible value: For less than ten dollars, you'll get 12 gorgeous, unicorn-hued makeup brushes — which is basically every tool you need to create a flawless makeup look. This set includes foundation, concealer, eyebrow, eyeliner, eyeshadow, and blush brushes, and reviewers say they're "very soft."
31. An Essential Oil Pillow Spray That Acts As A Natural Sleep Aid
This Works Deep Sleep Pillow Spray, $29, Amazon
Whether you're having trouble falling asleep or you sleep like an angel without a care in the world, this pillow spray and natural sleep aid will prove a heavenly addition to your nighttime routine. Infused with calming essential oils like lavender, vetiver, and chamomile, and free of harmful chemicals and synthetic colors, simply spray this on your pillow before bed, relax, and let it help you fall asleep and stay asleep.
Bustle may receive a portion of sales from products purchased from this article, which was created independently from Bustle's editorial and sales departments.