31 Resolutions From Celebs Who Know What's Up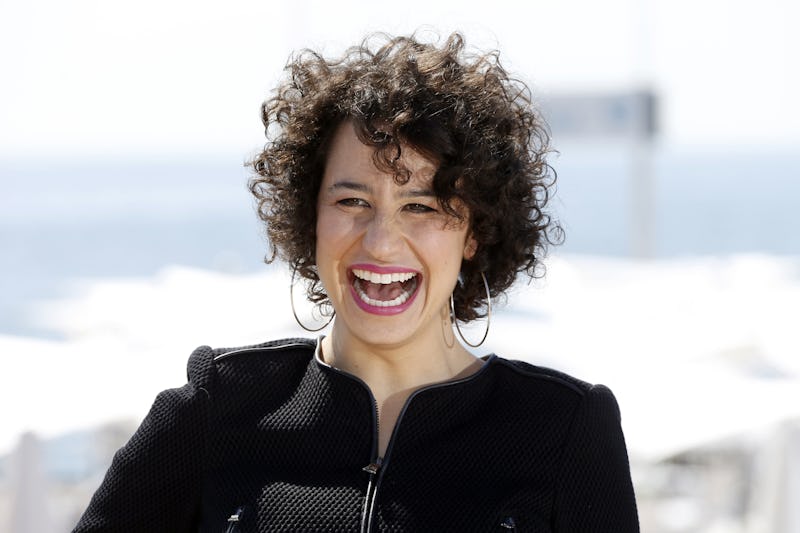 VALERY HACHE/AFP/Getty Images
So many New Year's resolutions are focused on losing weight, particularly for women. And hey, go for it if that's a healthy goal for you — but what if we strived for something new besides a resolution that shames us for who we are right now? This was the idea behind Bustle's decision to ask 31 female celebrities to up the ante on New Year's resolutions. How can we do better? What would they wish for young women to accomplish in 2017? This is what they said.
Over a period of several months — on red carpets, at press events, and more — Bustle reporters asked stars like Natalie Portman, Viola Davis, Octavia Spencer, Helen Mirren, Tracee Ellis Ross, Ilana Glazer, Ruby Rose, Rita Ora, Gloria Steinem, Gina Rodriguez, Rachel Bloom, Regina Spektor, Sabrina Carpenter, Daya, Anna Chlumsky, and many, many more the New Year's resolutions they would suggest for women in the upcoming year. Check out their answers — and get inspired to make your own — below.
Psst! Check out the "You IRL" stream in the Bustle App for daily tips on how to have an empowering 2017 starting Jan. 1. Right now, tweet @bustle about how you plan to make 2017 the best year yet. Use the hashtag #2017IRL, and your tweet could be featured on our app.
"I think young women should be focusing on setting goals for themselves and really honing in on what they want to do in life, and not let people stand in the way of that or tell them no."
"Eating more cake. Eating more cake! I actually just said 'don't take life too seriously,' because I think that's the one thing is, especially with social media nowadays, it's so easy to nitpick at ourselves and everything that's wrong with ourselves and we start to forget what's right and there's so many incredible things that make us unique and we forget that that's how we stand out and that's how we're changing the world."
"Stop being so hard on yourself! Oh my gosh. I think women are way too hard on ourselves. I almost think New Year's resolutions are always talking about, 'Oh, I have to take this out of my life.' It'd be nice, I'd like to start reading books more. Spend more time reading, and not just headlines of news stories on Twitter accounts. Actually pick up a book. I also think, 'Guess what? It's probably not going to happen in January.' I'm a really busy person and I'm a mom and those are tricky things. I have a fear of making that and come May I have yet to find that book I want to read. [Laughs] Everything in due time. I'm a good person for having overall goals for the year, so maybe mine will be to read one book."
"I was gonna say [if you were asking for just mine] something like I want to go on more dates and be more open-minded while I go on them, because I never get off the couch. I'm like, if I have a day off, I just want to sit on the couch, but then I'm like you're not getting anywhere. And maybe that's not the best of advice towards girls, but I do think that like put yourself out there… because I don't do that, and I'm getting too old not to do that."
"Resolving to look at yourself in the mirror in the morning, every day when you wake up and name five things that you love about yourself — on the outside and the inside. Just say it, just say it. 'Wow, Joy, good morning, look how beautiful you are. This is going to be a wonderful day and you have the power to be kind to people and to let someone else know that they're important. And that's what we're gonna do today.' Communicate with that part of yourself that gets ignored."
"I feel like young women are so hard on ourselves and we are constantly comparing ourselves to other people. The life of Instagram and social media, we are constantly like, 'Oh, she has this or I wasn't invited here or I'm not good enough.' There's just information overload about everything that you're not. Just love you. Love ourselves for who we are. ... It's not about how beautiful you are, it's about how happy you are."
"Do something you've even dreaming of doing. And make sure it happens. And make sure you find a friend that's gonna help you make it happen."
"I am personally gonna work on not feeling like I have to please everyone. Sometimes I just exhaust myself if I'm just trying to talk to people, putting out my best self all the time. I feel like sometimes I just have to calm down and take a second for myself."
"Have positive thoughts. Always think positively, always be present, be in-the-moment. I know it's harder. Because sometimes we're owned by self-doubt or think about things or want certain things. But if we just realize that everything's gonna work out, and it always does, you can appreciate the moment a lot more. I'm a strong believer that positive thoughts help manifest things. Thoughts manifest reality. That should be an interesting exercise, and I'm not even waiting until New Year's. I'm actually starting now, to constantly have a stream of being grateful and appreciating. I hope to keep it."
"One of my things is to be a better listener. I think a lot of the times, when someone else is talking, they're just waiting to say what they wanna say. And I always appreciate good listeners. It's a really great quality to have. And taking care of yourself better."
"Making time for yourself. If it means a bath at the end of the night, putting a mask on your face, if it means just reading your favorite magazine. Whatever you do that makes you feel recharged. That should be our New Year's resolution. That's why I'm putting it out there."
"They should be focusing on making their dreams come true. They should be focusing on their future, really getting a good handle on what it is they want to do. Making a plan for that future, laying it all out, and getting to work right away."
"Oh gosh. I always think of that, your younger self and what would you tell them. And the tough thing about that is, the reason why older people think of their younger selves and what they might say to them is because they wish for other people, right? That they can somehow bypass wasted time and self-flagellation, and I think it's a tricky thing to avoid. It's part of growing up that you have to go through periods — they say, right, that sometimes you have to hit rock bottom before you can crawl your way back up. And sometimes you learn a lot from making the wrong decisions and everything. But I do think there's an outrageous pressure to be perfect, to obtain the unobtainable, and going easy on yourself is important and not really the message out there. The message out there is generally you're not good enough, be better, and it's really easy to kind of take on that burden. And I do think as you get older, probably just because you tire yourself out from being so hard on yourself, you start to ease up on that, and I'm finding as I get older how much nicer it is to not self-attack."
"I think right now, a resolution for everybody would be to listen to the people we're around. Truly try to be present with the people that are around you. I think we have to listen. We are in this time where it feels so divided. This election has made me feel closer to the people I love and want to be closer with the people I love. It also has made me want to connect with people that I don't know because we're all in this together. We have a lot of work to do."
"I wake up every morning, I write about things that I feel grateful for and I fall in love with the life that I already have. That is my work. I really do that. I have an app, where for five minutes every morning and every night, I just write about what I already have that I love and what I can do and some days I'll write amazing things that happened. It's only positive. It's called Five Minute Journal. It's so good. I do not make resolutions, I try to take care of myself and others in a loving way every day."
"It's almost like we're being mean to ourselves by saying, 'I have to lose weight, I need to stop drinking.' My new resolution to myself is to love myself more. For women to really take some time for themselves for self care and to learn to accept and love ourselves. I think that's the way that we're gonna move forward."
"You know what mine is, every year is being punctual and on time. That's my biggest resolution every year is to try to be more aware of other people and being on time. What could be another one? I think moderation. I never do like "Sober January." I never go to the gym every day, because I work out anyway. I think anytime you put that much emphasis on something... My mom's best advice that she ever gave me is, 'Everything in moderation.' Don't say no to everything. The more you cut off, everything is, like, worse, so everything in moderation. You don't have to be extreme."
So there you have it. You've got no excuse to let society tell you to make "going to the gym" your annual resolution. Invest in yourself, love yourself, and if you need a reminder, let these 31 ladies bring you back here.
Reporting by Allyson Koerner, Lia Beck, Sam Rullo, Kadeen Griffiths, Anna Klassen, Taylor Ferber, Rachel Simon, Sara Tan, and Caitlyn Callegari