Tweets That Got Week 4 Of 'The Bachelor' So Right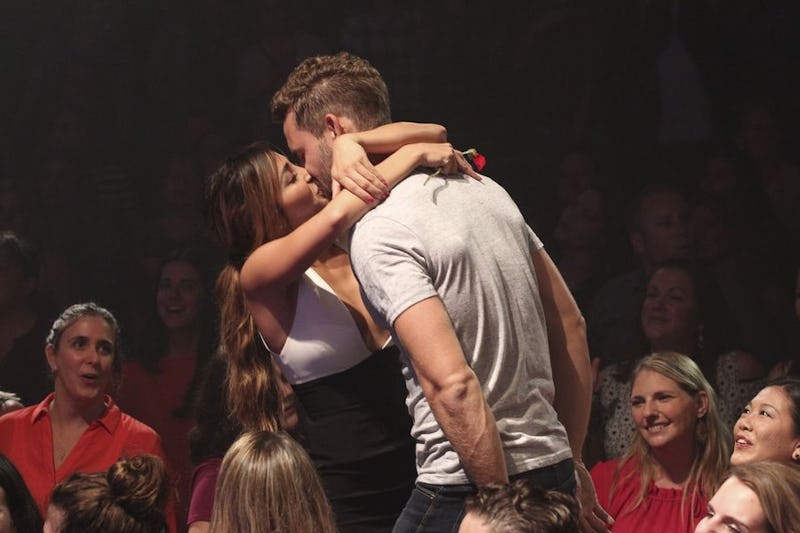 ABC/George Burns
Things are finally starting to progress on this season of The Bachelor. We are almost done to a solid group of ladies who could reasonably be left standing in the end, but at the very least this is the point in the season when (most of) the viewers know the contestants names and that makes the drama infinitely easier to follow. I cannot help following along with each episode by constantly refreshing social media to see what everyone else is saying. Throughout my scrolling, I found so many tweets that got week four of Nick Viall's Bachelor season so right.
My girl Corinne stole the show as per usual, and I find myself hoping that she never gets eliminated. With that said, I can't deal with everyone on Twitter spelling her name differently. Sure, that's a pet peeve of mine in general, but it's really annoying when I want to refresh my search to see what people are saying about her.
Also at this point in the series, multiple women (predictably) declared, "I'm falling in love with Nick" and I love it. Now we are really starting to get serious.
And, of course, Alexis was still the Bachelor contestant we need with her humor that she's brought to every single episode.
Given that Nick is the most controversial Bachelor in recent history, you know that the fandom is really going to keep it real when it comes to sharing opinions online. People had a lot to say in response to the episode's most important moments.
1. When Corinne Made A Speech After The Rose Ceremony
I have no idea why Corinne decided to make an acceptance speech when she got her rose, but I absolutely loved it. I probably would have hated it if I was one of the contestants, but trying to decipher her words while watching the women's reactions was priceless.
2. When No One Came Through On Their Threat To Leave If Nick Kept Corinne
A lot of the ladies were talking a big game about how they were "so done with Nick" and couldn't try to date someone who had an interest in Corinne, yet no one was that offended since they all kept their roses.
3. When The Ladies Cheered About Going To Milwaukee
I'm sure Milwaukee was great, but I would have been expecting a trip to the Bahamas or Paris if I was on this show.
4. When Nick's Parents Asked If He Was Going To Find Love This Time
As supportive as they are, it seems like the Vialls are ready for Nick's reality TV journey for love to be over.
5. When Nick "Ran Into" His Ex
In related news, this "run-in" wasn't really that entertaining.
6. When Nick's Date With Danielle L. Turned Into A Home Town Hook Up Tour
From talking about library make outs to a conversation about losing his virginity on a grassy hill, this date was all about old relationships and past hookup spots.
7. When Nick Asked Danielle About The Last Time She Wore Sweatpants
Am I the only one who feels like Nick asks the most random questions when he is having one-on-one time with the ladies? I'm sure he asks some practical things that got edited out, but the sweatpants query just made me laugh out loud.
8. When You Started To Miss Danielle M.
All of this talk about Danielle L. made me think about Danielle M. Where has she been? We need more of her aside from just reading the date cards out loud!
9. When The Group Date Started With Nick Feeding A Baby Cow
Were the ladies on a date with Nick Viall or Chris Soules? Nick and that baby cow could not seem more unnatural if he tried. It was definitely cute, but it was a little much.
10. When You Realized That The Only Thing Nick's Ladies Had In Common Was Hoop Earrings
I have been trying to understand Nick's taste in women and find a common thread between these ladies all season and the only thing I noticed is that they all love wearing hoop earrings. Very 2004 of them.
11. When Corinne Said What We Were All Thinking About The Group Date
Corinne was so right. Who would actually want to go on this date? Last week they were dancing with the Backstreet Boys and now they are shoveling manure. Thanks, but no thanks.
12. When Corinne Said She Would Rather Get Fed Tacos At A Spa
Seriously though, where is this spa? It sounds like a heavenly place to me. Not to mention that it sounds a million times better than that farm date.
13. When Vanessa Gave Nick A Scrapbook From Her Students
At this point, Vanessa seems to be lightyears ahead of the other ladies when it comes to winning Nick's heart. They have the most well-balanced connection and she seems to do everything right. Who wouldn't love that scrapbook!?
14. When Kristina Tried To Open Up To Nick
Nick talked about how much he wanted to hear about Kristina's backstory, but they never actually got to it and just made out. Guess that's how things go on this show — these people just can't keep their hands off each other! Hopefully, they actually did find time to talk and it just didn't make the episode.
15. When Nick & Rachel Discussed How Happy They Were To Be On The Show
I feel like most of the conversations go this way: Nick and a lady go back and forth between how "excited/happy/glad" they are to be on this show and how they are "excited/happy/glad" that the other person is also "excited/happy/glad." Riveting.
16. When Taylor Told Corinne She Wasn't Mature Enough For Nick
I get that age is just a number, but I could not help laughing at Taylor constantly calling out Corinne for being young and immature when she is a year younger than Corinne.
17. When Sarah Questioned If Corinne Is Ready For Marriage
Corinne did not think that anyone was going to take her up on her offer when she told the ladies to ask her questions if they had some. Sarah came out of nowhere questioning if Corinne is ready for marriage at this point. Spoiler alert: She's not.
18. When Corinne Compared Herself To Michael Jordan & Abraham Lincoln
This had to be the most epic Bachelor quote of all time. Corinne associating her nap time with Michael Jordan and Abraham Lincoln gave me life.
19. When Corinne Apologized For Taking A Nap
I don't get why anyone cares about Corinne falling asleep all the time. Let her screw this up for herself. Plus, Corinne skipping out on dates and rose ceremonies makes for great TV.
20. When Kristina Got The Group Date Rose
I could not help rewinding and replaying Kristina's utter surprise when she was chosen for the group date rose. She definitely had no idea it was coming and it was hilarious to see her (almost) follow Corinne's lead with a mid-date nap.
21. When You Realized Nick & Raven Were Playing Soccer With Jeans On
Why didn't they get a heads up about the wardrobe? Who wants to take part in any athletic event with jeans on? Not me.
22. When Bella Made Her Triumphant Return To The Franchise
Who doesn't love Bella Viall? No matter how you feel about Nick being the Bachelor, you had to be excited for Bella's return!
23. When Nick's Parents Showed Up To The Game
This is such a good point. It has to be tough balancing your schedule with such a big family. Props to them for making it work.
24. When Nick's Dad Asked Raven About Her Name
It was hilarious watching Nick's dad make small talk with Raven about her name.
25. Whenever Bella Was Talking To Raven
Bella really knows what's up. No filler questions here. This girl is all about substance. She should give her brother some pointers for his future dates.
26. When Raven Started Talking About Her Ex
It would have been way more interesting to see Raven's ex from her story than Nick's pre-Bachelorette love interest. Let's hope this dude shows up if Raven makes it to home town dates.
27. When Nick Had A Lot Of Questions About Raven Saying Her Ex Cheated
Nick would not stop with the questions about Raven saying her ex cheated. Yes, she said she found him with another girl. Yes, she said they were naked. That's usually how it goes. How many more details did Nick want from her? It was a juicy enough story on its own.
28. When Raven Talked About Her Revenge On Her Ex
Apparently I wasn't the only one who felt like Raven was channeling Carrie Underwood's famous jam "Before He Cheats" when she talked about coming for her ex with a stiletto heel.
29. When Raven's One-On-One Date Ended
I could not help loving Raven (even more) after that date. If she doesn't win, I would love to hear her accent every week on The Bachelorette.
30. When Josephine & Corinne Were Talking At The Cocktail Party
Josephine's glare when Corinne got a rose at the beginning of the episode was her most prominent move Monday night. So it was super shocking to see her go from that to being Corinne's confidant when she needed to vent about Taylor.
31. When Corinne & Josephine Were Eating At The Cocktail Party
FINALLY! Someone ate the food on this show. This was the most relatable moment of the episode. I also was confused by what they were eating, but I think it was pigs in a blanket with assorted dips?
32. When Taylor Talked Down To Corinne
No matter how smart Taylor is or how valid her points may be, being condescending is never alright. I bet their convo pulled some fans to #TeamCorinne.
33. When Chris Harrison Talked Up The Taylor Vs. Corinne Feud
I know that it's Chris Harrison's job to over-hype the drama of every single situation, but there are way more serious contenders to marry Nick.
34. When Alexis Shared Her Biggest Fears
We need more Alexis on this show! She says the darnedest things and I cannot get enough of her.
35. When It Ended With "To Be Continued" AGAIN
I just want my episodes the way they are supposed to be: with rose ceremonies and eliminated women crying AT THE END. This "to be continued" nonsense needs to stop.
The only thing more enjoyable than watching The Bachelor every week is watching the show and reading the live tweets to see that the rest of the fandom agrees with all of your opinions. Now that things are really getting serious, the viewers are more invested in this season and have some strong feelings about the ladies who are still around. The tweets will only get better from here on out.