4 Book Covers To Match Your Starbucks Holiday Cup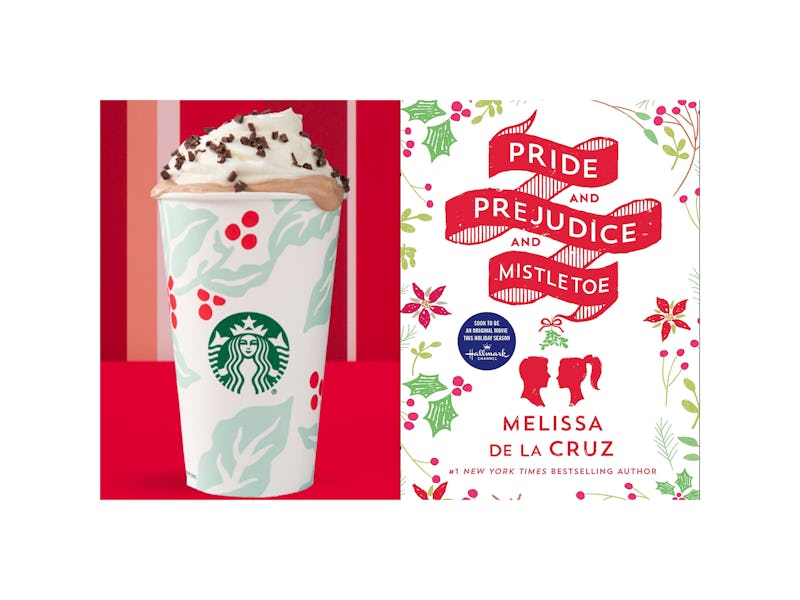 Starbucks, remixed by Bustle
Although winter does not officially begin until Dec. 21, the start of the holiday season comes much earlier, marked by a few favorite traditions: the transition from iced to hot beverages, Mariah Carey's "All I Want for Christmas Is You" on every radio station, and of course, Starbucks' holiday cups. If you're one of the many people who plans on posting a photo of their favorite beverage online — come on, you know you'll share at least one on Instagram before New Year's Eve — you'll be glad to know there are a few book covers to match your Starbucks holiday cup.
Few things go together better than coffee and books, a fact that basically all of Instagram understands. That is why bookstagram, an officially unofficial network of readers who love sharing pictures, reviews, and recommendations online, is filled with gorgeous shots of steaming beverages and intriguing covers: Because there is nothing more aesthetically pleasing than a photo of a great coffee and an even greater book.
Bookstagram may have its haters — I'm looking at you, passive-aggressive article about the beautiful culture of online book nerds — but that shouldn't stop you from posting a picture of these four covers with matching Starbucks holiday cups.