These Lucky 4 Zodiac Signs Won't Feel The Effects Of This Month's Full Moon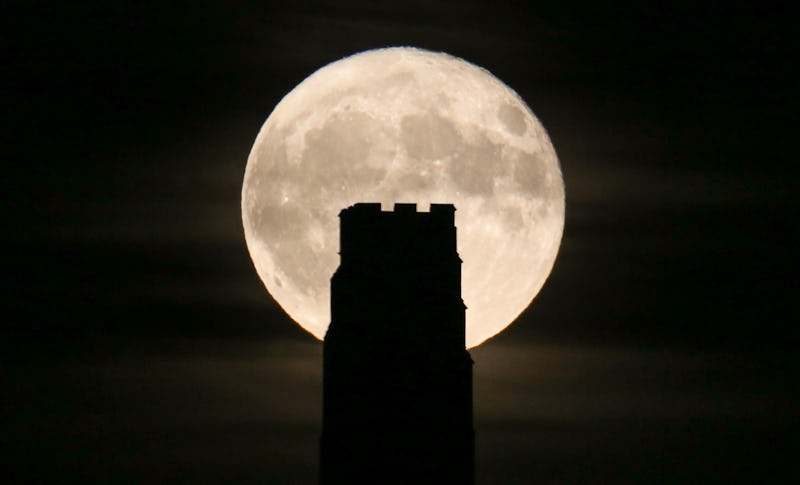 Matt Cardy/Getty Images News/Getty Images
This month's full moon will grace the skies on October 24, at 11:45 a.m. ET, so if it's a clear day, you just might get a chance to see its chalky opaque and spook-tastic appearance before nightfall. As this full moon rises, we will just be officially shifting into Scorpio season, so you're probably wondering how this powerful zodiac house will affect your full moon experience. You're also probably wondering which zodiac signs will be least affected by October's full moon, because let's be real, we've got enough on our plates.
We're all hoping for a smooth and simple full moon experience, especially this month as October is already enriched with a lot of spook, the last thing we need is a horoscope that scares the crap out of us. The zodiac isn't connected to our holiday programming, so the full moon in Scorpio isn't effected by the night of the walking dead. That said, we are connected to both events, so it's understandable that we might be concerned there's something grim or grave in store.
Bustle talked to astrologer Lisa Stardust about which signs literally have nothing to worry about. Not that the signs that will be affected by the full moon have anything sinister in store, it's just that the signs that won't be affected might actually have an opposite and extra positive experience. That said, according to Stardust, there are some experiences that we'll all have access to together, as " the full moon will create transformation and revolution within relationships, as well as altering our personal beliefs." This full moon is a great time to strategize and reflect on the past in order to know how to go forward and effectively and wisely revamp current situations, so we should all focus on that, first and foremost.