5 Apps That Will Help You Split The Check Fairly — Not Awkwardly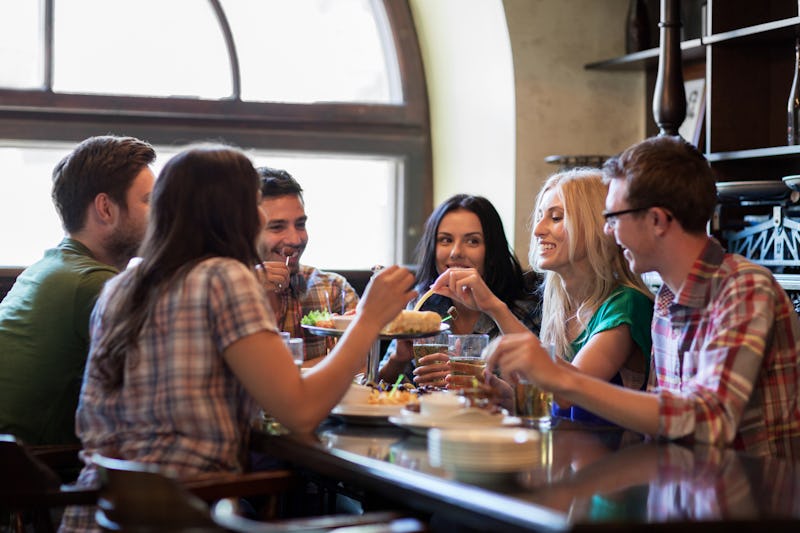 Syda Productions/Fotolia
Splitting the check can be so damn awkward. Sure, with some friends you may have an easy-breezy attitude where you go out together a lot and it'll all come out in the wash. But with others, it can turn really comfortable real quick. It can be especially difficult if one person sticks to a salad and tap water while the others are dining on steak and whiskey — did I message I'm a vegan and non-drinker? The struggle is real. And even though I'm often happy to split the check down the middle and put in a bit extra, sometimes it's just way too lopsided.
"We are expected to split things evenly in social settings, but everyone is in a different place in life," Maggie Germano, certified financial education instructor and financial coach for women, tells Bustle. "You don't have to try to keep up with people who are either earning or spending more than you are. Keep in mind that 'keeping up with the Jones'' is often what puts people into debt. Focus on what is right for you, not what might be expected of you." It's good advice, but sometimes it means having really awkward conversations with the people close to you. But any reasonable person will understand that you only want to pay for what you actually ate. Luckily, the days are gone where figuring out what you really owe was a complicated process. Now there are so many apps that do all of the heavy lifting for you, making equitable sharing just a swipe away.
Check out the entire 'Young Money' series and other videos on Facebook and the Bustle app across Apple TV, Roku, and Amazon Fire TV.
So next time you go out to dinner, don't feel weird about splitting the bill. These apps will work out what you owe — even tax and tip — without anything getting weird. Here are the apps that can save your dinner (and maybe even your friendship).