5 Comfy Sleep Socks You Won't Kick Off In The Middle Of The Night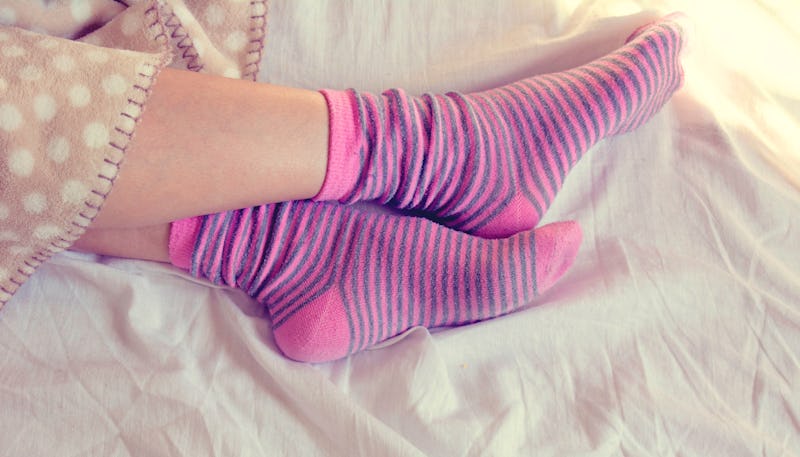 Shutterstock/SAQUIZETA
Even if you're someone who prefers your feet to hang free while sleeping, hear me out: Socks can actually help you sleep better. According to the National Sleep Foundation, warming up your feet and hands can initiate a process called vasodilation (widening of the blood vessels) which can help prepare your brain for sleep. The best socks for sleeping regulate your body temperature, keep your feet warm, and don't itch or bunch throughout the night. Given how many pairs fit this bill, what should you look for in a warm sleeping sock?
The key to good sleeping socks is in the fabric. Any socks that are too tight or compress your feet can have the opposite effect and make you uncomfortable enough to pull them off in the middle of the night. When looking for socks you can sleep in, be on the lookout for fabrics that have a bit of Spandex or elastane woven in so they don't cling.
And, of course, only the softest socks will do when you're drifting to dreamland. Luxe fabrics like Merino wool and microfiber are soft and comfy, yet they aren't so thick and breathable enough that they'll make your feet sweat. You could even splurge on a pair of cashmere socks that are so ridiculously soft that you'll want to keep them on in the morning.
Here's a roundup of some of the best socks for sleeping out there to make sure you snag the perfect pair.