5 'Big Little Lies' Halloween Costume Ideas That Are Perfect For Besties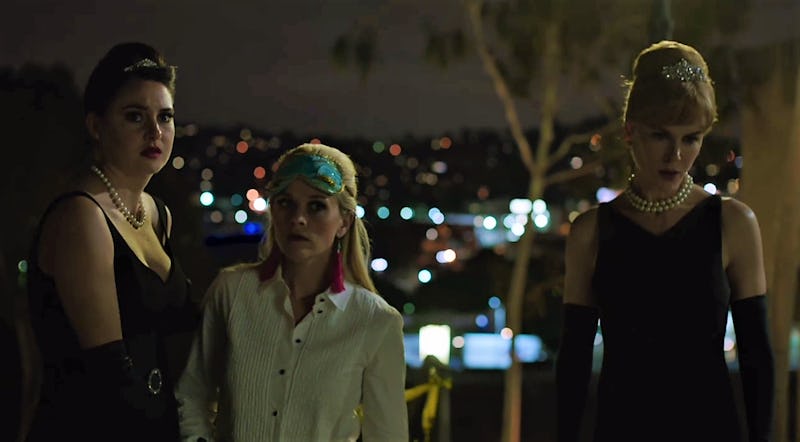 HBO
One of the most binge-worthy, emotional, and feminist series to have aired in recent years is most definitely Big Little Lies — which is why myself and everyone I know is eagerly awaiting the return of our beloved coastal-dwelling, girl-power-filled crew in season 2. If you're basically pulling out your hair with anticipation for the show's return, channel all that pent-up excitement and energy into creativity by rounding up your BFFs and putting together a unique Big Little Lies group Halloween costume.
As someone who grew up in Monterey, California where the show takes place, I have to break the news that the show's representation of the typical Monterey lifestyle isn't exactly true-to-life for most people — my upbringing looked absolutely nothing like the lavish, upper-class existence of most of the show's main characters. But the beach-side coffee shops, backdrop of ocean views wherever you go, and overall small town vibe is fully accurate. And yes, it's pretty normal to wear coats virtually all year round to keep you warm in the crisp and chilly ocean air.
So, who's going to be who in your squad when it comes to a Halloween portrayal of Big Little Lies' leading ladies? We've got Jane, Madeline, Celeste, Bonnie, and Renata as the main heroines/anti-heroines, of course, and each has a signature look and is a certified badass in her own right. Plus, there's no shortage of iconic scenes and moments from the show that'll be super easy to recreate with simple costume pieces — depending on your personal style, you may have some things that'll come in handy sitting in your closet already. Grab your BFF and choose the costume idea that'll give you both your BLL fix while you wait for the next season to drop.
Running On The Beach
Apple EarPods With Lightning Connector For iPhone, $24, Amazon | Juniors' SO Puffer Vest, $35, Kohl's | Unisex Flex Fleece Zip Hoodie, $48, American Apparel | Active Mesh Panel Leggings, $23, Forever 21
Shots of Jane running along the coast with her earbuds in are sprinkled through the duration of the series — and several of the women partake in this outdoor activity at one point or another. When you live next to a coast that beautiful, beach runs kind of have to be your main form of exercise, right? Keep things simple with BLL-style exercise gear and of course, a pair of earbuds and windblown, salty hair.
On A Coffee Date
Western-Inspired Flannel Plaid Shirt, $20, Forever 21 | Soft-Brushed Peacoat For Women, $60, Old Navy | Plambag Canvas Messenger Bag, $22, Amazon | Chunky Thermal Cowl Neck Sweater, $45, Nordstrom
Jane, Celeste, and Madeline rarely missed one of their afternoon coffee dates at their favorite ocean front café — and they all rocked their signature looks each time. A deep red peacoat with pumps and a floral dress or button-down is very Madeline, while a plaid shirt, jeans, and messenger bag is totally Jane. For Celeste, go with a dressy trench and sweater in neutral tones. And in any case, don't forget to carry around a big latte to-go to complete the look.
Bonnie & Renata Groovin' At Amabella's Birthday Party
H&M+ Patterned Jumpsuit, $50, H&M | Maxi Dress, $20, H&M | Sunglasses, $8, H&M | Striped Shawl Collar Cardigan, $43, Forever 21
In one of the more hilarious moments of the series, Bonnie and Renata, both of whom were more or less shunned from the Madeline/Celeste/Jane crew for various reasons, get down n' dirty on the dance floor at Renata's daughter's birthday party. Recreate the moment by donning their outfits from the party, and don't forget to groove to the music.
Madeline & Bonnie At The Dinner Party From Hell
Red Daily A-Line Long Sleeve Boho Maxi Dress, $63, Stylewe | Garden Floral Print Maxi Dress, $25, Forever 21 | BaubleBar Bold Beaded Multi-Strand Necklace, $20, QVC | Acrylic Wine Glass, $6, Crate And Barrel
Another iconic moment? That god-awful couple's dinner party that Madeline and Ed attend at Bonnie and Nathan's place. The frenemy vibes hung heavy in the air during that scene — well, I suppose enemy vibes would be a more appropriate description — but their outfits sure are cute. Recreate the looks as a BFF costume, sans the drama.
The Audrey Hepburn/Elvis-Themed Trivia Night Fundraiser
Gold Sheer Metallic Festival Dress, $55, Poshmark | Fun World White Opera Gloves, $7, Partybell | Bella-Vogue Bridal Jewelry Set, $26, Amazon
Awaken My Love Long Sleeve Lace Maxi Dress, $86, Lulus | San Diego Hat Company Ultrabraid XL Brim Sun Hat, $36, Zappos | Black And White Striped Double Stacked Hair Bow, $7, Etsy
Button Down Pocket Shirt, $28, Forever 21 | Breakfast At Tiffany's Holly Iconic Long Black Cotton Dress, $59, Utopiat | Breakfast At Tiffany's Sleep Mask And Earrings, $26, Etsy | Utopiat Breakfast At Tiffany's Bridal Pearl Jewelry Set, $24, Amazon
OK, so that epic chunk of the season finale where basically all the sh*t goes down? You know, that scene, where all of our Monterey gals are dressed as Audrey Hepburn characters for the Audrey/Elvis dress-up fundraiser? Majorly meta costume alert potential there: Dress up as a character from the show who's dressed as a character from a movie. Whew, inception. All the looks are great, so take your pic from Madeline, Jane, or Celeste's Breakfast At Tiffany's-inspired looks, or choose from Bonnie or Renata's My Fair Lady-inspired looks, which are very different but both gorgeous.