The Most Common Holiday Dating Questions, Answered By Match's Chief Expert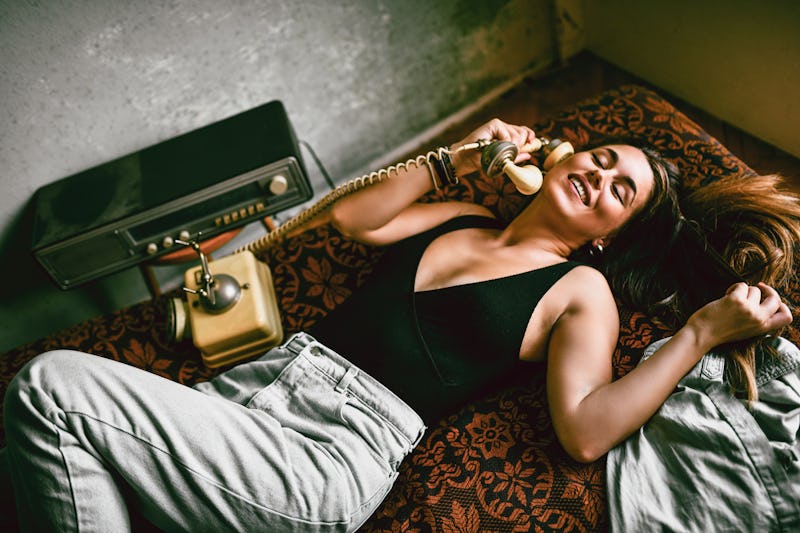 AleksandarGeorgiev/E+/Getty Images
Does navigating a romantic relationship around the holidays fill you with anxiety and deep wells of dread? It's a thing, those feelings — particularly if your relationship is in the fledgling stage. So many people have questions and concerns about love unions during, ahem, the-most-wonderful-time-of-the-year, in fact, that Match is launching a free holiday dating hotline, called, aptly, Holiday Hotline. Meaning, if you wake up in the morning wanting to projectile vomit, tormented as to whether or not you should invite Jess to the big meal with mom and Uncle Rodge, all you need to do is pick up the phone and prepare a question.
Rachel DeAlto, Match's chief dating expert, tells Bustle that the idea came out of Match's current coaching service for users. Since the holidays are particularly loaded times for relationships, they thought they would kindly open up this service to the public.
So, whether you're single or partnered, if you need some dating or relationship guidance, for two weeks, from Monday, Nov. 25th through Monday, Dec. 9, you can reach Match's very experienced dating experts at 1-888-302-6224.
They are on call from 8 a.m. to 8 p.m. CST Monday-Friday, and 12 p.m. to 7 p.m. on the weekends. They are closed the day of Thanksgiving, though, so do get your questions in before you shove the bird in the oven.
Oh, and as a bonus, Match is giving each caller a free one-month membership to Match if they are single and want one. Not bad, eh?
Below, take a look at DeAlto's answers to some common holiday relationship questions — then get ready to craft your own and call the hotline!