Political Cartoons Tackle Trump's Trans Policy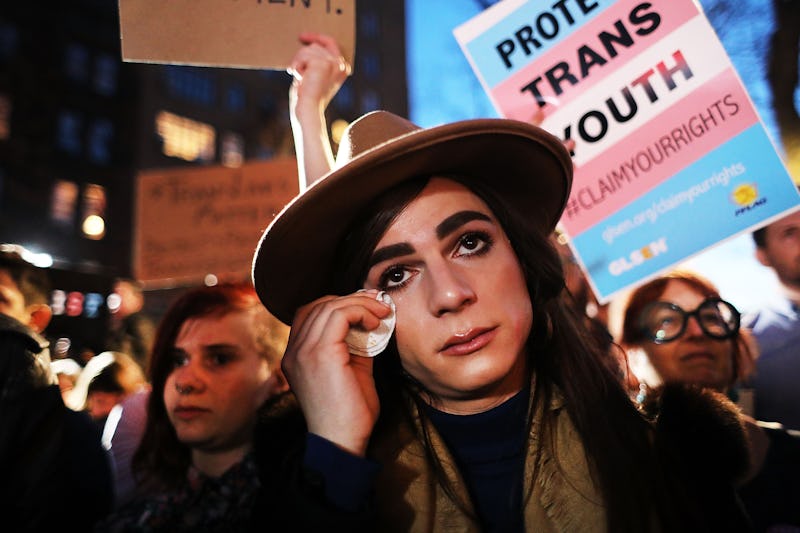 Spencer Platt/Getty Images News/Getty Images
For almost a year now the bathroom has been a political battleground as some conservative state lawmakers push to regulate transgender people's use of public restrooms. This week the White House pushed transgender rights back into the spotlight when it rolled back former President Barack Obama's expansion of Title IX protections to include transgender students. As debate over whether states' rights trump federal civil rights protections rages on, political cartoonists have sought to make a few good points of their own about the Trump administration's decision to reverse transgender rights.
The administration of President Donald Trump announced Wednesday it would not uphold Obama-era guidelines on bathroom access for transgender students at public schools. In May, Obama had instructed public schools to allow transgender students to use the bathroom and locker room that corresponded to their gender identity, arguing the word "sex" used in Title IX included gender identity.
Under President Trump, however, the Departments of Justice and Education are changing their position on the issue and deferring to the states. "This is an issue best solved at the state and local level," Education Secretary Betsy DeVos said in a statement. "Schools, communities, and families can find — and in many cases have found — solutions that protect all students."
Yet opponents of so-called the bathroom bills that spurred the Obama administration's guidance argue they're less about supposedly protecting women and children from predators and more about discrimination. Here five political cartoons weigh in on the issue:
Watch Out For Trump
Nick Anderson, a political cartoonist for the Houston Chronicle, gently reminded fans of President Trump's own history of alleged predatory locker room behavior. During the presidential election season, four former Miss Teen USA contestants and one former Miss USA contestant alleged that Trump walked in on contestants' backstage dressing room while they were in various stages of undress. During a 2005 interview with radio show host Howard Stern, Trump boasted of his dressing room access.
I'm allowed to go in because I'm the owner of the pageant. And therefore I'm inspecting it ... You know, they're standing there with no clothes. And you see these incredible-looking women. And so I sort of get away with things like that.
Privacy, Or Something Like It
This political cartoon regarding the debate over bathroom access raises concerns over how enforcement of bathroom bills like North Carolina's HB2 might infringe on an individual's right to privacy.
No Right Choice
One unsigned cartoon circulating on social media highlights how prohibiting transgender people from using restrooms corresponding to their gender identity only leaves them with even more difficult – and potentially harmful – decisions to make. In fact, a survey from the National Center for Transgender Equality show nearly 60 percent of transgender people in the United States have avoided using a public restroom out of fear after having been harassed and/or assaulted.
Trump On Mount Sinai
An illustration from political cartoonist Tom Stiglich references the religious undertones behind conservative state lawmakers' arguments for policing transgender people's bathroom use. With the Trump administration refusing to intervene to protect transgender people's federal civil rights, bathroom bills stand to become an issue steeped in religion.
Identity Politics
As Trump moved away from supporting transgender rights, Pulitzer Prize winning editorial cartoonist Signe Wilkinson wondered if the Republican Party wasn't experiencing an identity crisis under Trump's leadership. A recent study by the Public Religion Research Institute found the majority of Americans support LGBTQ-inclusive policies and reject so-called bathroom bills.
While the subject of transgender rights or attempts to erase transgender people from public spaces are no laughing matters, political cartoons can help address complicated and multi-faceted issues such as so-called bathroom bills in ways words simply can't.