5 Players You'll See At The Super Bowl Who Were Accused Of Assaulting Women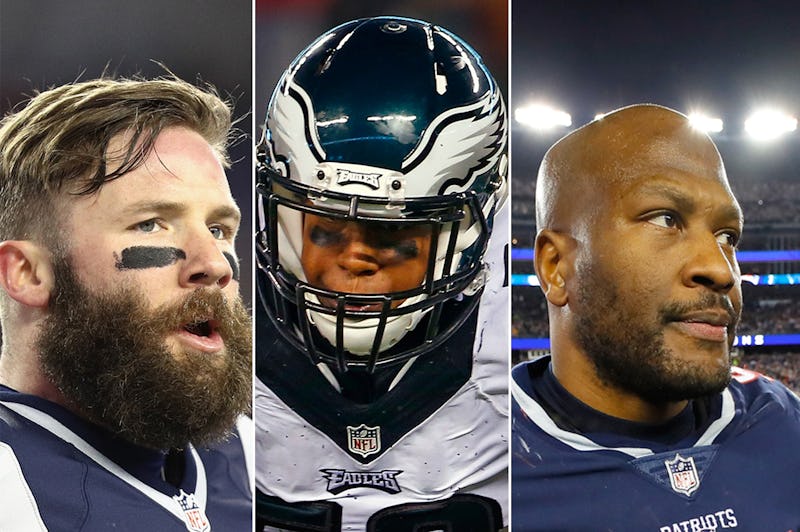 Getty Images
As the Super Bowl approaches, the country is preparing itself for a nail-biting showdown between the Philadelphia Eagles and the New England Patriots. The Patriots won last year and are frequent Super Bowl victors, while the Eagles have never achieved the title, so emotions will be running high. But as you're watching the game on Sunday, keep something else in mind, too: Five of the Super Bowl players have been accused of assaulting women.
In response to a series of domestic violence accusations against high-profile players in 2014, the National Football League (NFL) began a strategic overhaul to address the issue. Among other things, it updated its personal conduct policy, created critical response teams to assist players, their partners, or members of their families who are in distress, and it launched domestic violence, child abuse, and sexual assault education sessions for players and other NFL personnel.
This article isn't comprehensive of all the incidents of sexual misconduct Eagles and Patriots players have been accused of. Some of those athletes have been part of incidents of harassment and other dubious sexual behavior that weren't actually criminal, or were never alleged to be, like when Patriots tight end Rob Gronkowski stuck his face into a woman's cleavage at a bar or performed a lap dance on a female news anchor. The accusations included in this piece are criminally serious, and range from battery to rape.
Most of the following alleged incidents occurred prior to the prominent conversations about football culture and domestic violence that took place across the country in 2014, but the some happened more recently. Here a few accused athletes you might see celebrated on national TV this Sunday.
Nelson Agholor: Eagles Wide Receiver
In 2016, Nelson Agholor was accused of raping a dancer at the Cheerleaders Gentlemen's Club, a strip club in Philadelphia, while they were in a private room together. Agholor denied the claims. Sources from the club suggested to nj.com that the woman lied about the incident to the police because Agholor had refused to pay her the amount they'd agreed upon when she left the room early. The Philadelphia district attorney's office decided not to file charges against Agholor because it "lacked sufficient evidence" to do so. Agholor's lawyer said at the time, "Nelson has not engaged in any criminal conduct."
Two of Agholor's teammates were also implicated in this case because they were with him for part of the night when the alleged incident took place. Connor Barwin, who no longer plays for the team, and Fletcher Cox both have stated that they left the strip club before Agholor went into the private room.
Julian Edelman, Patriots Wide Receiver
Julian Edelman — who you also may not see Sunday because he's sitting out due to an injury — was accused of groping a woman at a Halloween party in 2011. The police report states that he "reached under [... the victim's] costume and grabbed her vagina."
After the alleged incident, Edelman was arrested under charges of indecent assault and battery, to which he pleaded not guilty. His charges were dropped a month later after prosecutors decided that they could not prove the victim's account "beyond a reasonable doubt."
Jalen Mills, Eagles Cornerback
While he was a student and football player at Louisiana State University in 2014, Jalen Mills was charged with second degree battery. He allegedly punched a woman in the mouth in his apartment late one night, knocking her unconscious. Mills claimed that another woman had punched her, while one witness corroborated the victim's assertion that it had been him.
The case was dropped the following year, on the condition that Mills enter a diversion program and pay for the victim's treatment after the injury.
Jordan Hicks, Eagles Linebacker
Jordan Hicks — who is injured and won't be playing the Super Bowl on Sunday — was accused of raping a Texas Tech student in 2012 while he was enrolled at the University of Texas's Austin branch. The 21-year-old woman told police that she had invited Hicks and his teammate to her hotel after they'd been drinking together and that he raped her there. "I feel ashamed saying this, but I know [he] was in me," she said, and added that the teammate had "just stood there and watched."
Hicks' lawyer issued a statement saying that everything that happened that night was "consensual by everyone involved." After an investigation, police decided not to charge Hicks or his teammate.
James Harrison, Patriots Linebacker
James Harrison is accused of assaulting his girlfriend in 2008. Beth Tibbott alleged that she and Harrison had been arguing when she locked herself in a room and tried calling 911. She said that Harrison forcefully entered the room, broke her cell phone, and slapped her across the face. Tibbott called the police, who arrested Harrison. Harrison admitted to a fight through his lawyer, who said the football player "felt strongly that I convey his contrition and his regret regarding the incident."
Harrison was charged with simple assault and criminal mischief, but once he began domestic abuse counseling, the Allegheny County District Attorney dropped the charges.