5 Hurricane Harvey Predictions That Tell You Everything You Need To Know About The Storm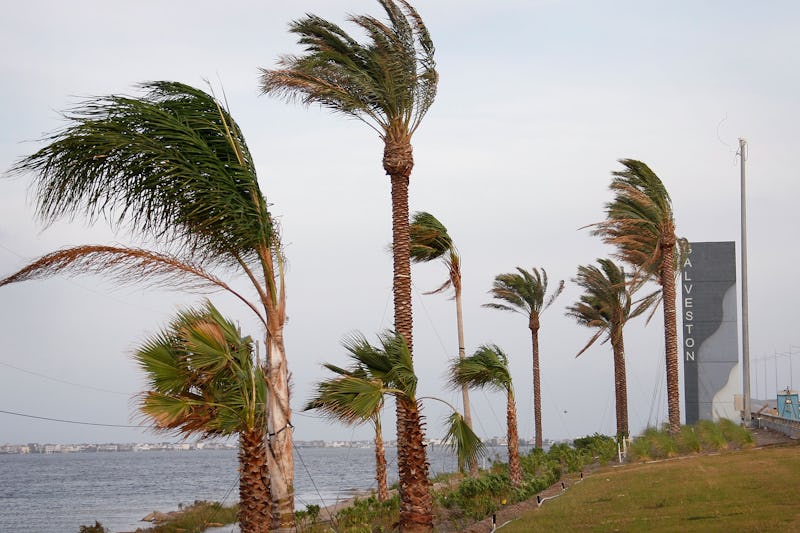 Scott Olson/Getty Images News/Getty Images
For the first time since Hurricane Katrina devastated the Gulf Coast 12 years ago, a potential Category 3 storm dubbed Hurricane Harvey is predicted to hit the Texas Gulf Coast within the next 36 hours. The National Hurricane Center released a report detailing the known facts of the storm and emphasizing its expected severity.
"Harvey is expected to be a major hurricane at landfall, bringing life-threatening storm surge, rainfall, and wind hazards to portions of the Texas coast," reads the report. "Preparations to protect life and property should be completed by tonight, as tropical-storm-force winds will first arrive in the hurricane and storm surge warning areas on Friday."
Texas Gov. Greg Abbott declared a state of emergency spanning 30 counties on Wednesday. "Texans believe in taking action and always being prepared in the event of an emergency," the governor said. "That is why I am taking every precaution prior to Tropical Depression Harvey making landfall. Preemptively declaring a state of disaster will allow Texas to quickly deploy resources for the emergency response effort in anticipation of the storm's hazardous conditions."
According to Weather.com, several cities including Calhoun, Victoria, San Patricio, and Refugio have ordered evacuations. Corpus Christi is not mandating evacuations, but is "strongly encouraging" residents to leave.
Here are a few important predictions experts have made for Hurricane Harvey.
When And Where Will It Make Landfall?
According to the National Hurricane Center, Hurricane Harvey will make landfall either on Friday night or Saturday morning in Texas, somewhere between Port Mansfield and the town of Sargent.
How Much Rain Is Expected?
Experts anticipate a perilous amount of rainfall. "Somebody is going to get a rainstorm to tell their grandkids about," Bill Read, former director of the National Hurricane Center, told The Washington Post.
The upper and middle sections of the Texas coast are expected to see between 15 to 25 inches of rain; some secluded areas are predicted to experience up to 35 inches.
Wind Speeds
Along the Texas Gulf Coast, where the storm is expected to have the most severe impact, winds are expected to reach a maximum of 125 mph when it makes landfall.
Power Outages
Because of the intense wind speeds, widespread power outages are expected. The NHS predicts anywhere between 190,000 to 570,000 outages to occur.
Damages
Already, as Texas refineries shut down in anticipation of the storm, the national average of gasoline prices has gone up by 1.9 cents since last week's average.
In 2008, Hurricane Ike hit the Texas Gulf Coast and took the lives of over 100 people, causing roughly $25 billion in losses. The Severe Storm Prediction, Education, and Evacuation from Disasters Center at Rice University estimates that a direct hit to the Houston Ship Channel could result in over $100 billion in losses with ease.
If you live in an area Harvey is expected to hit, make sure you take all the precautions to stay safe you possibly can.