5 Olympic Athletes Reveal The ONE Thing That Motivates Them Most & It Will Inspire You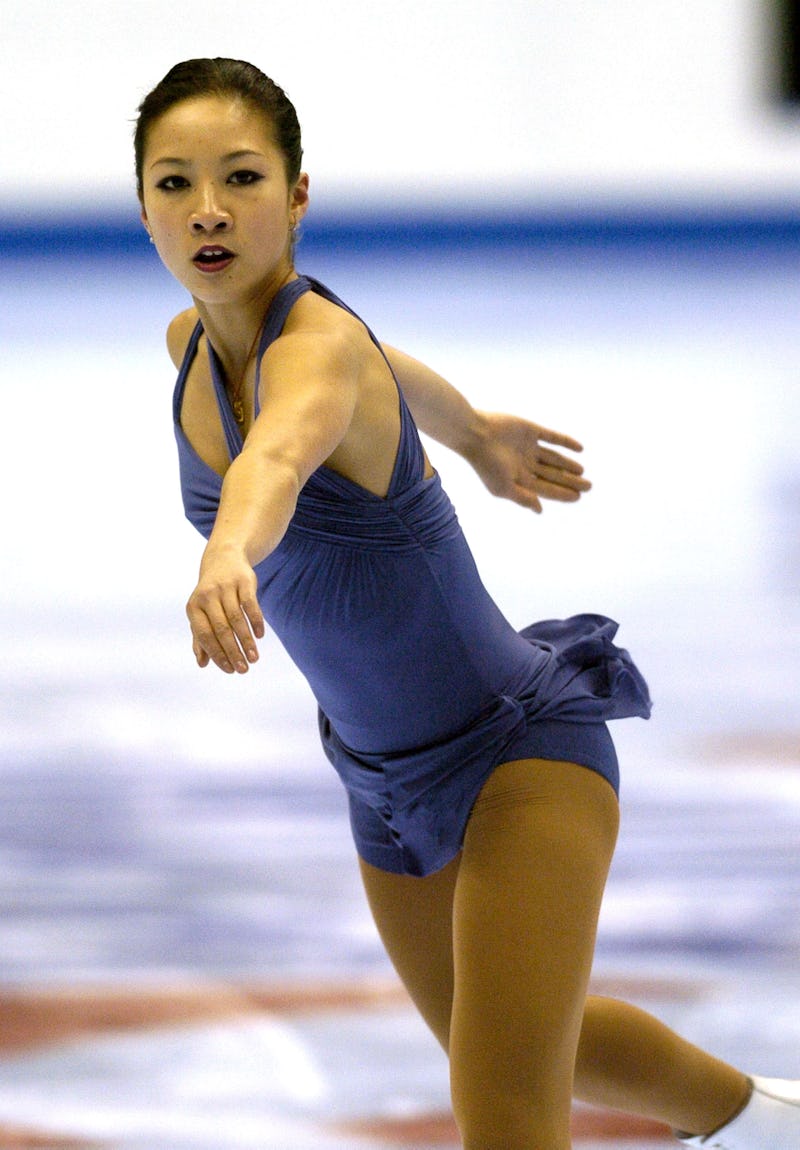 Al Messerschmidt/Getty Images Sport/Getty Images
Finding the strength to stay motivated throughout the day can be challenging for anyone — even Olympians. While their performance on TV may look effortless, the hard work and dedication it takes to get Olympic athletes to where they are cannot be understated. Just like you, Olympians have dreams, and they work tirelessly to pursue them. "Especially when workouts get hard, I think about my goal and my dream and that just flashes over my face and I'm like, alright I can push just a little bit harder," Kehri Jones, 24-year-old bobsledder and Olympic hopeful, tells Bustle. But, having someone in your corner cheering you on doesn't hurt either.
That's why, ahead of the 2018 Winter Olympics in Pyeongchang, Procter & Gamble launched its "Thank You, Mom" campaign, designed to highlight the power that love has to conquer over any bias and discrimination we may face. An accompanying short film follows the experiences of Olympic athletes overcoming bias through the support of their moms while they work to achieve their dreams. Because, as so many Olympic athletes know, just knowing that someone is out there rooting for you can give you that additional boost to stay motivated. "There's always going to be somebody there that wants to see you succeed," Jones tells Bustle. "Whether it's a best friend, whether it's an aunt, a godmother, a hair stylist, a nail technician, whoever it is, somebody wants to see you succeed. And you have people looking up to you no matter who it is."
Olympians face all types of discrimination, bias, and other hardship on their path to the top. In spite of it, they push forward to remind the world that those attributes are part of what makes them shine. Through every obstacle, here's how Olympic athletes stay motivated.
1. Michelle Kwan, Figure Skater
"Motivation was just challenging myself. I love going fast. I love jumping high. I mean, it was challenging. [...] You're not born to skate, strapping on blades to dance on ice. I loved the feeling of it. Even when I was the best in the world and a world champion, motivation was always seeing these young girls on the ice for the first time and their excitement and energy. You would think after 15 years of skating it might get old, but seeing that little girl getting on the ice for the first time, it's like that is what always grounded me. That fun, that excitement, that enthusiasm. That was a good reminder. Motivation was always sort of all around me all the time."
2. Elana Meyers, Bobsledder
"I surround myself with great people. Because I have a mom who tells me I can do anything. Because I have a husband who tells me I'm the greatest thing in the world, even if sometimes it's not true, even if I come home from practice and I smell, he's still going to tell me I smell like roses. Having those people around you really helps keep you grounded and helps keep you motivated. I get a lot of pride and joy. I love driving a bobsled more than anything in the world, but at the same time I recognize that it's an opportunity and it's a blessing that I get to do it and to be able to share it with the people around me."
3. Gus Kenworthy, Skier
"I think that being true to yourself and being honest and authentic is going to open so many more doors and make [someone] so much more comfortable with who they are and really make it so much easier for them to succeed in those fields than hiding anything and feeling insecure about things. I think that the more you love yourself the more other people will. And that is going to make it so much easier to blossom, whether it's in sports or whatever it is, whatever avenue you're kind of following."
4. Kehri Jones, Bobsledder
"I think the majority of my motivation comes from my mom and my little sisters. My little sisters really look up to me and I feel like it's my responsibility to show them the way [...] I'm their older sister and if they see me succeed, I feel like it gives them even more motivation to go after whatever it is. And I'm a big motivator for them and my mom is definitely there 100 percent of the way. Even when I'm starting to get down on myself or I'm starting to feel like things aren't going the way that I feel like they should, my mom is always there to reassure me, it's gonna come around, your time is coming. But you need to still know how to have fun. If you lose the side of enjoying what you're doing it's all for not because you're going to look back at it and be like, 'oh I took that too seriously, I wish I would've enjoyed the moment a little more.'"
5. Aja Evans, Bobsledder
"My mom has taught me to be tough regardless, so it didn't even register to me at first that I was going in representing black women [at the 2014 Winter Olympics]. We started getting more media attention and people really started giving us recognition for having so many African-American women not only in the sport, but dominating in the sport [...] Three out of the six women on the podium at the [2014] Olympic games were black, and five out of the six women on USA team at the Olympic games were black. So we started to stand for something more, and it became an empowerment thing. So many women used to send me messages on Facebook [...] They were telling me how, just my fight to pursue something in a sport where I'm not known for and they don't look like me, helped encourage them to continue to fight for what they believe in, as far as their career goes or their aspirations."
Through it all, Olympians find the power to keep going while reminding anyone who looks up to them that they too can achieve their dreams. They truly stand as a testament to the fact that love and motivation is always stronger than bias.
To learn more, visit teamusa.org. The Winter Games begin Feb. 8.