5 Signs Elizabeth Warren Will Run For President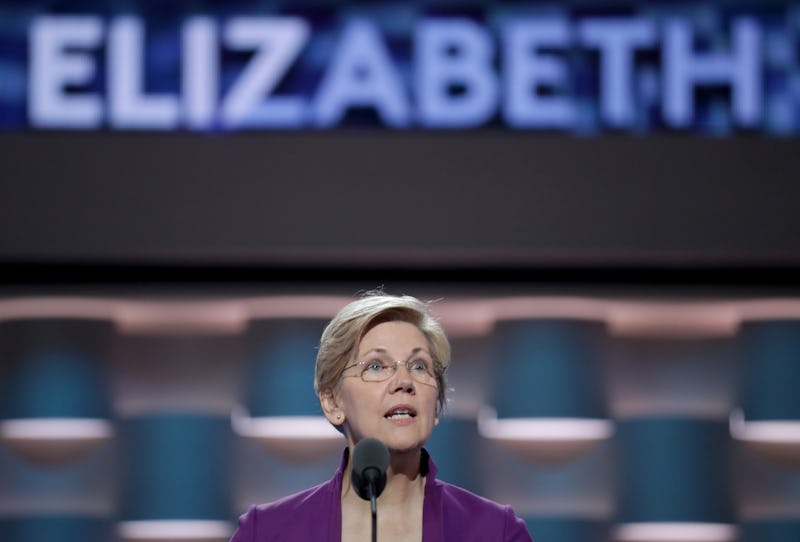 Chip Somodevilla/Getty Images News/Getty Images
"Now, I know we have still not shattered that highest and hardest glass ceiling, but someday, someone will — and hopefully sooner than we might think right now," Hillary Clinton said toward the end of her concession speech last November. With Elizabeth Warren being one of the most well-known and well-liked Democratic senators in the country, she is arguably among the women with a chance at breaking that glass ceiling. And luckily for her supporters, there are some promising signs that Warren will run in 2020.
Her most pressing concern nowadays is to win her 2018 Senate election in Massachusetts — which, if the polls are right, may prove to be more challenging than expected. Still, the senator is dedicating a big chunk of her time to headlining high-profile events, making a slew of television appearances, and completing projects that look suspiciously like those of someone considering a presidential run.
Last year, MSNBC host Rachel Maddow asked Warren whether she was "ready" to be president. Warren's response was telling. "Ed Rendell, former DNC chairman, former Pennsylvania governor, said recently that you were no — not in any way, shape or form ready to be commander-in-chief. I want to know if you think you could be," said Maddow. Warren responded with a resolute "Yes, I do."
Maybe that's why her actions lately seem to hint at plans to pursue it. Such as...
1. She Joined The Armed Services Committee
One of Warren's biggest weaknesses is her lack of foreign policy experience. By joining the Armed Services Committee this year, she took an important step to polish this section of her resumé. An analysis in Washington Post's Daily 202 described this move — as well as New Jersey Cory Booker (another possible 2020 contender) leaving the Homeland Security Committee for the Foreign Relations Committee — as "very" clear signs that they "want to seek the presidency for themselves in 2020."
2. She Wrote A Very Pre-Election Type Of Book
A politician with presidential aspirations typically publishes a book leading up to their announcement to run. The books generally outline their vision for the country, and how they plan to alleviate the struggles Americans are facing — particularly those in the middle class. According to an NBC report, this has been an unofficial tradition of sorts "going back to at least John F. Kennedy, who wrote Profiles in Courage three years before being elected president."
Warren's new book, This Fight Is Our Fight: The Battle to Save Working People, is precisely that kind of book. The Massachusetts senator has also embarked on a high-visibility tour to promote the project, which will boost her profile even further and bring attention to her political stances.
As politicians usually do when asked these sorts of questions, Warren denied that the book was laying out the foundations for a presidential campaign.
3. She Was The Keynote Speaker At Important NAACP Event
Last year it was Hillary Clinton, and before Clinton, it was Joe Biden. This year, Warren was the keynote speaker at the NAACP's annual Fight for Freedom dinner.
An audience of more than 5,000 people listened to Warren's passionate speech about the importance of resisting Donald Trump's presidency. The event, which took place in Detroit, was an opportunity for Warren to reintroduce herself to Michigan — a state Clinton lost to Trump in the election — which she hadn't visited since 2014.
4. She's Dodging The Question
Though she rejected the notion of her book being part of a greater plan to run, some of Warren's recent answers to the question aren't a direct yes or no. It's worth noting, however, in an interview with Maddow just last week, Warren did explicitly state that she did not intend to run.
5. Harry Reid Told Her To Do It
The New York Times reported that last Thanksgiving, retired Sen. Harry Reid urged Warren to run in 2020. "He was worried in November," Warren said. "For me, it was so important to make clear: We will fight back — we will fight back. We're not here to make this normal."
Warren was reportedly on Clinton's list of possible vice presidential picks, but she ultimately lost out to Sen. Tim Kaine. If these signs end up truly being stepping stones to a future run, Warren will have gone from possible vice presidential nominee to potential presidential candidate.