These 5 Drinks At Starbucks Can Secretly Boost Your Workout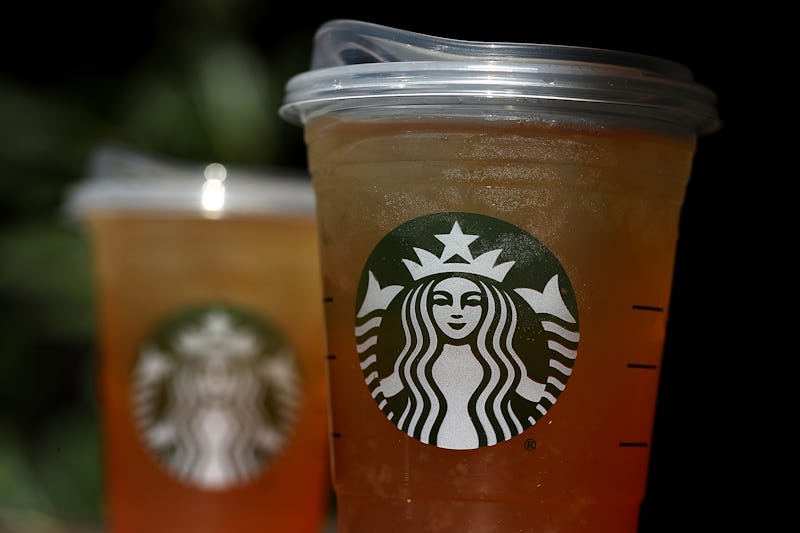 Justin Sullivan/Getty Images News/Getty Images
Just because you're hitting the gym doesn't mean you have to give up on your Starbucks habit. All you need to do is make conscious decisions about what you order immediately before and after a workout, to make sure your body gets the nutrients it needs. The best Starbucks drinks for a workout are from all over the menu, and are seriously delicious.
The most important thing to drink before, during, and after a workout is always water. Being hydrated is always important, but especially so if you're breaking a sweat. But if you're looking for an extra boost, drinking things that will keep you hydrated will adding the maximum benefits of their added ingredients.
Obviously, you know how great Starbucks is anytime of day, but the chain also offers a few drinks that secretly have workout benefits. While Starbucks doesn't expressly suggest these drinks for your workout, looking at their ingredients and nutritional facts reveals how they can be beneficial for your exercise regimen. From upping your performance to aiding your recovery, choosing wisely from the Starbucks menu can have a subtle, positive effect on your sweat sesh.
Alongside drinking water and choosing one of these workout-enhancing drinks, make sure you eat some nutrient-rich foods, and get the rest you need. You deserve the self-care benefits of working out to carry you through the day. Here are five Starbucks drinks can be helpful for a workout.