Starbucks Just Released Two New Cold Brew Drinks Unlike Anything Else On Its Menu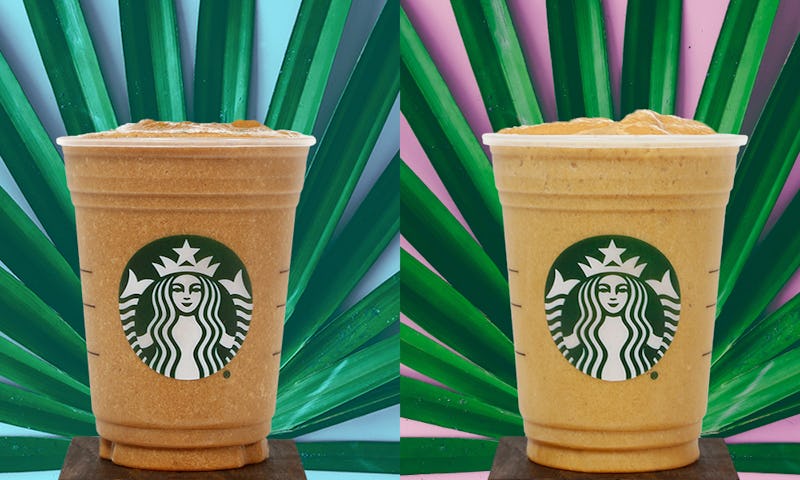 Starbucks
One of the reasons Starbucks is so great is that you can get pretty much anything you want in the store. Need a little extra energy? There's coffee and tea. Forgot to eat breakfast? There are plenty of options, from eggs and bacon to oatmeal to pastries. Looking for a healthy lunch? They've got salads, sandwiches, and fruit bowls, just to name a few. Dying for a snack? I don't even know where to begin with their chip, popcorn, and granola bar options. In recent months, they've even brought new products to participating grocery stores, like a new bottled kombucha and pumpkin cookie straws. One of the only things you haven't been able to get at Starbucks is a protein drink, and that's about to change. Starbucks is introducing new Protein Blended Cold Brew drinks, and they are officially the most delicious way to get a boost of protein.
Starting Tuesday, August 14, Starbucks will be offering two brand-new Protein Blended Cold Brew drinks: An Almond Protein Blended Cold Brew and a Cacao Protein Blended Cold Brew. Both drinks are only available in the Grande size, but they still pack a punch: With between 10 to 12 grams of protein and 180mg of caffeine in every drink, it's the perfectmorning or afternoon pick-me-up for anyone.
Unfortunately, these drinks will only be available for a limited time — according to Starbucks, they will be available through the end of summer and throughout fall, while supplies last. Just from the descriptions, though, I can already tell that these are two limited edition drinks I would really like to stick around.
Almond Protein Blended Cold Brew
The first drink is called the Almond Protein Blended Cold Brew. It's made from the same cold brew concentrate you probably know and love from their other cold brew drinks, as well as a plant-based protein (a mix of pea protein and brown rice protein), a banana-date sweetener, almond butter, and almond milk, blended all together with ice. The drink has 12 grams of protein.
Cacao Protein Blended Cold Brew
The second drink is the Cacao Protein Blended Cold Brew. This one is a mix of the cold brew concentrate, the same plant-based protein that's in the Almond drink, a banana-date sweetener, coconut milk, and cacao powder. This one offers up 10 grams of protein.
While both sound very delicious, one of the best things about them is that the ingredients included in both drinks are all certified vegan. As any vegan or vegetarian knows, finding vegan-friendly protein powders can be tough — most protein drinks and foods are made of whey protein, which is not vegan — so it's awesome that Starbucks has made accessible protein drinks with a plant-based protein powder.
While both these drinks are delicious as is, if you're one for being creative, you can also switch them up. Like most things on the Starbucks menu, the Protein Blended Cold Brew drinks are both customizable, meaning customers can sub in whatever milk they'd like, add more protein powder if they want it, and even ask for the banana-date sweetener to be replaced with a full banana. Plus, that protein powder can be added to any drink you'd like, as long as supplies last.
This is just one more reason to head to Starbucks after the gym or when you're craving something satisfying and filling.