The 6 Most Groundbreaking Feminist Moments From The Olympics — So Far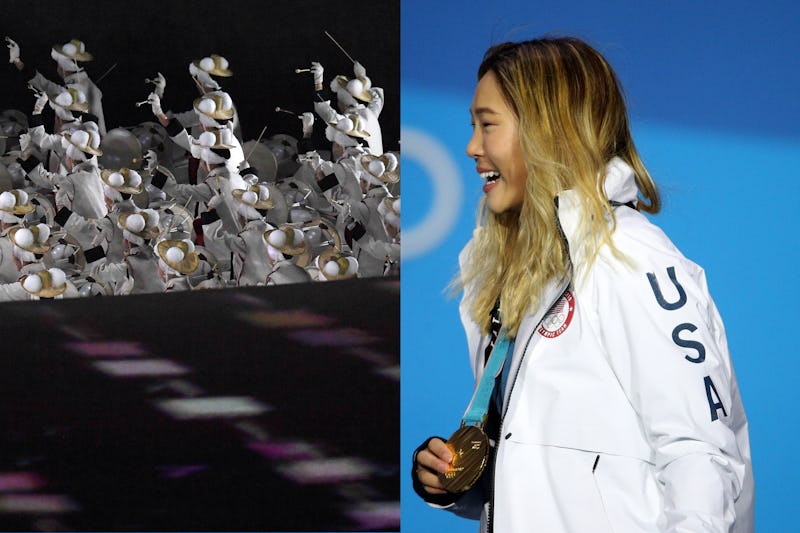 Harry How/Getty Images Sport/Getty Images / Chris Graythen/Getty Images Sport/Getty Images
The latest Olympic Games have already had their fair share of political moments, especially for those of us following Team USA. During the opening ceremony, a Kim Jong-un and Trump impersonator hoping to promote peaceful goodwill between the world leaders caused chaos in the stands, until being kicked out of the Olympic stadium. Following that incident, openly gay Olympic athlete Adam Rippon made headlines for criticizing Mike Pence's anti-LGBTQ statements in an interview with USA Today. But on top of explicitly political moments, there have been a number of subtly feminist moments at the Winter 2018 Olympics, from history making tricks, to systems that have made the Games more gender equal.
According the the Olympics' official website, the first modern Olympics took place in Athens in 1896, and female athletes participated in the subsequent Games, when they were held in Paris in 1900. There, only 22 women participated in five different sport competitions — including tennis, sailing, croquet, equestrian, and golf. Throughout the 20th century and early 2000s, more categories of sports for women's participation have been added. As of 2014, women represented 40 percent of athletes at the winter games held in Sochi.
Women competing in the PyeongChang Olympic Games have been making history, winning gold medals, and breaking glass ceilings for young girls around the world who are watching the Games. Here are six groundbreaking feminist moments that have happened during the Olympics — at least, so far.