A History Of Sexual Assault At The Olympics — And What's Being Done To Combat It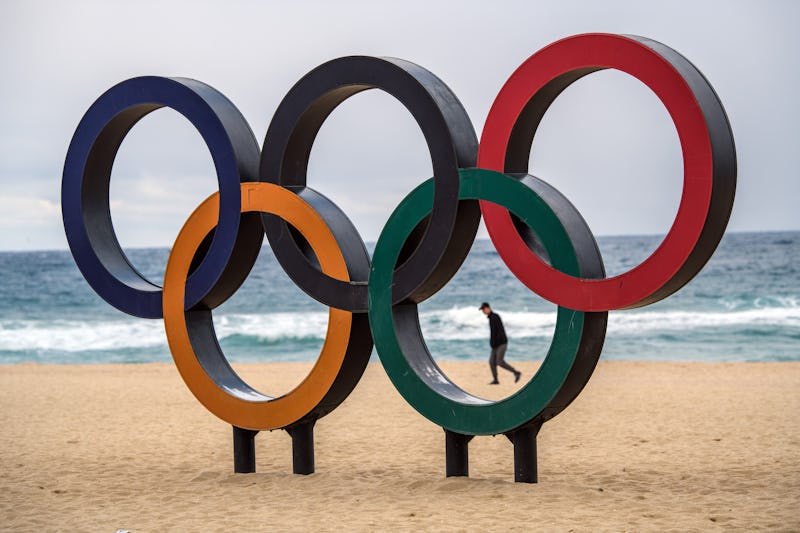 Carl Court/Getty Images Sport/Getty Images
The 2018 Winter Olympics begin in PyeongChang on Feb. 8, and the pressure is not only on athletes who are competing, but also Olympic officials — specifically, on how they will protect athletes and prevent sexual assault from occurring at the games. The history of sexual assault and misconduct happening around and at the Olympics is nothing new, but as awareness continues to rise about rape culture, especially in athletics, more attention is being paid to these types of crimes, and more resources are being made available by the International Olympic Committee and PyeongChang to combat it.
Over the last couple weeks, many of us have followed the sentencing of Larry Nassar, a former Michigan State University and Olympic doctor who was found guilty of sexually abusing hundreds of athletes in his medical care. Nassar was sentenced to serve 40 to 175 years in prison for his crimes, following weeks of testimony from 156 women claiming he abused them as children. The Washington Post reported that Nassar's abuse was just a small fraction of the sexual violence and misbehavior that has allegedly occurred within Olympic organizations: Since 1982, over 290 coaches and officials who've worked in U.S. Olympic sports organizations have been accused of sexual misconduct — and again, that is people associated with the U.S. Olympic team, and doesn't include American athletes, or coaches or officials from other countries.
Olympic athletes, too, have been accused of sexual assault during the games and otherwise. During the 2016 summer Olympics, which were held in Rio de Janeiro, Brazil, two separate incidents of alleged sexual assault by Olympic athletes occurred. Jonas Junias Jonas, an Olympic boxer from Namibia who carried the flag for Namibia during the opening ceremonies, was the first to be arrested for allegedly grabbing, kissing, and attempting to solicit a housekeeper at the hotel he was staying at, according to reporting from CNN. The Washington Post reported that Jonas still competed in a scheduled fight following his release from jail. (According to an article in the Namibian newspaper New Era, Junias Jonas maintains there was "no contact" between him and his accuser.) Shortly thereafter, Moroccan boxer Hassan Saada was jailed for attempted rape after allegedly attacking two women who worked as waiters in the Olympic Village, NBC reported, and was forced to surrender his passport. He was incarcerated and placed under house arrest in Brazil, and was able to return to Morocco after 10 months pending trial, Morocco World News reported. Protests against rape culture led by local activists were held in Rio after the two arrests, according to USA Today.
However, the history of sexual assault during the Olympics is not limited to the most recent summer games. Two Paralympic powerlifters from Jordan — Omar Sami Qaradhi and Motaz Al Junaidi — were dropped from the 2012 London games for separate alleged incidents of sexual assault, indecent exposure, and voyeurism. Their trainer, Faisal Hammash, was also sent home in connection with the alleged crime, which CBS News reports allegedly took place while they were training near Belfast, Northern Ireland. (Acccording to the Belfast Telegraph, Qaradhi pled guilty to the charges in 2014 and apologized "for the indignity, hurt and distress" his survivors experienced. The charges against Hammash and Al Junaidi were dropped.)
It's also important to note the well-documented effect that large sporting events, such as the Olympics, the World Cup, or the Super Bowl, have on human trafficking in the cities where these events are hosted: according to Reuters, a campaign against human trafficking tied to the 2014 World Cup in Brazil claimed that "sexual exploitation" increased 30 percent during the 2006 World Cup in Germany, and 40 percent during the 2010 World Cup in South Africa.
So, what will be done to combat sexual assault and misconduct at the upcoming Olympics? Mic reported on Jan. 24 that Olympic Villages in PyeongChang will have sexual assault centers for the first time ever. The centers will offer physical health care, mental health counseling, legal advice, and safe avenues to report sexual assault to law enforcement; the resources will be available to not only athletes, but to anyone in the areas who need to access them. "We heard from the International Olympic Committee that 1.2 million people — athletes, press, and operation personnel — will be coming to the Pyeongchang Olympics," Kwon Eun-jin, who is head of women's welfare at the Gangwon-do Provincial Office, told Mic. "So, we thought a clinic to address sexual violence, sexual harassment and prostitution was necessary." She also added that the province will pay for the centers. On top of the resource these centers will provide for the Olympic Village, the International Olympic Committee will give out awareness-raising material about how to prevent harassment and abuse to all athletes and associated staff in the Olympic Village, the IOC told Bustle via email, as well as providing a 45-minute online course on the subject.
Immediate resources like the sexual assault centers are a huge step in the right direction, but there also needs to be change on a legislative and cultural level. On Jan. 30, in light of the attention garnered by Nassar's sentencing, the U.S. Senate cleared a bipartisan bill aimed to protect athletes from sexual abuse, and ensure sexual abuse allegations are reported more frequently to law enforcement. The bill now heads to the President's desk to be signed.
The Olympics should be a time where people from all around the world can come together to appreciate the accomplishments of these elite athletes, and to cheer on our favorites. Unfortunately, sexual assault and abuse continues to be an issue at the Olympics, as with other sporting events. The changes the IOC has implemented are an important step toward eradicating sexual abuse, but until our culture changes on a wholesale level (a process we are seeing the beginnings of with #MeToo), it's hard to say how much these processes can proactively prevent sexual assault — the ultimate and uncertain goal.