6 Habits That Can Be Signs Of Undiagnosed Sleep Anxiety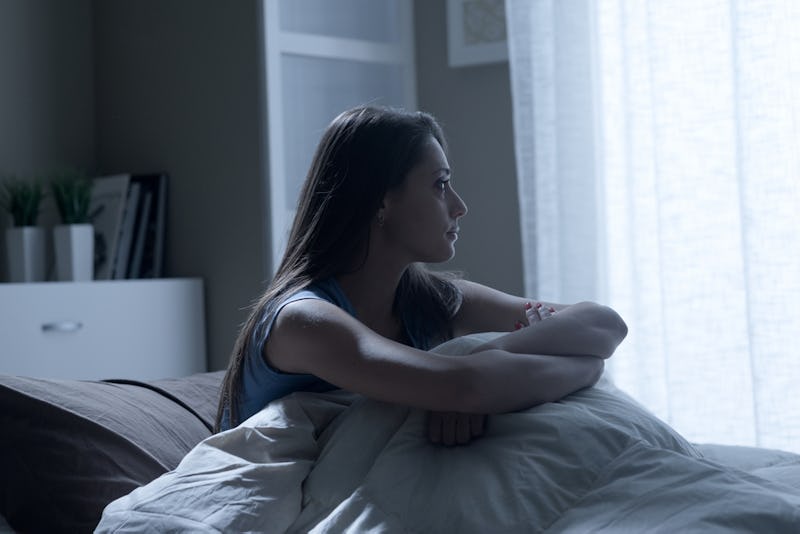 Stokkete/Shutterstock
For some people, going to sleep happens as soon as they hit their head on the pillow. For others, it may take hours before they can doze off. Those with trouble falling asleep may struggle with relaxing each night, and some may even exhibit signs of sleep anxiety. Stress and nervousness before bed and other similar emotions may mean you have anxiety related to sleep, and pinpointing these issues can help you get to sleep earlier, as well as your overall mental state.
Sleep anxiety is a fear of sleep, being able to fall asleep, and being able to sleep through the night, which ends up interfering with sleep itself and can impact daily functioning.
"Sleep anxiety can be a vicious cycle, particularly for those with 'sleep-onset insomnia' (meaning those who have significant trouble falling asleep when they go to bed)," clinical psychologist Dr. Shamini Jain, tells Bustle. "For example, If you're used to not being able to fall asleep when you go to bed, your mind may race with thoughts about not sleeping and all the things you have to do the next day, your body might get tense, and you may worry about not getting enough sleep. Paradoxically, all of these behaviors will make it more difficult for you to sleep."
Like other types of anxiety, sleep anxiety can be treated with therapy and other at-home techniques. If you suspect you may have sleep anxiety, it's best to see a medical professional. Here are six habits that can indicate you may have undiagnosed sleep anxiety.