6 Hilarious Stories From 'I'm Sorry' Inspired By Real Life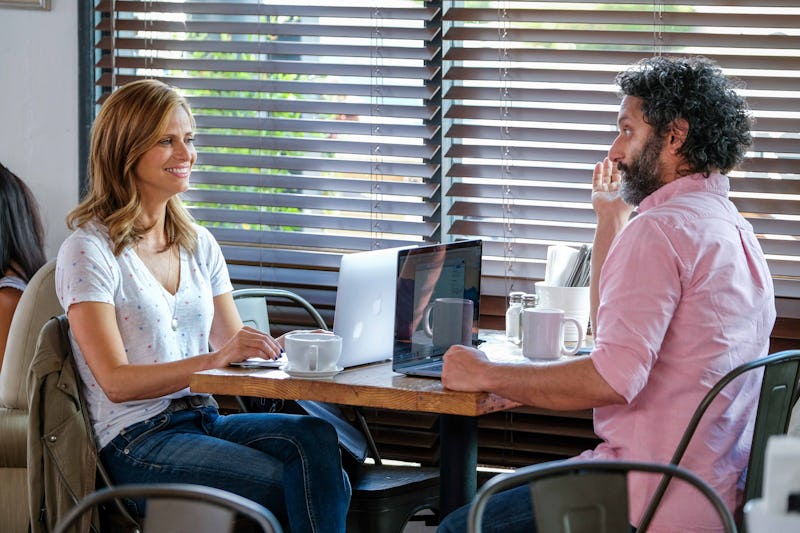 The advice of innumerable creative writing teachers and stand-up comics can't be wrong: "Write what you know." Sure, you can throw in as many dragons and zombie bears into a script as you like, but often the most entertaining source material is your own life. Take it from Andrea Savage, the creator, executive producer, and star of I'm Sorry, which has emerged as one of the sharpest and truest comedies on television.
"Almost all the episodes from the first season are taken from my life," Savage tells me over the phone one Friday night. "I find that using real stories is one of the reasons that the show feels unpredictable and avoids the cliché." Following the life of LA-based comedy writer Andrea Warren, the show depicts what it's really like to deal with the trappings of adult life (marriage, parenthood, drop-off friends, aging parents) in both a playful and edgy tone. In Season 2, more autobiographical stories are coming into play, as well as those from her writer's room. We, as entertainment junkies, want to know the details. Were butts truly bumped on a play date? Is "feeding Leon" a real thing?
Whether you're already a fan, or looking to get into the best show you aren't watching yet, here are six hysterical stories from I'm Sorry inspired by true events. Enjoy perusing, and make sure to tune in for a whole new season of I'm Sorry, Wednesdays at 10/9c on truTV.
1. The "Racist Daughter" Moment
Early in Season 1, Andrea finds her 5-year-old daughter going through a racist phase. While at the dinner table, Amelia declares she doesn't want to have a playdate with one of her classmates because "her skin is too dark." (Savage tells me this conversation was basically transcribed word-for-word.) Andrea is suddenly shocked, and immediately starts scrambling for how to teach your child not to be racist. Her brain comes up with a rather interesting analogy to make the lesson stick (cookies come up), and tries to introduce positive role models. Ultimately, the phase dissipates and Amelia decides that her classmate's skin is not only pretty, but that that they are also sisters. PHEW! It's almost the perfect teachable moment, except just a few moments later, Amelia takes her appreciation a little too far ...
2. Feeding Leon
"We really wanted to show what it's like to be the child of aging parents," Savage says. One of the funniest, truest, and most infantilizing examples of this is when Andrea's mother casually refers to preparing dinner for her husband Leon as "feeding Leon." It's not just that she makes him a meal, it's that she serves it to him in bed, on a towel specifically. Basically, it's closer to the reality that Savage's character calls out what "feeding" would conjure up — i.e. something you do to a baby or an animal. It almost seems too absurd to be true, but Savage confirms to me on the phone, "Crazily enough, feeding Leon is real."
3. When Butts Are Bumped
As it happens, Butt Bumpers didn't end in a butt bump IRL, but it was inspired by true events. To catch you up, this episode from Season 1 shows Andrea at a pool playdate that awkwardly ends up in a child-coerced literal "butt bump" between our protagonist and a dad on the playdate. "That idea came from a very awkward play date I ended up on with a man, a swim playdate," Andrea tells me. "I realized I didn't have a coverup, and had to make it to a pool that was very far away — like interminably far." So to be clear, no literal underwater "cheek to cheek" moment, but the vibe was similarly awkward.
4. Her Brother "Revealing Himself" To Her
Roommates... Close friends... Lovers. If you're a chronically single adult who happens to live with a buddy of the same sex, the lines of those various relationship statuses might get blurry from the outside. And as Andrea confirmed on the phone, the storyline about this kind of a mix-up happened IRL. In the show, Andrea's brother acts as the example — he's over 30, never introduced an S.O. to the family, and spends lots of time with his roommate, Chris. This causes Andrea's character to interpret an emotional voicemail from her brother as a precursor to his coming out. She even goes so far as to prepare her mother for her brother's revelation. When her brother gets to talk to her, Andrea finds out that she was totally off-base. Another lesson that a weekend spent making lightbulbs with your roommate does not a relationship make.
5. When Amelia Makes Mature Friends
Ah, the playground lessons of kindergarten: snapping, whistling, and of course, the finer points of puberty! After making friends with one of her classmates' older sisters on one of the first days of kindergarten, Amelia shares the most memorable "older kid" insight she took from that day: One day she'll get pubic hair, and also a period. Oh, man. As Savage tells me, this scene from Season 2 is a real moment from the memoirs. In the scene, Mom is understandably taken aback, and an argument ensues over whether or not Daddy has pubic hair. Just another day at drop-off.
6. The Very Friendly IUD Application
"This season," Savage tells me, "there's a great scene that I love with Adam Scott, that's almost word for word." In this scene, Andrea takes a trip to the lady doctor to get an IUD, and Mike, ever the dutiful husband, accompanies her. The gynecologist (played by Scott) just so happens to be Mike's friend from camp! Whaddya know! So naturally, the doctor and Mike proceed to catch up as Andrea has the device literally implanted into her uterus. When it comes to gynecological background noise, always go with some new age ambient music over chatter about your camp reunion.
This article is sponsored by I'm Sorry. Catch Season 2 Wednesdays at 10/9c on truTV.