'Greta' Is A Thriller You Need To See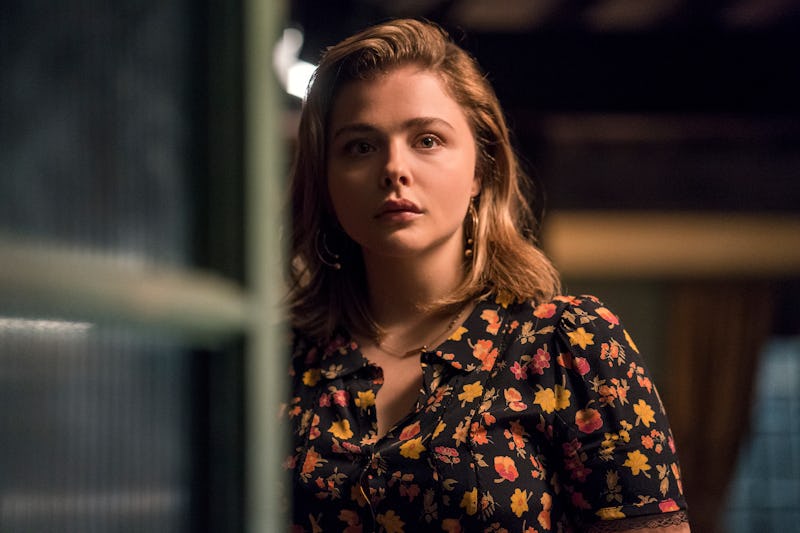 Greta, the new suspense thriller starring Chloë Grace Moretz and Isabelle Huppert, is the kind of film that comes along every few years to remind us why we still occasionally leave the comfort of our homes to go to the movies. After all, those "jump-out-of-your-seat" thrillers are always best when seen in the company of a room full of strangers.
Moretz stars as Frances, a young woman trying to make a life in New York City while mourning the loss of her recently deceased mother. Huppert stars as Greta, a widowed French woman living out a lonely existence in the city. When Frances discovers Greta's handbag left behind on the subway, she dutifully returns it, only to discover the kind of maternal attention in Greta she misses so acutely. The two quickly form a bond, but soon Frances realizes that nothing about Greta is as it seems. Greta's carefully crafted, kind elder persona belies a calculated, sinister side. With the help of her best friend Erica, played by the young horror film veteran Maika Monroe, Frances will have to fight to survive Greta's growing and disturbing obsession with her.
Greta hits theaters on March 1. Read on to discover six reasons why you need to be the first of your friends to see it.
1. It's The Female-Driven Thriller Audiences Have Been Craving
When it comes to the thriller genre, the film industry has long been a boy's club. That's why it's so exciting to see two actresses from different generations — both at the height of their powers — playing a deadly game of cat-and-mouse to rival the best that the genre has to offer. Moretz and Huppert are perfectly matched in this dark portrait of urban living.
2. Isabelle Huppert Is A Legend
Though more familiar to French audiences than Americans, Isabelle Huppert has turned in some of the greatest performances of the past three decades. The intensity and passion that flashes to the surface of her otherwise bookish demeanor is on perfect display in Greta, where she plays an eccentric French piano teacher living a seemingly quiet life in New York City. Roiling under the surface of Greta's gentle presence is an aching loneliness — and a predator's instinct. Greta could be the film that gives Huppert the mainstream American recognition she deserves.
3. Chloë Grace Moretz Has Arrived
Chloë Grace Moretz is no stranger to the silver screen, having starred in films as various as big-budget comedies to small, character-driven arthouse dramas. In the past few years especially, Moretz has distinguished herself as one of the most gifted actors of her generation, taking on nuanced, challenging roles that allow her to explore the many facets of her talent. In Greta, Moretz tackles a leading role that allows her to explore the darker side of human experience, without sacrificing an ounce of the charisma that gives her that girl-next-door charm.
4. Dark Times Call For Darker Movies
The world right now seems as if it's turned upside-down. But Americans know that when the world outside looks grim, the best solution is to turn to fiction that is even grimmer. Enter Greta, which is perfectly calibrated to exorcise our worst fears about stranger danger, cyber stalking, and the darker instincts of our neighbors, all played out from the safety of the screen. Greta is the kind of film that puts our real-life fears into perspective. "It could be worse," we say. Luckily, the worst we have to fear here is an empty popcorn bowl and maybe a nightmare or two!
5. It Puts City Life Into Perspective
In the New York City of Greta, much like life in the real city, residents move through the streets hoping for as little resistance as possible from their environment. People weave through the avenues hoping to avoid a shoulder-check or unwelcome eye contact. Commuters board the subway hoping for an inch of free space between themselves and their fellow passengers. People look askance at lost objects, hoping to avoid the responsibility of safe return. Greta throws these daily anxieties into high relief, asking, "What if you trusted your kindest, most generous instincts, and in return were met with chaos and danger?" We all have days where we feel like we have a target painted on our backs. Greta paints that target in blood-red.
6. It Will Make You Call Your Mother
Frances, the movie's heroine, has recently lost her mother, making her feel unmoored and uncared for in the anonymity of the city. Greta, the movie's antagonist, is a lonely widow, abandoned — she claims — by her daughter, and in desperate search for human connection. The bond the two women form is instantly recognizable to anyone who has longed for parental guidance in their adult life. But the kind of control that Greta exerts as a mother-figure to Frances goes beyond anything you've seen before. Odds are you'll leave the theater dying to call your mother — for comfort, and to thank her for the responsible use of her incredible power!
This article is sponsored by Greta, in theaters March 1st.