Why 'The Office's Phyllis & Bob Vance Were Actually Even Better Than Pam & Jim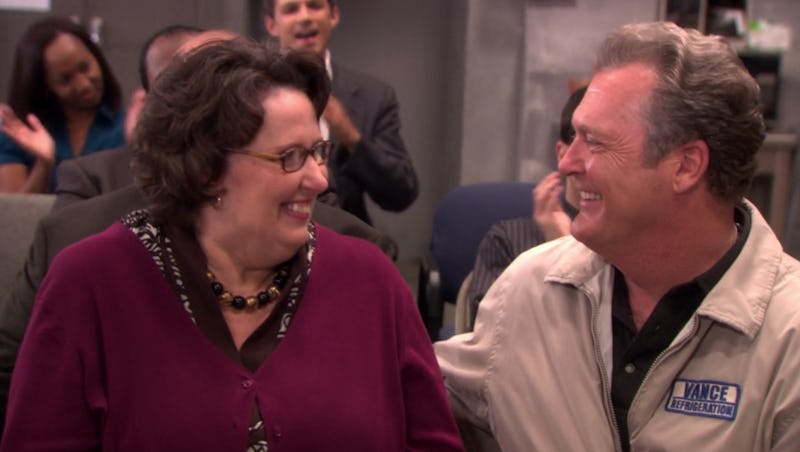 NBC
The Office had a lot of great couples, including the most beloved of them all — Jim Halpert and Pam Beesly. As wonderful as they were, and as much as they made fans believe in love, there are a few reasons Bob Vance and Phyllis were better than Pam and Jim. This is quite a bold statement coming from a huge fan of both the NBC comedy and PB & J, so just listen before you disagree.
Bob Vance, Vance Refrigeration, first came onto the scene in Season 2, Episode 10, titled "Christmas Party." Phyllis proudly introduced Bob to her coworkers as her boyfriend. From that moment on, Phyllis and Bob were madly in love. They never hid their relationship. They never flinched or reconsidered whether they should be together. They were in love and wanted everyone to know it.
If you think about it, they got together before Pam and Jim, which means they were together longer and had more of a solid foundation. They didn't have to deal with love triangles (ahem, Roy and Karen), heartache, or romance complications. Phyllis and Bob simply had feelings for one another, got together, became engaged, then married, and lived basically happily ever after.
Yes, there was that one time, and very briefly, Phyllis thought Bob was going to cheat on her with his secretary (Season 5, Episode 25, "Cafe Disco"). That said, as soon as she uttered the words, Phyllis knew the thought was ridiculous and let it go immediately. She never stressed over silly little things and moved on almost instantly. These are just a few of the many reasons Phyllis and Bob were better than Pam and Jim — and here are a few more.