Angela Kinsey Opens Up About That Time She Threw An Epic 'Office'-Style Yankee Swap Party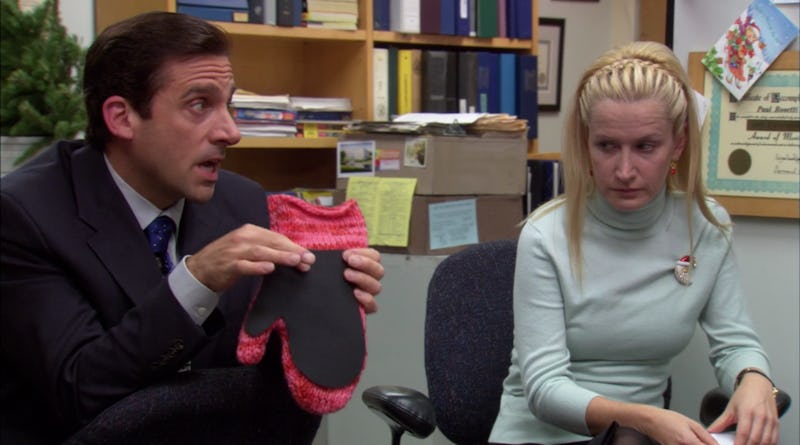 NBC
The Office's Yankee Swap storyline is featured in one of the comedy's most popular Christmas episodes. It's so popular, in fact, that it led to Angela Kinsey throwing her own Yankee Swap party. While recently chatting with Bustle about her current partnership with Kellogg's for the holiday season, Kinsey opens up about her Office-style party that quickly became a favorite for her guests. She even reveals her former costar and dear friend, Oscar Nuñez, got very into the game.
"A few years ago, I hosted my own Yankee Swap party," Kinsey recalls. "Yes, just like The Office episode. Everyone brought their sort of White Elephant gift and people got so into it." And apparently, Nuñez was the one person Kinsey remembers becoming seriously invested.
Not only did she call the actor who played Oscar Martinez in the NBC series "the biggest pot stirrer," but she admits he started getting very vocal during the game. "He would get a chant going," Kinsey reveals. "He'd be like, 'Steal it now! Steal it now!'"
Nuñez's Yankee Swap playing style is quite the opposite from Dunder Mifflin's Oscar, who stayed pretty low-key during Michael Scott's not-so-brilliant idea, which became a complete disaster. As Office fans know, in Season 2's tenth episode titled "Christmas Party," Michael didn't like the Secret Santa gift he received from Phyllis (a homemade oven mitt), so he turned the exchange into a Yankee Swap.
Even though Kinsey's version became a favorite among her guests at the time, she didn't have time to throw Yankee Swap this year. Though, she vows, "I have to do it next year."
The more Office in Kinsey's life, the better. The show means just as much to her as it does to fans, which is one of the reasons she was excited to work with Kellogg's to promote their brands of crackers. "It's just fun for me to know people love The Office so much." She adds, "Doing a campaign like the one with Kellogg's and just having that little nod [to the show], you know?"
Kinsey's ads are titled "Party Planning with Angela Kinsey," which, of course, is a reference to the Party Planning Committee on The Office. Her latest ad (below), released on Dec. 10, even showcases her giving tips for the perfect holiday office party. Though Kinsey admits she's very different than her character, Angela Martin, they share similarities when it comes to planning parties.
"It's sort of weird for me, because there's a lot of Angela Martin in me and probably none of Angela Kinsey in Angela Martin, except we both do love to host a party," she notes. "Although, I would say that my parties are a lot more fun. I am definitely part of my own party planning committee."
As you can tell, The Office still holds a special place in Kinsey's heart, but overall, she misses her former coworkers the most. "Some of my very closest dearest friends in my life are from my chapter on The Office."
She's not joking, either. Kinsey remains friends with most everyone from the series. Seriously. "Jenna Fischer is my best friend, Brian Baumgartner came by my house this week, Oscar was here today, Creed [Bratton] lives down the street from me," Kinsey reveals. "Then, I see Kate Flannery, and Rainn Wilson and I text, who's a busy dude, but we make time to have lunch every few months and catch up. And Steve Carell's the nicest human on the planet."
"We are all pulled in different directions... but when we have an opportunity to be there for each other, we are."
Kinsey didn't stop there, but says they all will run into each other every now and again, which they definitely cherish. "I saw Ed [Helms] last year, it was like we couldn't wait to catch up," she says. "I saw John [Krasinski] backstage at an awards show and he like gave me the biggest bear hug and we have such a love for that time in our lives. We know what a special show it was. That's not lost on us."
Oh, and yes, she and Mindy Kaling will "leave each other comments on our social media." Kinsey also saw B.J. Novak at a party once and they "just talked and talked."
If you didn't see, a huge part of the cast reunited for an Office brunch recently in December. So, yeah, Kinsey's not lying when she says they all still love each other and hang out from time to time.
"Even those of us who don't see each other as much, [it's] because life is busy and we don't all live in the same town anymore," she says. "The ones I see the most are the ones I live close to, but we are all pulled in different directions and we all have families and busy lives, but when we have an opportunity to be there for each other, we are."
She even goes as far as to describe the moments they get to see each other as follows: "It's like we get to wrap that warm blanket around ourselves that was just that wonderful memory of nine years."
It's safe to say that's how fans also feel every time they watch the show. To know so much of the cast still stays in touch is heartwarming. Now, let's hope Kinsey's next Yankee Swap party includes many of her fellow Office costars and it's also captured for social media. Who else can't wait to see Oscar chanting, "Steal it now!"?