6 Signs Your Mental Health Medication Isn't Working For You, According To Doctors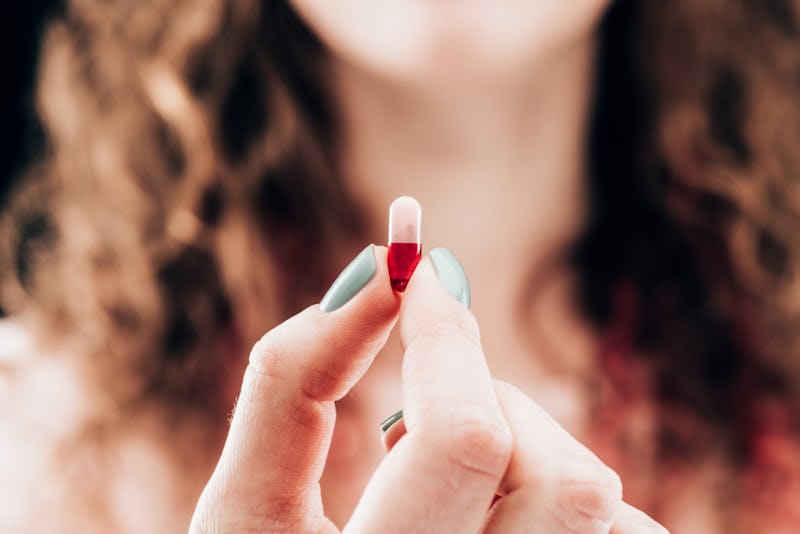 LightField Studios/Shutterstock
Many people with mental health issues struggle with universal symptoms, including depression, anxiety, and fatigue. But there's unfortunately no one-size-fits-all treatment option or pill that works for everyone. With so many different mental health medications to choose from, it may take some time to find an antidepressant or psychiatric medication that works well for you.
"Depression is a [...] complex issue. Treatment is effective, though no one treatment works for everyone. Many people have to change or adjust their treatment over time," Dr. Scott West, the medical director of ThriveLogic TMS And Neurohealth, and Nashville NeuroCare Therapy, tells Bustle.
According to the National Alliance on Mental Illness (NAMI), one in five adults in the U.S. will experience mental illness in a given year, with around 16 million people impacted by depression alone. As NBC News reported, a 2016 study found one in six people in the U.S. now take a psychiatric drug, with antidepressants being the most widely prescribed. Because there are a number of different kinds of antidepressants, psychiatrists may take certain steps at your first few appointments to try and ensure they prescribe you the best medication possible.
"Make sure that whoever is prescribing [psychiatric medications] takes a thorough history from you," Dr. Mark Goulston, MD, a psychiatrist, author, and co-creator of the suicide prevention documentary, Stay Alive, says. This history may include detailed information about past medications you've tried, your family history of mental illness, and so on. What's more, as TIME reported in 2018, genetic testing is now available that can reveal how you may metabolize and respond to different antidepressants. These insights can help you and your doctor make more informed decisions about your mental health treatment.
Yet, even with these tools, there's no guarantee you'll be prescribed a medication that's effective on your first go-around. Finding the right antidepressant or mental health medication may still require some trial and error. Here are six signs your mental health medication may not be a good fit for you, according to doctors themselves.