6 Expert Tips For Keeping Hair Protected In The Summer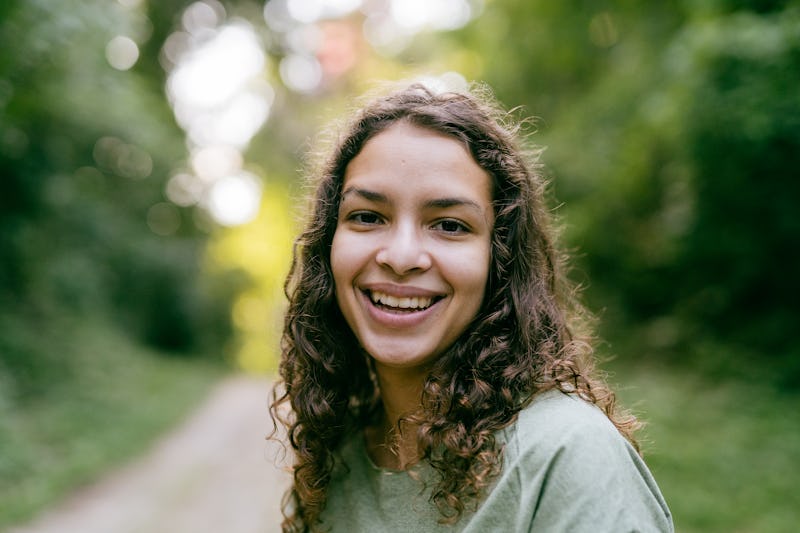 Igor Alecsander/E+/Getty Images
Summer is one of the best times of the year to let your hair down and have some fun. Maybe that means relaxing by the pool, taking a trip to the beach, or just being able to drive around with your windows or top down. Regardless of how you spend your time though, summer hair protection is a must. That way, your favorite activities won't leave you with parched, faded, or damaged strands.
After all, you probably wouldn't want some fresh unicorn locks fading into nothingness thanks to a quick dip in the pool, or to walk away from a beach day with knotted hair and split ends. So to find out some of the best ways to protect your tresses when the sun's out or you're in the water, I emailed with Amber Fillerup Clark of Barefoot Blonde and Barefoot Blonde Hair and Chris Birchby, founder of COOLA. Believe it or not, your hair needs almost as much protection as your skin. According to Birchby, "It is crucial to protect the hair during hot, summer months when environmental elements like the sun, salt water, and chlorine can not only damage the scalp and strands but dull and fade color." So you can avoid all of that while enjoying your outdoor time, here are six ways to make sure your locks stay protected:
1. Wear A Hat
For a simple and quick solution to keep your strands protected from the sun, Clark recommends rocking a hat. Not only will this keep UV rays off some of your strands, but it will also protect your scalp.
2. Try An SPF Spray
Bare Republic Eco-Active Haircare UV Protecting 5-In-1 Mist, $13, Target
If a hat isn't your thing though, both Clark and Birchby suggest using a mist with SPF or UV protection. Birchby explains that products with UV protection help "defend against sun exposure by minimizing damage and dryness for the duration of wear or until it is washed or rinsed off." He adds that it's important to reapply UV protection to your hair just like you would SPF to your body.
3. Mind Your Air Conditioning
Not all damage comes from being outside though. Your air conditioning can also cause some trouble, especially if you crank it all the way up. Clark explains that running the AC pulls humidity from the air, which can dry out your skin and locks. You don't have to give up the cool air though. Just make sure you're not overdoing it, and moisturizing as needed.
4. Wet Your Hair First
Before you jump into a chlorinated pool, Clark says it's important to first wet your hair in the shower or sink. Because chlorine can significantly dry out your locks and cause damage, wetting them first will ensure your hair doesn't soak up as much chlorine, she explains.
5. Apply A Leave-In Conditioner
Andalou Naturals Argan Oil & Shea Leave-In Conditioner, $8, Jet
For a day at the beach though, Clark recommends using a leave-in conditioner to help prevent damage from salt water and UV rays. Using a leave-in, she says, will help make sure "your hair absorbs the moisture from the conditioner more than the salt water or sun rays."
6. Opt For A Braid
Another element that can do damage to your locks is wind. Whether it's a blustery day at the beach or you enjoy driving with your windows or top down, too much wind can cause tangles and damage. To prevent this, Clark suggests limiting your wind exposure where you can, and wearing your hair in a braid if you know it's going to be windy.
After all, having fun in the sun is so much easier when you know you're protected.
Images: Getty Images (3); Courtesy of Brands