How To Protect Your Colored Strands From Chlorine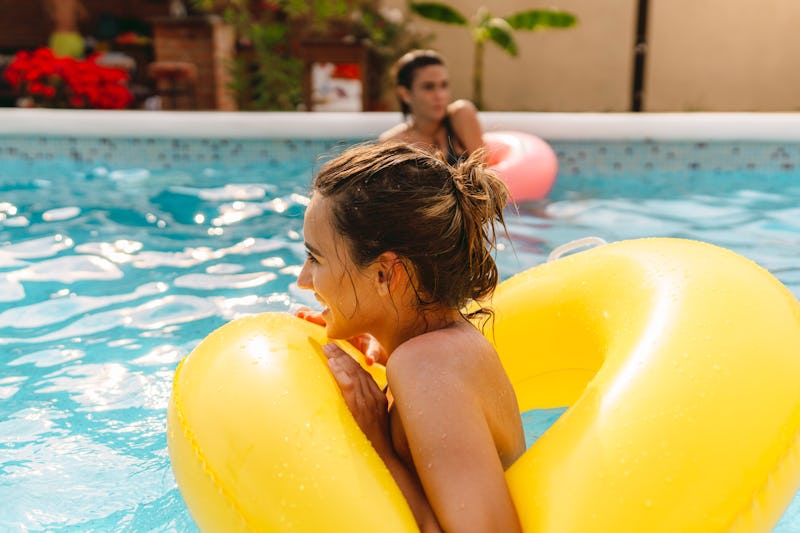 AleksandarNakic/E+/Getty Images
With all of the major mermaid hair inspo and fun color trends, you're probably itching to experiment with your look this summer. But you're also going to want to have fun in the sun, right? Thanks to these color-protecting tips, you won't have to choose one or the other. Below, hair stylists detail how to protect rainbow hair from chlorine in the summer because you should be able to fully embrace the season, new dye job, pool-swimming, and all.
According to Kérastase Paris Consulting Hairstylist Matt Fugate, keeping your color protected is all about finding a product with UV-shielding potential. "When coloring your hair in the summer, just be very weary of chlorine as it can drab down shades in a hurry," he's quoted saying in a press release to Bustle. "Make sure if you're hanging out poolside you are soaking your hair with Elixir Ultime Crème Fine with UV filters to shield against unwanted discoloration."
Sunny days and chilling by the pool go hand in hand, and both of those can take a toll on those locks of yours. By taking these precautions and using products that are made to help shield your hair from the harmful effects of summer, you'll be all set to rock your pastel hue and swim in the pool. Because doesn't that just sound like the perfect summer?
1. Use UV Protection
Elixir Ultime Crème Fine, $33, A mazon
This finishing product can be applied throughout the day to help protect those strands from environmental aggressors.
2. Apply Coconut Oil Before Diving In
OGX Coconut Oil Weightless Hydrating Oil Mist, $6, Amazon
Celebrity colorist Lorri Goddard told Glamour that adding coconut oil to your hair will create a barrier between your hair and the damaging chlorine. Plus, it's going to smell incredible, too, you poolside goddess, you!
3. Wet Your Hair Before Swimming
If there's an outdoor shower near the pool, it may be a good idea to go ahead and wet your hair before ever entering the chlorine. The owner of NH2 Salon, Nicole Hitchcock, explained to StyleCaster that the hair is porous. So, "once it's saturated with moisture, very little chlorine will [be able to] enter the shaft." Basically, your hair is a sponge, and you'd rather it soak up the good than the bad!
4. Rinse Off After Swimming
Rinsing is a crucial step in protecting your hair from chlorine. You should rinse both before and after taking a dip. The less time those chemicals spend on your hair, the better! "Even if it's not with shampoo, an initial rinse will help your hair keep its color and strength," Mario Russo, owner and lead stylist at Mario Russo Salon, tells StyleCaster.
5. Restore With A Hair Treatment
OUAI Treatment Masque, $44, Amazon
It's always a good idea to treat your locks a little extra special from time to time. After a swimming session, you can follow up with a healing treatment to help keep your hair as healthy as possible. These are super easy to travel with, so there's no reason not to take them with you on your next vacay!
With these tips, you can keep the chlorine without sacrificing the color. Because colorful hues and time spent by the pool are what the best summers are made of, after all.
Images: Getty Images; Courtesy Brands (3)