6 Ways To Start A Conversation That Guarantee A Positive Response, According To Dating Coaches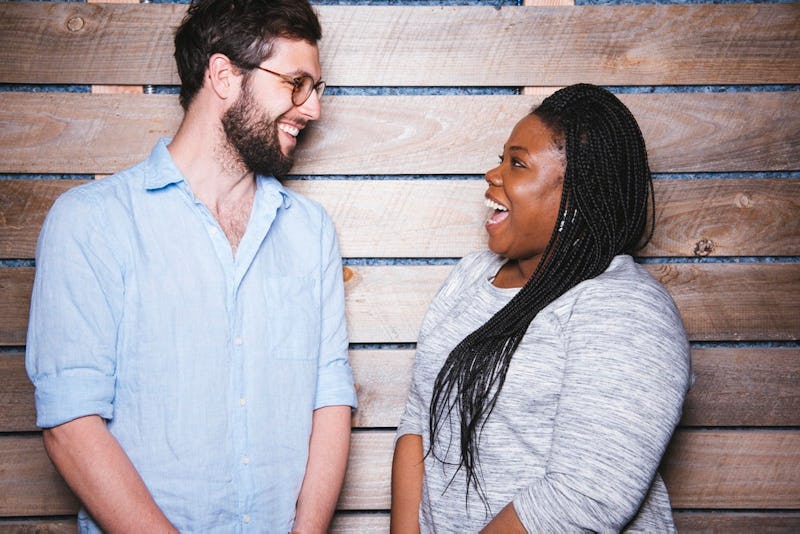 BDG Media, Inc.
When you're interested in learning more about a person, asking the right questions is key. But when you're on a first date or just getting the courage to even talk to someone you're attracted to for the first time, it's not uncommon to completely blank out or say the wrong thing. Fortunately, dating coaches know a thing or two about the best conversation starters you should say in order to garner positive results.
As you're probably well aware, meaningful conversations are important to building connections. These go beyond the small talk and the typical, "Hey, how's your day going?" Not that there's anything wrong with starting a conversation with something simple, it just doesn't tent to leave a lasting impression.
"Technology has changed how we engage with each other but human beings still possess an innate desire to feel more deeply connected to and understood by others," Dr. Jill Gross, licensed psychologist and dating coach, tells Bustle. "Therefore, many of us yearn to peel back the superficial curtain of social media status updates and talk about who we really are."
It's probably why so many people hate receiving a simple, "Hey" as an opening on dating apps. There's no substance there and it doesn't give anyone a reason to respond back. So if you want to build a connection with someone, here are some conversation starters you should use.