63 Female Star Wars Fans On Carrie Fisher's Legacy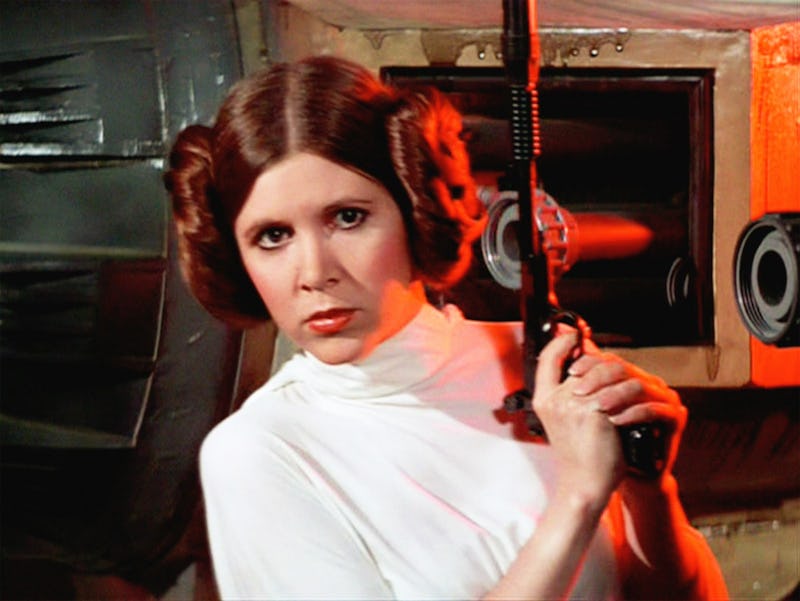 When it was announced on Tuesday afternoon that Carrie Fisher had passed away, countless fans were left utterly heartbroken. An actor and writer with a huge personality and a joy for life, Fisher was an inspiration to so many people — especially women, many of whom grew up watching her on-screen as the iconic Leia Organa in the Star Wars films.
For female fans of the franchise, the loss of Fisher is devastating. Not only was she a talented actor who brought a beloved character to life, but she was a passionate, badass woman who delivered feminism and force to the Star Wars universe and pop culture overall. While mourning Fisher and reflecting on her legacy,63 female Star Wars fans explain just how much the beloved star meant to them.
Meg, 28
Leia picked up the gun and started firing back. She was getting "rescued," but had to take charge. That visual, the princess taking control, burned itself in my brain very early on. She became my answer when boys said I couldn't play with them or be as tough as them. She is the indelible image of a strong, confident woman.
Later, in her books and interviews, she became such an advocate for mental health and self-acceptance and -love. My childhood hero became the important voice and advocate I needed as a young adult.
Martha, 25
I was one of those girls who never thought about what I couldn't be because I had so many great role models showing me that I could do anything I wanted when I grew up. One of those role models was Carrie Fisher's Princess Leia who, from the very first time she appeared on screen in Star Wars, showed me that women could be badass rebel fighters and that being a princess (and a woman) didn't mean you were weak. She'll definitely go down in history as one of my first female role models — and what a one to have.
Emma, 26
My mom got me into Star Wars from the time I was a toddler. (She's been a fan since since the first one came out in '77. We're both crying.)
Aly, 32
The loss of Carrie Fisher is almost too much to bear in a year that has already chipped away at my heart. I grew up watching Carrie in Star Wars and When Harry Met Sally and the fact that she could be the badass heroine and the sassy best friend with the same amount of complexity, humor, and all-around awesomeness was a testament to her talents and her soul. My love for Carrie only grew more and more the older I got, as I battled with my own mental health issues. Her willingness to speak openly and frankly about her struggles made me feel less alone in the world, and more brave to face my own demons. She gave me the galaxy, on and off-screen, and I promise to continue to shine for her.
Megan, 22
On screen, Carrie Fisher portrayed a princess in an era of helpless Disney princesses that was a fighter and a leader with a hilarious dry sarcasm to boot. In real life, she was equally inspirational, taking up the fight for mental illness. She was loud and brash and unapologetic. Carrie was the perfectly imperfect role model every girl needed.
Emma, 24
Her "I don't give a damn what you think" nature was inspiring to me.
Alyssa, 25
She taught me to never let the boys boss you around. She had strength and weakness and the power to overcome it.
Stephanie, 32
Leia, and Carrie herself, taught me there was a different way to BE than the expected Disney princess type. She made me feel I was OK, even when I thought I was weird. She kicked ass, got the guy on her terms, and didn't need saving.
Kelsea, 29
This year, at the Star Wars Celebration, I spied Carrie Fisher across the convention floor. She was with her dog, Gary, and she was sprinkling glitter on fans, smiling, and loving every minute of it. Later, she and Mark Hamill brought their pups on stage together at a panel, and the love between them was palpable. The fact that this woman, who singlehandedly got me into Star Wars by being such a badass in A New Hope, who'd been to hell and back again thanks to addiction and mental health problems, and who was still salty enough to whip out her middle finger whenever she damn well pleased, could walk around this Star Wars convention like a ray of sunshine with a cute dog and a glitter trail is everything.
Carrie Fisher proved that no woman is just one thing. No woman should be defined by one decision or one iconic picture. Carrie proved, day in and day out, that women are whatever the hell they want to be, when they want to be. And I'll always love her for that.
Elizabeth, 24
I have been following news of Carrie Fisher's health with bated breath since she was first hospitalized and am devastated to hear of her passing. Any female Star Wars fan can tell you how much Leia meant to her. Carrie set a new standard for representation of women in film by portraying a character who was not only "strong" and "female," but interesting. Princess Leia (now General Leia!) was the first action heroine I ever saw who was funny, smart, and an all-around badass, all traits she shares with the actor who played her. In someone else's hands, the role could have been passive, even boring: "princess who gets rescued by the hero" is hardly an original trope. But Carrie has never done anything boring in her life. Her openness about her battles with mental illness and addiction — always documented with her trademark incisive humor — inspired a national dialogue about these problems, and gave many struggling Americans hope that they, too, could overcome them.
I know I won't be the only Star Wars fan to spend this week re-watching her movies and rereading her work, with a heavy but grateful heart. Rest in peace, Carrie.
Chloe, 20
As a child, Princess Leia was my hero — I spent many a day with my hair twisted into buns, shooting imaginary bad guys. When I grew up, Carrie Fisher became one, too. Her wit, warmth and openness about her struggles were truly inspirational. I will always love her.
Debbie, 34
I came into Star Wars in my late teens when I wanted to see Episode I, so my surrogate aunt gave me the VHS copies of the original trilogy to watch to see if I'd like it. Boy, did I ever. Princess Leia became my first kickass female hero and taught me you didn't need a guy to save you and get things done. And I've been drawn to characters like Princess Leia ever since. Carrie Fisher became an idol, too. She is one with the Force and the Force is with her. Rest In Peace, Carrie Fisher.
Julie, 43
Few characters loomed larger for Gen X women than Princess Leia, perhaps the first heroine we saw, as children, that ran alongside the boys, sometimes out-battled them, and frequently took charge of the situation. She wasn't afraid to yell, correct the men around her, or tell everyone to shut up. She was beautiful, but also smart, pushy, and bossy. All the things many of us were told girls weren't supposed to be. Later in life, she became a hero to me for who she was off the screen. A brilliant, funny writer who struggled with mental illness and wasn't afraid to talk about it. Her tweets were a biting commentary on society and usually hysterically funny. Her thoughts on sexism and mental illness got me through some dark days. We all have those celebrity deaths that hit you harder than they should. This is mine.
Amanda, 23
As Princess Leia, Carrie Fisher was a truly inspiring heroine, the likes of which we rarely saw (and still see too rarely): genuinely feminine but also a fierce fighter, funny but tragic, brave but vulnerable, a lover but also a soldier, heroic but flawed. And as herself, Carrie was an inspiration for many of the same reasons: her courageous speaking out about mental health, her brazen delight in not fitting the Hollywood princess mold, and above all, her wry, honest wit. She was an inspiration who taught girls like me that we can be flawed and wonderful and grow up to be everything. Rest in peace in the stars with my eternal gratitude.
Lauren, 25
Having any sort of mental illness is a profoundly isolating experience. Carrie Fisher took the natural impulse to entomb oneself in shame and burst through it. She talked about the worst experiences of her life, her darkest demons, and found a vein of absurdity in each of them. It was electrifying to see that and apply it to myself. It felt almost blasphemous to laugh about something so terrible, but that laughing and talking took away the killing edge of my own depression and anxiety. Carrie Fisher led by example in sharing fear and shame and allowing it to dissipate through dispersal. The only way I can pay her back for this is trying my best to do what she's done for me — to, as she said so perfectly, "Stay afraid, but do it anyway."
Alyssa, 22
I was raised on Star Wars. Carrie taught me that a princess can be fierce, intelligent and have more bravery than 10 guys. She was the only princess I ever truly wanted to be. Her struggles later in life and overcoming them made her the same great role model she played on TV.
Hazel, 33
I'm a tomboy through and through. Having such a big female character who could stand with the boys was massive.
Lana, 16
When I watched Star Wars for the first time as a child, I was immediately drawn to Princess Leia. I had never been exposed to a princess quiet as badass. She taught me that women could be just a strong and powerful as men, while still looking beautiful. As I and my love for Star Wars grew, Carrie Fisher became my hero. Her mental health activism and outspokenness continue to inspire me as a young feminist. I miss her already.
Laura, 21
She was a reminder that princesses could be badass.
Darren, 28
Leia was a childhood hero! She meant so much to me that I named my daughter Leia. Carrie has contributed not just to my childhood but to my daughter's and we will miss sorely. Now she is one with the force.
Jess, 31
I first watched Star Wars on Christmas day, aged eight. As one of only three female characters in the original trilogy who weren't space strippers, Carrie Fisher gave me one of my first feminist film heroines. Leia was a politician, a princess, and a spy on a mission to save her people. She subverted the damsel in distress trope and literally strangled the patriarchy. But Carrie Fisher was so much more than Princess Leia — as defiant and heroic as Leia was, Carrie was more so. Her searing honesty about her struggle with addiction and mental health is as much her lasting legacy as Leia Organa.
Shakira, 31
As a girl I learned I could be both Princess and Resistance Fighter. Carrie Fisher taught me to be defiant and resilient in the face of an Empire hell bent on thwarting me at every turn. She was the best of us and the worst and she held all the potential we, as humans, have. She possessed an air of hyper realism, a jarring, fragile humanity. She was the modern woman; fierce and feminine and anything she wanted to be in a world that consistently told her "no." She taught me to be me — to be any me I wanted to be and to be proud of myself always. The galaxy mourns her and I will miss her very much.
Meg, 30
Princess Leia wasn't nice. Not to her enemies, not to men who courted her, not to anyone she didn't want to be nice to. She spoke her mind, made demands, and responded to idiocy with sarcasm and an overruling confidence. Of all the things that character modeled for me, that refusal to participate in the enforced feminine code of niceness was the most important to me. Fisher was herself an example of that; telling the truth about her mental illness and drug use in a way that defied the polite expectation that she project perfection as a Hollywood starlet. "Nice" is a prison, and both Carrie Fisher and Princess Leia were free.
Abby, 21
Carrie Fisher taught me that I never had to conform to what everyone else wanted me to be. She showed me to be loud, brash, and bold and be absolutely unapologetic for doing so. She allowed me to see that it was OK to struggle with mental illness. Carrie taught generations of girls to never say sorry for being themselves.
Rebekah, 31
I adored Carrie Fisher since the first time I saw her on screen as Princess Leia. She was the first female heroine I can remember seeing on the movie screen and I adored her feisty attitude. The older I get the more my appreciation for both the character and the actor has grown, she continues to be the heroine that all other ones try to live up to. She was a woman on screen and off who brought hope and strength to all the women who were able to watch her story.
Erin, 31
I first watched the Star Wars trilogy when I was 10 years old. I loved Princess Leia then and I love her still. In a time when female characters were often defined by one trait (beautiful or smart or brave) Princess Leia was so many things at once. She was a powerful leader who still showed moments of vulnerability. She was assertive and romantic. She wore combat gear and flowy dresses. She was caustic, funny and kind. She showed young girls that you don't have to choose between being a pretty princess or a tough hero... you can be both.
Sari, 33
When I was a child, she became my role model by being a non-apologetic and strong woman on screen. Me being from Finland made no difference, as the reach of Star Wars and Carrie was wide. Later, I started to understand what Carrie went through as a human being and woman in this world, and I started valuing her strength, honesty and brutal openness in her struggles. She was one of a kind and will never be forgotten. She was and always will be royalty.
Anu, 26
"If my life wasn't funny, it'd be true and that is unacceptable." That's what Carrie Fisher taught me. To get up every time I was down and to come back with a vengeance and a sassy quip. Thanks to her openness about her struggles with addiction and bipolar disorder, I was better able to understand and and help a friend who had been struggling with the same issues. I will forever be indebted to her.
Keri, 44
I vividly remembered seeing her in Star Wars and being blown away. I'd never seen a heroine like her. Loud, sassy, opinionated, and holding her own with her male co-stars. I feel she paved the way for many more characters in the sci-fi genre to speak their mind and be a leader.
Lauren, 20
She showed that no matter what happened to you, you can still pick yourself up and carry on. She was the best princess role model that a girl could look up to. Fearless, independent and strong willed.
Caitlin, 21
She was an advocate for so many and shed light on mental illness and feminism before it was accepted. A true icon.
Molly, 29
Princess Leia changed my life from the moment I saw her on screen. She was brave in spite of everything that happened to her, she didn't take any crap from anyone, and she was an unstoppable force. Carrie Fisher carried those admirable aspects over into her life. She was an advocate for mental illness awareness, she was strong, and did things her way. I aspire to be half the woman Carrie Fisher was.
Shauna, 38
Carrie Fisher was my heroine my whole life. My earliest memory of her is peeking around the corner in that white dress and hood in A New Hope. I wanted to be her. My dad introduced me to her in Blues Brothers. She made me laugh my head off in When Harry Met Sally. I felt a new kinship to her when she publicly talked about her mental illness, especially at a time when it wasn't "OK" to talk about those things. I jumped at the chance to meet her at Salt Lake Comic Con, and I'm so glad I did. What a beautiful person she is. After she lay her head on my shoulder and squeezed my husband's hand, I was walking on air. I cosplay as a tribute to her. She's my princess, my badass role model, my General. I will always love her and what she brought to the lives of so many.
Preeti, 32
Carrie Fisher was my first princess. I don't remember the first time I saw Star Wars. It's just always been there. Which means I've always had a Princess who was unafraid to fight for what's right. Who was unafraid to be her own hero. She shaped so much of who I was as a little girl. But because Carrie Fisher did that in her own life, I never stopped learning from her. Her unabashed honesty concerning her mental health, or political views, or even just her ability to laugh — I cannot say how much it meant to me. She's my Princess. And she'll continue to be my General.
Hannah, 19
Carrie Fisher was living proof that mental illness does not define who I am as a person. She has given me hope for a day that I might overcome my demons and learn to thrive.
Gabby, 19
I grew up with Star Wars. It was always a part of my family and something my brother and I hold very dear to our hearts. Growing up, I gravitated towards Leia primarily because I knew she was a princess and that peaked my interest. As I got older and began to understand the storyline, she became a lot more than that to me. She became a leader, a fighter and my biggest role model. She wasn't just a princess, she was our General!
Very seldom did we see women portrayed as such, but Carrie Fisher did it with such elegance and ease. Carrie, just like Leia, was a leader. She proved to many men and women that we have every right to speak up, to be true to ourselves and fight for what we believe in, to love one another and support each other despite our differences. Carrie, along with Mark, Peter, Harrison, Kenny, Anthony and the whole Star Wars crew, was the reason I'm still fighting to be a better person, to get my eating disorder under control. She's proof that no matter where you are, you can always come out of it stronger. I broke down when I found out about her passing and nearly had an anxiety attack, but I pulled myself together and stayed strong for her. I will never be able to show her just how grateful I am to have grown up with her, but I promise to keep passing down everything I learned from her to others and to keep her legacy alive and I know the whole Star Wars family will do the same. I love you, General Fisher.
Yara, 23
I first watched A New Hope when I was 9, and the moment I saw Princess Leia on the screen, I knew I wanted to be just like her. Carrie Fisher was an inspiration for me and many other young girls. Between Princess Leia and Buffy, I had two heroic females that I could look up to. Her character was one that would make a little girl feel like she could do anything.And as a person, Carrie Fisher was astounding. She was unapologetically herself and wasn't afraid to use her platform to educate others on different subjects, such as mental illness. Rest in peace, Carrie. And may the force be with you, always.
Paulina, 29
When I first saw Star Wars, I looked at mom and asked her: "Is she a princess? She uses weapons! That's weird!" My mom said, "Yes, she doesn't need to be saved." That has stuck with me since then. Leia was vigorous, independent, and I loved her. Today it is known that, without the interpretive force and tremendous personality of Carrie Fisher, Leia would not exist as the celebrated female figure she is. She will be missed and remembered.
Victoria, 30
Carrie Fisher's two fingers to show-business attitude very much got me through auditions and a performing career throughout my 20s. I drove myself crazy with competitiveness, but after reading Postcards from The Edge, realized it was OK to not accept someone else's beauty standards. I adored Judy Garland as a toddler and I'm so lucky to have graduated to Carrie. She was herself, adorably batsh*t and a writer I only allowed myself portions of as a treat. I've been saving her latest, knowing how difficult it will be to read knowing the outcome. What a badass she was, what an icon. I am devastated.
Ashley, 28
I woke up this morning devastated that my childhood icon passed away. I believe that Carrie Fisher cemented what it meant to fight. I have followed her career since I was a child. I remember being in awe of Princess Leia, a new kind of princess, holding a gun and mouthing off to her would-be heroes. That hooked me in and kept me focused on what Star Wars was selling me: Triumph over insurmountable odds, making jokes and beating the bad guys in the face of it all.That was Star Wars to me and it cemented my love of the series forever.
When I got older, I battled suicidal thoughts, depression, addiction and anxiety. I was losing my will to live and fast. I discovered while on a nostalgia Google search that Carrie Fisher, my favorite princess, was living with the same things I was fighting at the time. It has been a constant struggle to maintain some semblance of who I thought I was before my mental health became the forefront of my life. But here was my childhood icon, happy and surviving. Mouthing off and fighting back in the face of it all, and I slowly learned to do the same. I am now a Special Education teacher and my kids love Star Wars. I could not have had the guts to do my job if it weren't for learning from this great princess of the rebellion.
Liz, 26
Spunky heroine, fierce female, amazing writer, beacon of hope — Carrie Fisher embodied all these things (and more). She catapulted me into a life of sci-fi fandom, helped me overcome my eating disorder, taught me to be independent, and harnessed my ability to write freely without apology. Her strength, courage, honesty, and pride did similar things for millions of others, and no obituary will be able to adequately encapsulate everything she fought for and/or represented. Good night, Carrie, and may you remain one with the Force.
Lia, 27
When I was around 12, I dressed up as Princess Leia for Halloween. At the time, I just thought it was cool and a convenient use of my white karate gi. Now, 15 years older and working in entertainment, I hear so much about there being a lack of empowering female characters in film and on TV for young girls to look up to. My parents showed me the Star Wars movies when I was a little and I really liked them, but I definitely didn't think consciously about it being so important that Leia was included as this badass woman character — which is how it should be in a perfect world. We shouldn't have to think about women being included, it should just be that way. Now, I know how important Leia was, and I've always really regretted not having a photo of myself in that costume.
Kat, 37
Princess Leia was this huge image for me as a girl who grew up in a neighborhood full of boys. I was always Princess Leia when playing with them, but it was awesome because she wasn't the sidekick or damsel in distress — she was a leader and she had an opinion that she wasn't afraid to voice. But Carrie Fisher the person, not the actor, was one of the first celebrity women who seemed human to me because of her writing about mental illness. Her wit and excellent writing have done for me as an adult what her role as Princess Leia did for me as a child. Carrie Fisher was a badass woman and she will be missed.
Susie, 38
She was my first hero and shaped me into the woman I am today. I grew up with all boy cousins who would watch Star Wars all the time, and I watched her as Princess Leia hold her ground and stand up for what she believed in and, ultimately, save the *!&#*!! day. I don't think I ever thought this day would come.
Claire, 33
I was thrilled when my four-year-old daughter wanted to be Princess Leia for Halloween 2015.
Kristen, 40
As a kid I watched, enthralled, as Princess Leia barked, "Into the garbage chute, flyboy!" as she took charge of her chaotic rescue attempt in A New Hope. She wielded blasters, traded quips with Tarkin and led the rebellion with no nonsense and no glass slippers. Then I grew up, and learned just how hilarious and brilliant Carrie Fisher was. She talked and wrote about struggles with mental illness and despair and love and life. Things that I needed to hear someone talk about. She's inspired me as a woman writer to be honest, to see the funny and the profane and the tragic altogether, because that is life. As a woman, I was misty-eyed watching her return as General Organa, a badass leader who kept going when the men were nowhere to be found in TFA. I would not be a Star Wars fan if it weren't for her. And she will be with us, always.
Helena, 21
Carrie Fisher is one of those actors who managed to not stay frozen in time in the public image as a beautiful, young woman. She was my role model because she refused to let Hollywood leave her in the past, constantly fighting every force that wished for her to fade. Seeing a brash, honest woman fight her fears with humor and share them with the world was the greatest gift that she could have left. Her persistence remains my ambition.
Olivia, 26
I remember when I was younger, my mother explained to me what bipolar disorder was because of Carrie Fisher. She helped me learn about mental illness, and, years later, made it OK for me to share my own experiences with depression. (Also, I recently watched A New Hope for the first time in over 10 years, and Fisher was a straight up badass — ICONIC.)
Alex, 20
As well as portraying one of the best female characters of all time, Carrie Fisher's confidence and sense of humor will always make me smile. She was also the first person I ever saw speaking openly and unashamedly about mental illness, and as someone that has mental health problems myself, she will continue to inspire me to not shy away from talking about it. Carrie was an inspiring example of taking no nonsense and holding your head high, and will be fondly remembered.
Helen, 30
When you are a little girl, the images of women you get given are of princesses who need saving, women who are always subservient somehow. So when I was shown Star Wars for the first time by my mother I was gripped. Here was Princess Leia, she was a woman and she was in charge, in command. It was the first time I had seen that. Ever. And it inspired me. Leia was opinionated, "bossy" (something I was always being told off for at school, although I think for guys it's called "assertive"), and she was clever. She took charge, came up with plans, fought an evil empire and won. Leia told me I was allowed to be those things too. For so many, Carrie Fisher was their very first role model — she definitely was mine. The news of her death came for me minutes after watching her in Rogue One. And so there I stood, in a supermarket, crying. In a year that has taken so many and destroyed so much, I refuse to go quietly anywhere — Carrie never did. Instead I'll make her proud. Carrie, you were badass and you were brilliant. Thank you.
Zaira, 19
Her character is most definitely out of the norm from the other typical princess stories. Her character was strong, fierce, and witty to me, which is what I aspired to be when I was a kid. And even now!
Hannah, 22
As a child, I looked up to Carrie Fisher for her stunning portrayal of my childhood hero: Princess Leia. As a teenager, Carrie Fisher's honesty about her experience with bipolar disorder taught me that I could have Major Depressive Disorder and be a successful, beloved human being. Now, as an adult, I admired Carrie Fisher and her presence in Hollywood as an unapologetic female figure. I am so grateful for what she brought into my life and I will miss her for these reasons and more.
Danielle, 33
As the geeky trans kid growing up on Star Wars, Princess Leia shined as the rebellious empowering icon I could look up to when all hope seemed lost. She was the self-saving princess I needed and aspired to be. Throughout her life and career, Carrie taught me that the good damsels cause distress. That heroism and femininity weren't mutually exclusive. That being honest and open about mental health and addiction didn't make you crazy, and ultimately that those with the biggest hearts can learn to love the most fiercely.
Alina, 20
Carrie Fisher was the princess for all the non-princess-like girls. And we needed her.
Hannah, 17
Carrie has taught me to never conform to social norms. What she has done for women and for mental health advocacy is inspiring for generations to come. May the force be with you, Carrie.
Maricris, 27
Carrie's life will forever carry on through the massive amount of people she has influenced. I've learned that it's okay to embrace your darkness to put yourself back together. It's okay to talk about being broken. It's okay to be an imperfect female. Your imperfections make you mighty, powerful, and badass. May her force be with us, always.
Elyse, 30
Carrie Fisher will forever be Princess Leia to me. She taught me at a very young age to follow the beat of my own drum, stand up for what I believe in, to not let a man tell me what I need to do and say, and to kick ass in every aspect of my life. May the force be with us all.
Brittany, 26
Earlier this year I made the decision to be tattooed by an artist that I had admired for years, Josh Bodwell. I almost didn't get the Princess Leia piece that I had secretly wanted, but his Star Wars artistry was too good to pass up and I made the decision to immortalize a woman who I had long admired with a permanent tattoo. My brother and I grew up watching old Star Wars VHS' my dad had taped off the TV. I had wanted to be Princess Leia and my brother Darth Vader. As we grew up the magic of Star Wars never left us. Princess Leia taught me to be a strong, independent woman amongst men and Carrie Fisher taught me it's OK to be who you are, don't hide that. I now work in sports and the lessons I learned more than two decades ago are more prevalent now than I could have ever imagined. It saddens me that my tattoo has turned into a memorial so soon, but I will always be grateful for her influence in my life.
Jordan, 26
I remember watching the original trilogy on repeat as a child. I'd sit in front of the TV watching the VHS tapes over and over and studying Carrie Fisher. She wasn't the kind of princess I saw in any Disney movie — she was strong, she was bold, she was fearless. I remember growing up to realize that the woman who played her was very much the same. I'll never forget watching those films with my brother and sister — hoping that I'd grow up to be a hero like my favorite Princess.
Karen, 53
Carrie Fisher became a hero to me in the summer of 1977. I was 11 years old as I sat in the Theatre watching her as Princess Leia. I remember thinking , that is kind of Princess I would want to be, Grabbing a blaster out of a dude's hand and taking charge! I followed her career and enjoyed reading her books and admired her sassy attitude. She taught me a lot about life and owning who I am as a woman. Carrie helped give me courage to own the tough parts of my personality, my physicality and be powerful no matter what. She was one badass bitches and I am blessed to have had her as a role model.
Hannah, 25
Carrie Fisher taught me that you can be your own hero. She taught me to be true to yourself and that being a nerd and a goof ball is okay. I will be forever grateful for her and Gary. May the force be with them always.
Leah, 28
When I was a little kid, the idea of Princess Leia annoyed me, because I associated it with people both mispronouncing my name and calling me Princess when I didn't want them to. Then, I actually saw Star Wars, and realized that being called "Princess Leia" was far from an insult. When I was older, I discovered in Carrie Fisher a woman who was funny and frank, who told her story, wasn't afraid to be dark, and who didn't care what anybody thought. She was the kind of writer I want to be, and I hope she inspires more girls to pick up a pen (or a lightsaber) as well.
Casey, 31
I didn't really begin to look back at Carrie Fisher's legacy as Princess Leia until last year's The Force Awakens. I hadn't seen the original trilogy in a long while, but rewatching them through my now older, feminist lens, and learning more about Fisher herself gave me such a new appreciation for the character and the woman that played her. Leia was never a victim and neither was Carrie. Only a strong woman could play such a strong princess and she helped usher in the new wave of great female characters we are seeing in the franchise.
Rest in peace, Carrie.