7 Anxiety Symptoms People Often Mistake For Personality Traits, According To Therapists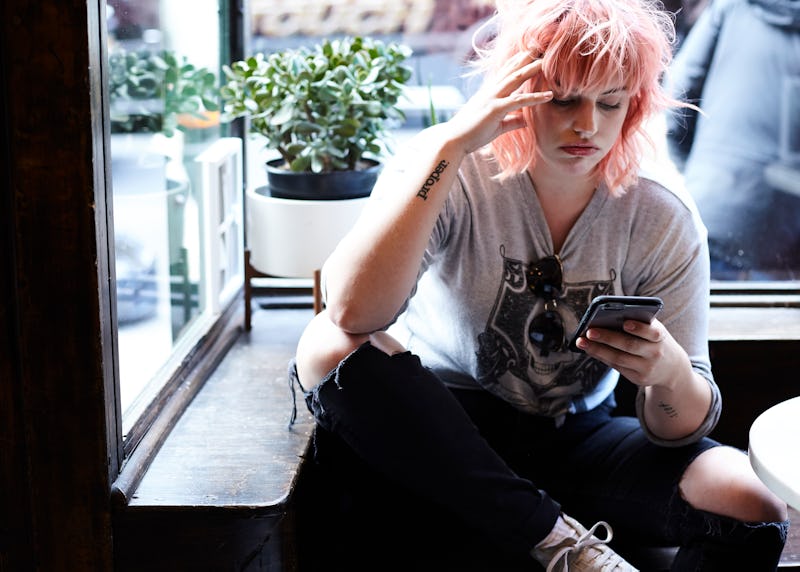 Hannah Burton/Bustle
Even in the age of increased rates of anxiety and online diagnoses, therapists still find people in their office who had no idea they were experiencing an anxiety disorder. Often, that's because anxiety disorders and personality overlap, meaning people are surprised that their personality quirks are actually a sign that they've been suffering from anxiety.
These personality traits associated with anxiety disorders aren't always "bad" or negative traits to the person experiencing them. "I often hear from clients that they've 'dealt' with their symptoms or personality quirks (obsessive thoughts, compulsive behaviors, perfectionistic tendencies [... even] somatic symptoms like racing heartbeats, feelings of panic and jitters) for as long as they could remember and have seen many of the symptoms or traits as positive," owner and clinical director of Elevate Counseling Jamie Dana, MC, LPC, tells Bustle. "They didn't correlate it with anxiety until they were specifically asked about the symptoms or, more commonly, until the symptoms became worse." Having symptoms that disrupt your life, or make it more difficult, is actually what differentiates having an anxiety disorder from occasionally feeling anxious.
"Diagnostically, anxiety cannot be a disorder and less it disrupts and interferes with somebody's life in their occupational social or personal lives into marked impairment and every day functioning for at least six months," psychotherapist Emily Roberts, MA., LPC, tells Bustle. This means that, while some anxiety disorder symptoms may feel positive (like perfectionism helping you do well on tests or in meetings), these 'quirks' have to be holding patients back in some way to constitute an anxiety disorder. Still, there is often a gray area.
Here are seven anxiety symptoms people often mistake for personality traits, according to therapists.