These 'Westworld' Fan Theories About Ford Will Ensure You Never Underestimate Him Again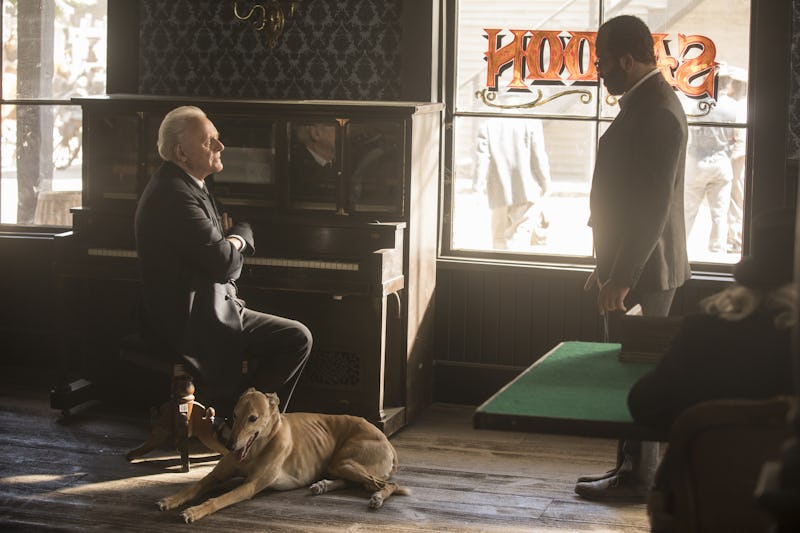 John P. Johnson/HBO
Major spoilers for the first six episodes of Westworld Season 2. Dr. Robert Ford was seemingly dead in Westworld, but he was never forgotten, as his influence was all over Dolores' rebellion. Yet, "Phase Space" proved exactly just how influential he still is. Ford's "pearl" of consciousness is living inside of the Cradle. With his return, theories about Ford in Season 2 of Westworld can be reexamined and new hypotheses about his endgame can be explored. Because while you might have expected Sir Anthony Hopkins to return to the HBO series at some point, fans know now just how close Ford has been this whole time.
"Phase Space" appeared to prove that before Ford orchestrated his own assassination, he had Bernard place a copy of his mind (the ball, which is known as a "pearl") into the Cradle and to override the system. Bernard doesn't seem to recall this, but when he extracts his own "pearl" and links up directly with the Cradle, he finds Ford existing in this space and controlling the park from the inside. In the behind-the-scenes video for "Phase Space," co-creator Jonathan Nolan wouldn't give any information about how Ford lives on through the Cradle. Instead, Nolan simply stated, "What else is in the Cradle is something we'll come to discover."
The preview for "Les Écorchés," the June 3 episode, shows that Ford will return again, which should result in Westworld revealing a little more information about his master plan. After all, it looks like Ford tells Bernard, "What is about to happen will not be your fault." But before "Les Écorchés" premieres and reveals its secrets, here are some theories about what Ford is doing inside the Cradle — and what he still has up his sleeve.