7 Make Application Hacks You Should Know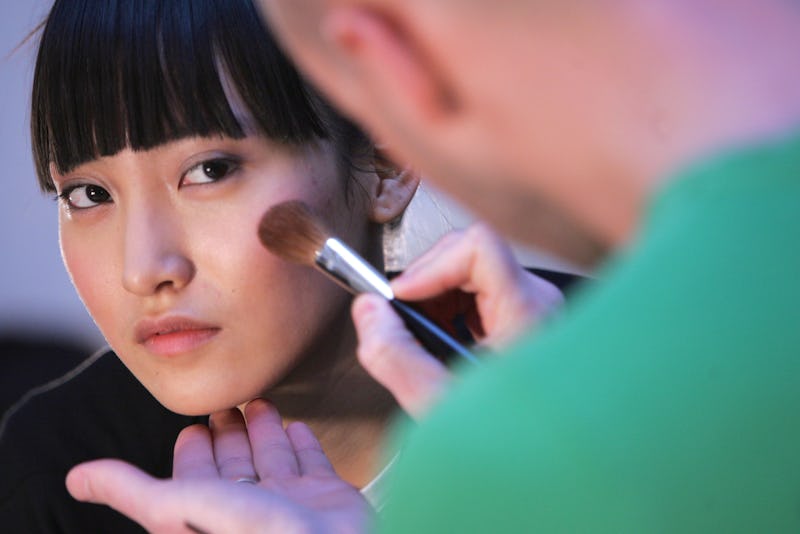 Bryan Bedder/Getty Images Entertainment/Getty Images
Nowadays, there seems like a gazillion different makeup brushes out there on the beauty market. With different styles, materials, and even functions at your disposal, if you're a makeup fan you're sure to have your own unique makeup brush collection. However, there are some makeup brush hacks you should know, that will make the most out of your tools and help you to utilize them to their full potential.
If you were into makeup growing up, you likely had a few makeup brushes in your precious hoard, or you may have occasionally swiped some from your big sister or mom. Even if you didn't know how to use them properly, you probably felt super grown up by even attempting to use them. Folks who are new to wearing makeup or enjoy dipping their toe in and out of the makeup pool, might feel a little clueless too when it comes to the wide range of makeup brushes available — which is totally understandable as beauty babes are spoilt for choice when it comes to makeup tools these days.
But, no matter which brushes you decide upon in the end, tips and tricks on how to care for and best use your tools will come in handy for any makeup brushes. So I spoke to a bunch of experts to discover their best makeup brush hacks that everyone should try.
1. Wash Your Brushes Regularly To Keep Breakouts At Bay
Celebrity Makeup Artist Etienne Ortega, tells Bustle over email, "My best brush hack is a trick for before the brush even touches your face. It's so important to regularly clean your makeup brushes! It should definitely be on your radar to clean them every other week, at least. Using dirty brushes with makeup build-up can spread bacteria all over your face, inviting unwanted bumps and breakouts."
"Professionally I wash my brushes with warm water and gentle shampoo and air dry overnight after every client," explains Honey Artists makeup artist, Min Min Ma, via email, "but with my personal brushes, I wash them every few days."
2. Keep Brushes Squeaky Clean With Cleansers Made For Makeup Brushes
Blendercleanser Solid, $16, Amazon
"You can use cleansers specifically for makeup brushes and a scrub pad or towel to make them like-new. Let them dry in an upright position so the shape doesn't warp," says Ortega. "The Beauty Department at T. J. Maxx and Marshalls has some amazing finds from full brush sets to brush cleansers and everything in between," he elaborates.
Honey Artists makeup artist Suzy Gerstein, explains in an email to Bustle, "I am loving the new Solid Pro Cleanser from Beautyblender for cleaning my brushes. The formula removes every last bit of grease and pigment while keeping the bristles in tip top condition. The little raised beads on the new insert also help me really work the color out of the brush hairs without damaging them."
3. Use A Small Eyeshadow Brush When Applying Loose Powders
Surratt Beauty Artistique Smoky Eye Brush Moyenne, $65, Sephora
"Here's a tip," says Gerstein, "I like to use a small, domed, eyeshadow brush to apply loose powder rather than a traditional, big brush. I find that the tapered shape and small size really helps me control the application and keep the areas I want to be dewy from getting over powdered."
"The Troy Surratt Artistique Smoky Eye Brush Moyenne is perfect for gently powdering only the select areas I want to mattify, while letting the skin's beautiful, natural highlights shine through in areas like the cheeks and down the center of the nose," she explains.
4. Remove Stubborn Products From Your Brushes With Dish Soap
"If you're trying to get something out of your brushes that can be a bit stubborn," says Honey Artists makeup artist Robert Greene, "like foundation or heavy cream formulas, I like to use a very small amount of dish soap. It really helps break the product down and get your brush as clean as possible."
5. Avoid Toxins With Bamboo Charcoal Infused Bristles
Pure FX Cosmetic Brush Set With Charcoal Bristles, $16, Earth Therapeutics
"I am in love with new brushes and sponges with bamboo charcoal that is infused in [the] bristles," explains Honey Artists makeup artist Azra Red, in an email to Bustle.
"They are a great, healthier way to apply makeup without toxins and impurities. I think Sephora have a line but I love Earth Therapeutics," she says.
6. Use Synthetic Brushes For Creams & Natural Brushes For Powders
If you're feeling a little perplexed about the differences between synthetic and natural makeup brushes, Min Min Ma describes it succinctly, "Generally speaking," she says, "synthetic brushes are best for cream products (such as foundations or cream blushes) whereas natural bristle brushes are meant more for powders."
7. Keep Your Brushes Soft With Johnson And Johnson Baby Shampoo
Johnson's Baby Shampoo 20 Fl. Oz, $5, Amazon
"I have been cleaning my brushes for years with Johnson and Johnson Baby Shampoo. It's really gentle on the bristles and helps keep your brushes soft," explains Greene over email.
Put these expert makeup brush hacks to good use to ensure your brushes help you to look on fleek and keep your brushes in better condition for longer. There will be no more blaming your tools anymore!
Images: Skitterphoto (1) /Pixabay; Courtesy Brands (4)