Experts Say These Are The Most Common Mistakes Couples Make In Their First Year Of Marriage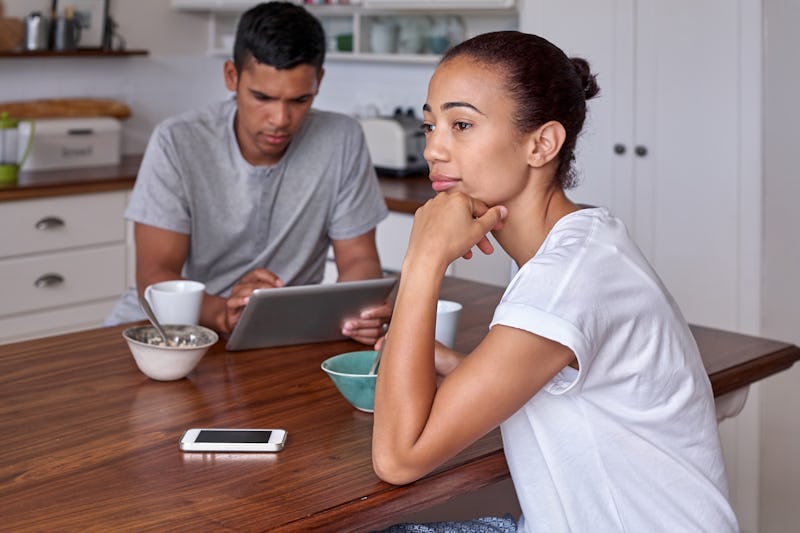 Shutterstock
As great as your first year of marriage can be, it does come with its share of both highs and lows. According to experts, the first year of marriage can be really tough due to the adjustment period. There are quite a few mistakes all couples tend to make during that critical year. But once you're aware of the mistakes you may be making, you can work with your partner to turn things around.
"The early bricks we lay in our marital dynamics create an important trajectory," Dr. Lindsay B. Jernigan, Ph.D., licensed clinical psychologist, tells Bustle. "Behaviors become patterns, which become habits. Long-term bad relational habits create wounds that can be difficult to repair."
According to Jernigan, it's much easier to maintain good habits than it is to do damage control. In order to start your marriage off the right way, it's important to make any necessary shifts in your mindset. For instance, good marriages don't come easily. Marrying your perfect person doesn't automatically guarantee that your marriage will be perfect.
"Marriage is hard," Rabbi Shlomo Slatkin, licensed clinical professional counselor and certified Imago relationship therapist, tells Bustle. "A marriage must be nurtured to grow and flourish. Learn how to cultivate your relationship and bring out its full potential, and being married should provide you with tremendous satisfaction and a sense of wholeness."
So if you want your marriage to last, start putting in the work now. It's much easier to develop good habits while you're in the middle of newlywed bliss than it is after a major fight.
Here are some mistakes couples are likely to make during their first year of marriage, according to experts.