Women Are Underrepresented At Inaugurations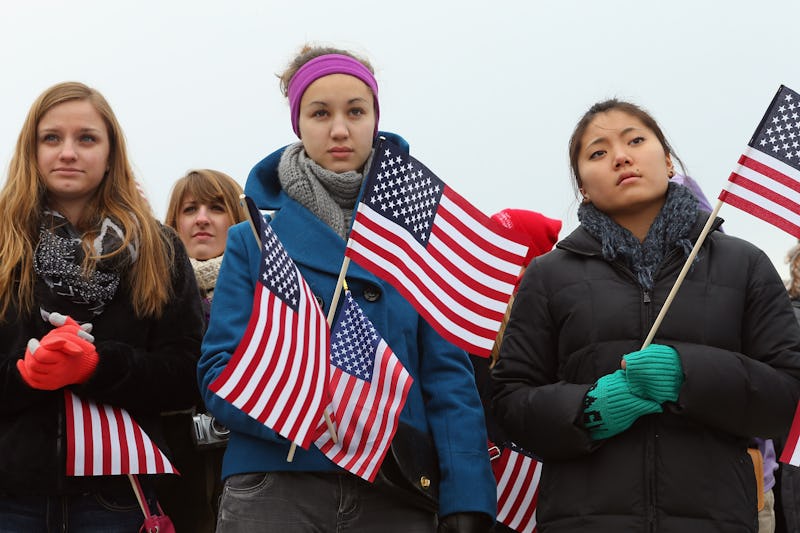 Joe Raedle/Getty Images News/Getty Images
As President-elect Donald Trump begins his presidency on Friday, he'll participate in a series of traditions that go back several generations. He will spend some quality time with his predecessor, he will address the crowd, and most importantly, he will take the oath of office. Unlike these traditions, there are some parts of the inaugural process that don't need repeating — like the moments of everyday sexism from past inaugurations.
It's plain to see that past inaugurations have been overwhelmingly male-dominated. After all, no woman has ever been inaugurated as president in this country. But the subtle-yet-stinging sexism goes much further than not having a woman inaugurated as the nation's leader. In part, the problem has sometimes been that women were left out of the conversation altogether.
This time around, there should be a pretty good avenue for protesting any sexism that comes out of Friday's ceremonies. Specifically, that's Independence Avenue — where the Women's March on Washington is scheduled to begin on Saturday. If all goes according to plan, thousands of diverse women and their allies will gather to oppose exclusionary or sexist rhetoric. But, as you'll see from the list of historical events below, it won't be the first time that women have tried to march in protest around an inauguration. Here are 7 sexist moments from past inaugurations:
1. Theodore Roosevelt's Inaugural Address
At Roosevelt's 1905 inauguration, the incumbent president spoke about all that Americans had to be thankful for. According to Bartleby, the audience was one of the most diverse as far as inaugurations go, with Native Americans, cowboys, and coal miners coming together for the event. But for the diverse attendees, Roosevelt's inaugural speech seemed to speak to a one-sided audience: men. He said:
...yet our life has called for the vigor and effort without which the manlier and hardier virtues wither away.
2. Harry Truman's Inaugural Address
More than four decades after Roosevelt's inaugural address, Harry Truman also gave a speech that spoke directly to men. By Truman's inauguration in 1949, women had long held the right to vote, but they were still missing from the president's inaugural address.
But I say to all men, what we have achieved in liberty, we will surpass in greater liberty. Steadfast in our faith in the Almighty, we will advance toward a world where man's freedom is secure.
3. Reaction To Rosalynn Carter's Inauguration Ball Gown
In 1977, First Lady Rosalynn Carter re-wore an off-the-rack gown to her husband's inaugural ball. As The Washington Post put it, Carter was "side-eyed" for her wardrobe choice, as critics said she looked "out of date." Not to discredit the American fashion industry, but Carter's choice of gown didn't seem to stop her from supporting important causes like mental health research and Habitat for Humanity.
4. Malia & Sasha Obama's Inauguration Presence
It's not just first ladies who face unfair wardrobe scrutiny. First Daughters Malia and Sasha Obama were closely watched at both of their father's inaugurations — for what they wore, how often they looked at their phones, etc. Malia will start school at Harvard later this year, but let's not forget what she wore to an event in 2013.
5. Every Inauguration Before 1917
As it turns out, women weren't just excluded from early inaugural addresses — they were also excluded from entire inaugural events. Until 1917, women were not included in inaugural parades. This time around, women will have their own event entirely during Saturday's Women's March on Washington.
6. Women's Suffrage Parade Of 1913
As this year's march takes place, it's hard to ignore the harsh history of similar events from years — and decades — past. In 1913, female suffragists organized a march on Washington on the eve of President Woodrow Wilson's inauguration. According to the History Channel, protestors intruded on the parade, and hundreds of women were injured in the clash.
7. Most Swearing-In Ceremonies
So far, only one president has been sworn in by a woman: In 1963, U.S. District Judge Sarah Hughes administered the oath of office to President Lyndon Johnson. Although the oath of office is the only constitutionally mandated part of the entire inauguration process, it may also be the tradition where women have been least represented.
Whether it's administering the oath or taking it, women have been underrepresented in many aspects of the inauguration process. This year, a group of women has taken matters into its own hands by organizing an inauguration weekend event all their own. The Women's March on Washington is shaping up to take over the District on Saturday, giving women an opportunity to leave their mark on the historic event.