7 Myths About Birth Control Men Apparently Still Believe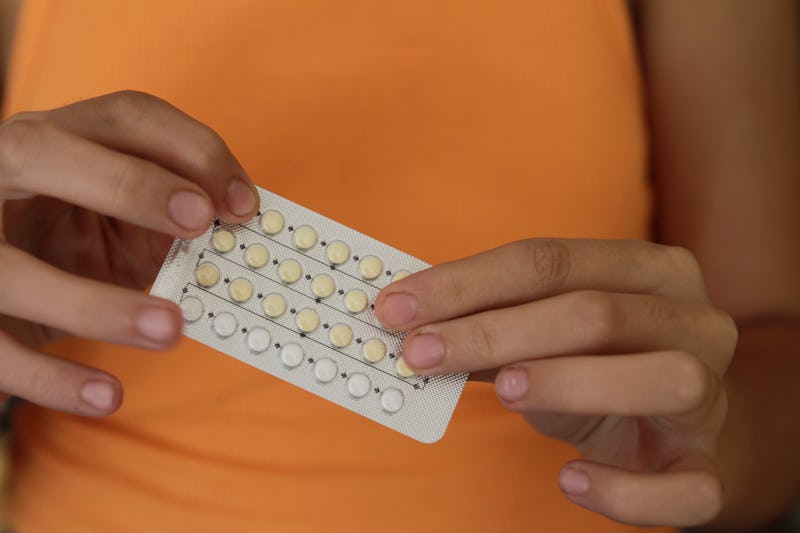 Isabel Pavia/Moment/Getty Images
While it takes a sperm and an egg to make a fetus, birth control is still all-too-often the responsibility of the person carrying that egg — and the sperm-havers end up believing in a lot of myths about birth control. According to a 2018 Bustle Trends Group survey of 226 women ages 18 to 34 of different sexual orientations, when it comes to making sure there are no unwanted pregnancies, 57% of respondents felt like they were the only ones doing it, with 39% reporting that it was equal between them and their partners.
"Some [birth control myths] come from people's personal experiences, like a friend sharing their experience," Robin Watkins, director of health care at Power to Decide, an organization that advocates for reducing rates of unplanned pregnancy through birth control awareness, tells Bustle. "It could be rooted in small truth that's distorted or not applicable in certain situations. More education and information is helpful in combatting myths."
As a result of the widespread belief that birth control is a woman's responsibility, many men don't actually know all that much about birth control. What are the options? How do they work? How effective are they? According to a survey of 1,000 men in the United States, conducted by the online birth control company the Pill Club with Ask Your Target Market (AYTM), an online market research company, a startling number of men can't answer those questions accurately.
As access to both contraception and abortion shrinks across the United States, it's more important than ever that everyone — of every gender — has accurate, science-based information about birth control methods of all kinds. With that in mind, let's take a look at seven myths that men still believe about birth control, according to the Pill Club survey.