7 Myths About IVF We Need To Talk About After Watching 'This Is Us'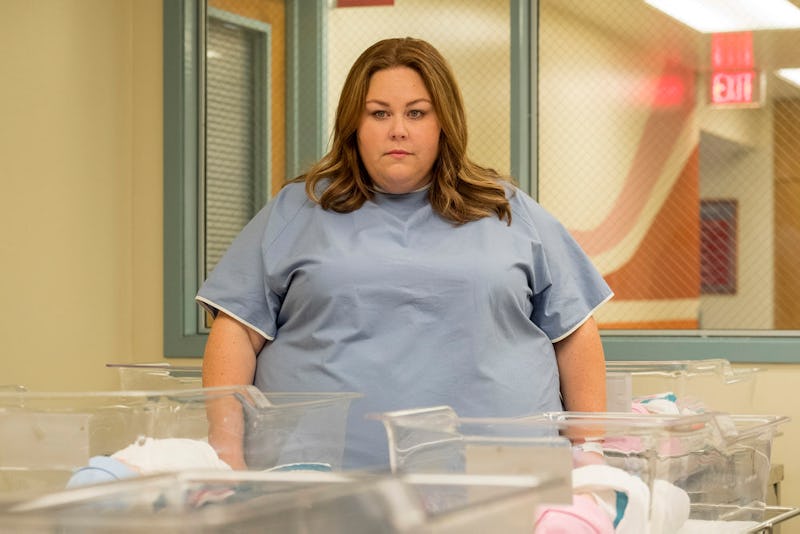 Ron Batzdorff/NBC
The new season of This Is Us is getting praise for tackling the subject of IVF, as Kate (Chrissy Metz) and Toby (Chris Sullivan) start the process of in-vitro fertilization to try to have a family. The show brings much-needed awareness around the topic, but some critics are suggesting that the show is promoting certain myths about IVF. One of the major plotlines that's resonating with viewers is the suggestion on the show that Kate's weight makes the IVF process difficult, if not impossible, but plenty of other myths about the process abound, and make it harder for people to make an informed choice about the procedure.
The process of IVF is a complicated one. First, the person whose eggs are going to be used for the procedure takes a course of fertility-boosting drugs; then, their eggs are harvested and fertilized with sperm, and then the healthiest resulting embryos are put back into the person's body, in the hope of producing a pregnancy, according to Planned Parenthood. The Center for Disease Control records that in 2016, there were 263,577 assisted fertility cycles across the United States, the vast majority being IVF, resulting in 65,996 live births.
As more people explore IVF as a possibility for starting a family, it's important to clear up myths about how it works, and discuss aspects that aren't as black-and-white as they might appear on screen. Here are seven myths about IVF we need to talk about after watching This Is Us.