There's One Oscars Record That Needs To Be Broken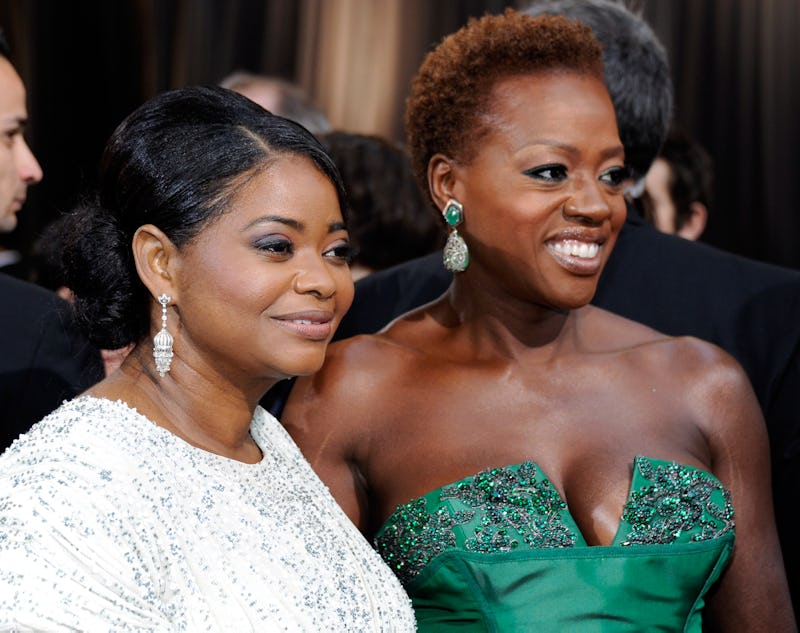 Ethan Miller/Getty Images Entertainment/Getty Images
It has been the refrain of the last two Academy Awards ceremonies, the ugly stain on the usually glamorous awards show, the reason many celebrities and viewers decided to boycott the annual event: #OscarsSoWhite. For two years in a row, Academy members only nominated white performers in its four acting categories. If you were nervous there would be a three-peat, it likely comes as a relief that the 2017 Oscar nominations include seven non-white actors, which ties the record for the most diverse acting field in the awards' history. But that just serves to highlight the fact that there's still a lot of progress to be made.
The acting nominees of color this year include performers in all four categories: Denzel Washington (Fences) in Best Actor, Ruth Negga (Loving) in Best Actress, Mahershala Ali (Moonlight) and Dev Patel (Lion) in Best Supporting Actor, and Viola Davis (Fences), Naomie Harris (Moonlight), and Octavia Spencer (Hidden Figures) in Best Supporting Actress. The only other time the acting field was this diverse was exactly one decade ago, when the 2007 Academy Awards nominated Will Smith (The Pursuit Of Happyness) and Forest Whitaker (The Last King Of Scotland) in Best Actor; Djimon Hounsou (Blood Diamond) and Eddie Murphy (Dreamgirls) in Best Supporting Actor; and Adriana Barraza (Babel), Jennifer Hudson (Dreamgirls), and Rinko Kikuchi (Babel) in Best Supporting Actress. Both Whitaker and Hudson ended up taking home trophies that night.
It's gratifying to see Academy voters recognize the talents of the actors in films like Moonlight and Fences, when so many great performances by actors of color were ignored over the past two years (in films like Beasts Of No Nation, Creed, Straight Outta Compton, and Selma). This surge in representation was probably helped, at least in part, by Academy President Cheryl Boone Isaac's efforts to diversify its membership, however, one consequence of this improvement will likely be an impulse among some voters to pat themselves on the back and consider the mission accomplished, even though seven non-white acting nominees isn't "enough."
The Academy needs to prove that this isn't a fluke. Just because they nominated seven actors of color this year doesn't mean the diversity of nominees will remain at the same level in the future. For example, just one year after the record was set in 2007, the following ceremony only featured one actor of color among its 20 nominees: American Gangster's Supporting Actress contender Ruby Dee. So seven non-white nominees this year is no guarantee of the start of a new trend; nor is it necessarily anything to brag about when it has only happened twice in the 89-year history of an organization.
Furthermore, the seven out of 20 non-white nominees still doesn't even match the real percentage of minorities in America. While white Americans make up 61.6 percent of the country's population, this year's 13 white acting nominees account for 65 percent of the 20 contenders. And even among this year's "diverse" nominees, the diversity isn't very strong: six of them are African-American and one is of Asian descent (Dev Patel, who was born in London to Indian parents). Where are the rest of the Asian actors? The Native actors? And especially the Latino actors, given that Hispanics and Latinos make up our country's largest minority, at 17.6 percent?
Unfortunately, the issue of diversity in Hollywood is often viewed as literally "black and white." So while it's encouraging to see voters embrace so many black actors this year, it still has a long way to go when it comes to reflecting the full tapestry of American identity. (Of course, the Academy can't nominate films that aren't made or performances that don't exist, so a large part of the solution this problem must come from the industry itself creating more opportunities for actors of color.)
That said, there are encouraging signs of progress at this year's ceremony outside of the acting categories as well. Cultural representation has also been a big problem behind the scenes of Hollywood, so it's an improvement that there are non-white contenders nominated in some technical categories as well. Moonlight's Barry Jenkins is only the fourth black filmmaker nominated for Best Director, following John Singleton (Boyz N The Hood), Lee Daniels (Precious), and Steve McQueen (12 Years A Slave). He's also one of only six black screenwriters nominated for Best Adapted Screenplay; and another of those six also came this year, with the posthumous nomination for Fences' August Wilson.
Moonlight's editor, Joi McMillon, is also only the second black person nominated for Best Film Editing (and the first black woman to earn the honor). Arrival's director of photography Bradford Young is only the second black man nominated for Best Cinematography. Denzel Washington, Pharrell Williams, and Kimberly Steward, all nominated this year for producing Best Picture nominees (for Fences, Hidden Figures, and Manchester By The Sea, respectively) follow only six other black producers whose names were attached to contenders for the top prize.
But the category that impresses the most this year is without a doubt Best Documentary Feature, in which a whopping four out of the five docs nominated were produced by black filmmakers, including Ava DuVernay (13th) and Ezra Edelman (O.J.: Made In America). In one fell swoop, these four nominated documentaries literally doubled the number of black directors that have been nominated in this category.
Thanks to well deserved nominations like these, there may be no trending #OscarsSoWhite hashtag this year, but that doesn't mean the problem is solved. As journalist April Reign (who is credited as the #OscarsSoWhite creator) told Entertainment Weekly:
"While we've had a spate of films that reflect the black experience, we still don't have films that reflect the Latino experience, the Asian-American/Pacific Islander experience, the LGBTQIA experience. Let's remember that #OscarsSoWhite is not just about race, and definitely not just about the black race. While we've had some forward movement, there is a lot of work that needs to be done."
Hopefully, the Academy will continue to take steps to address the issues of representation that have plagued its ceremony for most of its long history. Thankfully, if the 2017 Oscars are any indication, they certainly seem committed to change and open to embracing a more diverse range of movies, actors, and filmmakers.