7 Seemingly Innocent Things That Can Actually Be Emotional Blackmail In A Relationship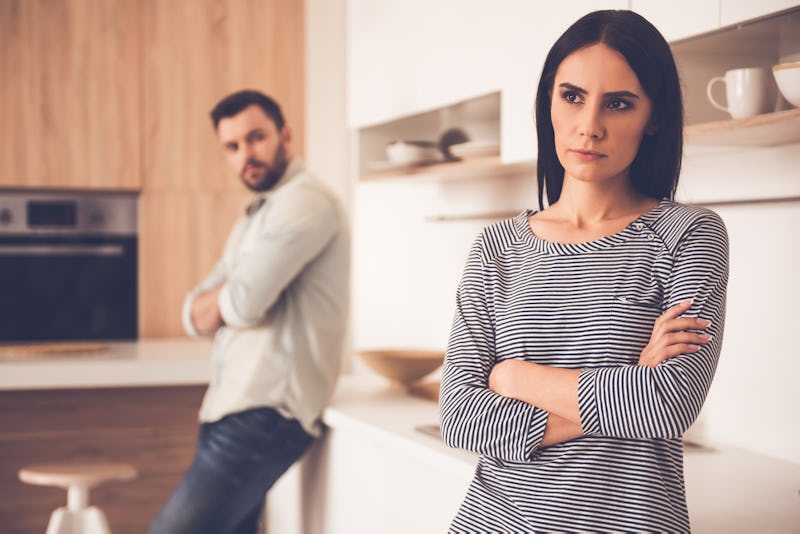 VGstockstudio/Shutterstock
When you're dating someone you're really into, it can be hard to differentiate healthy behaviors from toxic ones. Unfortunately, it's common to romanticize things like jealousy and other unhealthy behaviors. According to experts, it's easy to mistake seemingly innocent things for love, and it can be hard to tell when something is emotional blackmail.
"Emotional blackmail is one of the primary ways that one partner controls another partner," Dr. Connie Omari, clinician and owner of Tech Talk Therapy, tells Bustle. "It's done in such a way that the controlling partner manipulates the other person's emotions in an attempt to get their way."
It can be done in so many different ways. For instance, sarcasm is a common way people emotionally blackmail others. If you tell your partner that they're being too critical and they respond with an, "I'm sorry that I'm such a bad person," this can be emotional blackmail. Instead of taking the constructive criticism for the way it was meant, Dr. Omai says, the manipulative response (i.e. sarcasm) invalidates the partner's emotions, while protecting their own. An emotional blackmailer will always find a way to play the victim.
According to Kelsey M. Latimer, PhD, founder of Hello Goodlife, emotional blackmail should be directly seen as emotional abuse. "It should be taken very seriously and you should immediately tell the person how you feel if that is safe to do and/or to get others involved if you feel a sense of danger," she says.
Similar to emotional abuse, emotional blackmail can be hard to spot. So here are some seemingly innocent things that are actually signs of emotional blackmail, according to experts.