11 Signs Your Partner Is Emotionally Abusive, According To Experts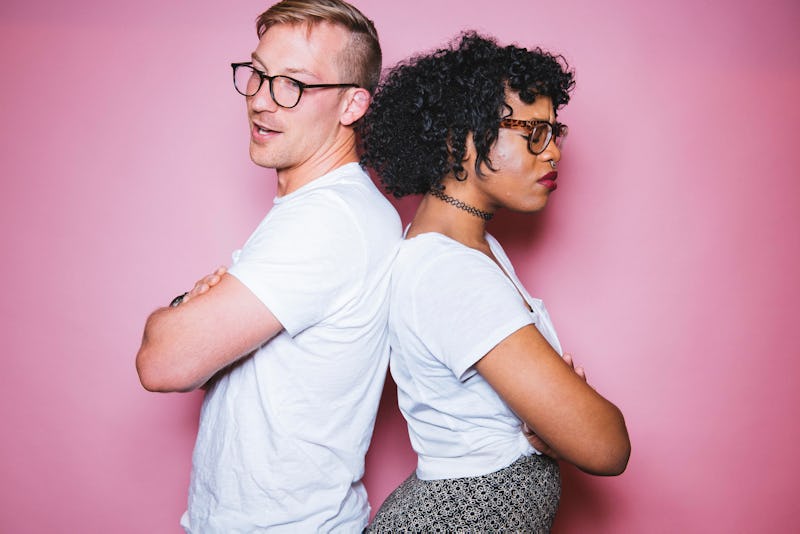 BDG Media, Inc.
It's an unfortunate reality, but not everyone is capable of being a healthy romantic partner — which is why it's so important to be able to recognize the signs of emotional abuse in a relationship. It can be difficult (and often painful) to acknowledge when your partner exhibits emotionally abusive behaviors: when you love someone, it's tempting to sweep bad behavior under the rug and just learn to deal with it. But being in an emotionally abusive relationship is extremely detrimental to your well-being, and it's crucial to learn how to spot toxic behavior so you can cut out anyone who brings you down instead of building you up (like a healthy, loving partner should).
"Emotional abuse is anything that causes someone to second-guess themselves, develop concerns over their self-worth, or begin to feel insecure or unsafe in a relationship," Tamara Hill, National Certified Counselor & Certified Trauma Professional, tells Bustle. "Emotional abuse really starts out as psychological abuse in which the other person gains a position of dominance over the other. That position of dominance is projected (by the victim) to be a 'normal' response in the relationship. In a lot of ways, the victim minimizes, normalizes, or undercuts their own feelings and intuition on what the real problem is in the relationship."
Of course, recognizing the signs your partner is abusive is often easier said than done: emotional abuse comes in many forms, and the red flags can be more subtle than with physical abuse. "Emotional abuse is trickier to identify than physical abuse because it's not based on physical actions that you can rationally experience or witness," Katie Kozlowski, a Life Coach & Feminine Being Expert who focuses on emotional intelligence and helping women overcome abuse, tells Bustle. "[Emotional abuse] is more subtle and insidious and therefore easier to misunderstand or 'let slide' because it's more about words and behaviors that make you feel small, controlled and belittled."
If you're concerned that your partner might be emotionally abusive, here are 11 red flags to be on the lookout for — and remember that no one deserves to feel manipulated, guilt-tripped, controlled, unheard, or unsafe in their relationship.