7 Shocking Pieces Of Relationship Advice Even Therapists Can't Agree On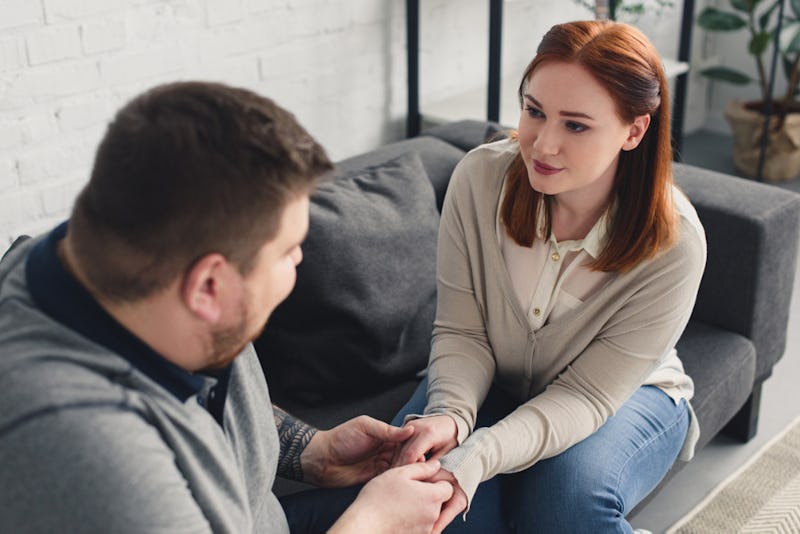 Lightfield Studios/Shutterstock
When your relationship is in trouble, or you're seeking to get ahead of potential troubles, a natural solution is to seek therapy. It turns out, however, that lots of common relationship advice is controversial — even among those who've studied for years in the field. And some therapists even disagree on the basic idea of giving advice to couples at all.
One of the first reasons that therapists tend to disagree about relationship advice is that therapy is not a one-size-fits-all solution. There are many different types of therapy, and different approaches within all of these smaller fields as well. "It might sound counterintuitive, but therapists often disagree on relationship advice because they each have their preferred school of thought, which serves as the foundation and structure for how they base their professional practice and advice," psychotherapist and international relationship coach Adamaris Mendoza, LPC, MA, tells Bustle. So, when researching a therapist, couples should find one who has a similar view of relationships to them.
"Many factors can affect where a therapist falls on a continuum, which is why client-therapist fit is all important," international psychologist and trauma specialist Dr. Anjhula Mya Singh Bais, tells Bustle. "Cultural, generational, and religious variables could factor into how a therapist approaches the issue at hand." Just as it likely took you a bit of time to find the right partner, it may take a bit of time to find the right therapist. Still, it's worth it to find someone who you trust when it comes to guiding you in your relationship, even if their beliefs don't line up with everyone else's in the profession.
Here are seven shocking pieces of relationship advice even therapists can't agree on.