7 Signs Your Partner Is Emotionally Unavailable, Even Though You're In A Long-Term Relationship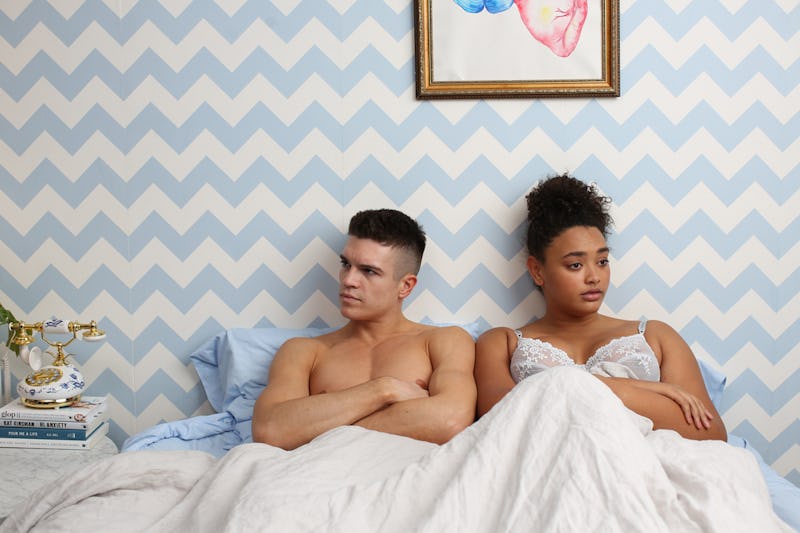 Ashley Batz/Bustle
Being in a relationship with someone who is emotionally unavailable can be incredibly draining. But often, we convince ourselves that if we can just break through, if we can just get to know them enough or make them feel comfortable enough, that things will change. But the truth is, someone can be emotionally unavailable even in a long-term relationships. You can keep trying and trying, and never really connect.
"Someone who is emotionally unavailable and seems unwilling or unable to be present with you during difficult times is unlikely to be the right one for you," Esther Boykin, licensed psychotherapist and CEO of Group Therapy Associates tells Bustle. "A healthy relationship requires you both to be able to show up emotionally for each other, especially when things are hard."
If you realize you're in a relationship with someone who can't emotionally connect with you — or who refuses to be a support network for you — there's a good chance the relationship won't last, or at least, it shouldn't last. But the longer you're with someone, the more you really want it to work, so you start to convince yourself that things are on track.
If you're in a long-term relationship, you need to be honest with yourself about whether or not this is the right person for you. Here are the signs that your partner is emotionally unavailable, even if you're in a long-term relationship with them.