7 Signs Your Partner's Brutal Honesty May Actually Be Emotional Abuse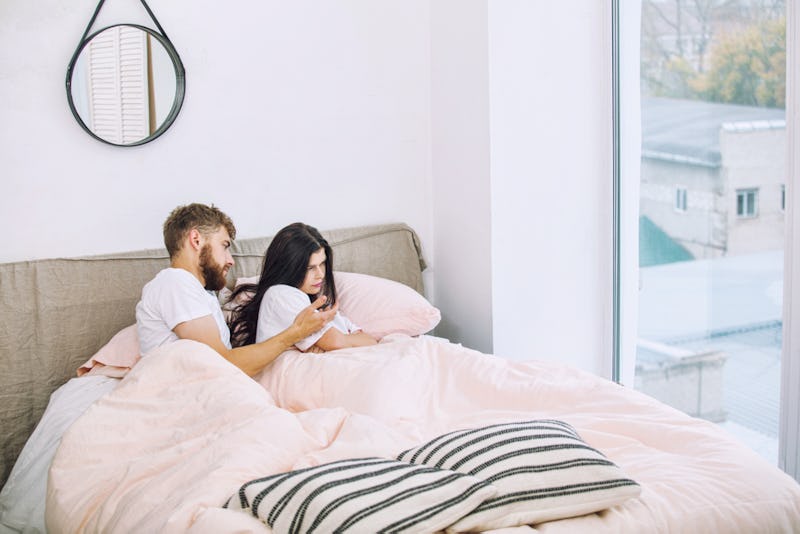 Matva/Shutterstock
Although it's cushioned under "tough love," brutal honesty is not always supportive. When a partner values their own bluntness over their loved one's feelings, it could be a first step into rather toxic territory. When examining the signs of emotional abuse in a relationship, brutal honesty can be a clear red flag.
When a partner is brutally honest, it can be quite hurtful to be on the receiving end. "The term 'brutal honesty' actually gives away the problem with 'brutal honesty,'" Joshua Klapow, Ph.D., clinical psychologist and host of The Kurre and Klapow Show, tells Bustle. "We can be honest with our partners; we can say things that can cause short-term distress or hurt. But the idea alone of being 'brutal' in our honesty begins to shift the honesty from a helpful act made from a place of caring towards what could be considered [lacking compassion,] mean spirited, and, in some cases, abusive." There's a difference between your partner being blunt for the sake of helping you, and being brutally honest with the hopes of hurting you.
Emotional abuse is a pattern of behavior that involves manipulation. So one of the main differences between bluntness and abusive behavior is the intent. "People who use 'brutal honesty' to exploit your insecurities, self-doubts or naivety are engaging in abuse," Stephanie Camins, LPC licensed professional counselor and clinical director at Road to Growth Counseling, tells Bustle. Therefore it's especially important to pay attention to your partner's hurtful language when it comes up.
Here are seven signs your partner's brutal honesty may actually be emotional abuse, according to experts.