7 Signs Your Relationship Insecurities Are Messing Up Your Connection With Your Partner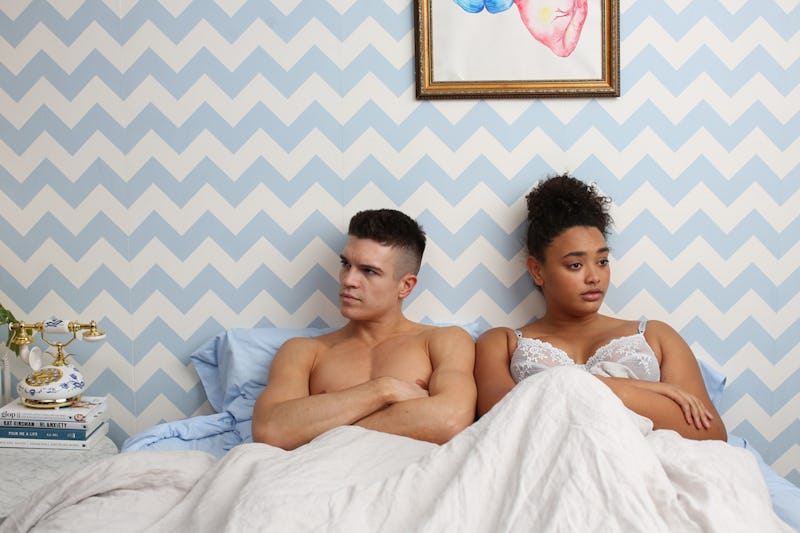 Ashley Batz/Bustle
Some people fall into relationships really easily. They naturally trust, connect, and can integrate someone into their life well. But for other people, it's a little more complicated — they have relationship fears. A lot of different things can cause you to be scared of a relationship, like maybe you've had a relationship go awry before or maybe you've never been in one at all . But if you don't deal with them, your concerns about a relationship can impact your relationship with your partner in a major way.
The first thing to remember is that if you do think that you're holding onto relationship fears or insecurities is that it's really, really common. And the best way to deal with it is to talk it through with your partner.
"The best thing to do in these cases is to be straight and open with them," relationship therapist Aimee Hartstein, LCSW, tells Bustle. "Explain that you have fears about relationships (being abandoned, being cheated on - whatever they may be) and that getting closer is starting to make you anxious. Ideally your partner will be happy to discuss these things with you and be reassuring, but there does become a time when these are issues that they can't fix. In that case, your best bet is to reach out to a good therapist and look into these fears and how you can best manage them."
But how do you know if your fears are impacting your connection with your partner? Here are the signs that your relationship fears are getting in the way of your current relationship.